Syed Modi International 2018: Ashwini Ponnappa credits partners Sikki Reddy, Satwiksairaj Rankireddy for positive results
Ashwini Ponnappa and Satwiksairaj Rankireddy will play their ninth match of the tournament against Ou Xuanyi and Feng Xueying of China, while N Sikki Reddy and Ponnappa are slated to face fifth seed Ekaterina Bolotova and Alina Davletov of Russia in the semi-finals.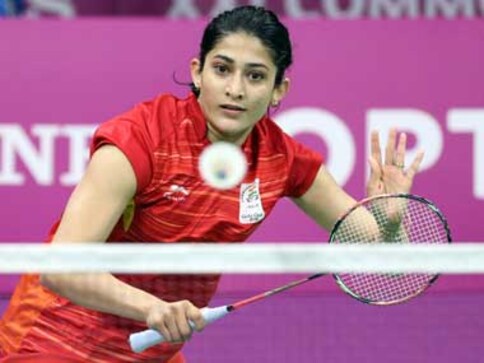 Lucknow: For Ashwini Ponnappa, shuttling between mixed doubles and women's doubles hasn't been an easy task. In what has been a tough season for her, the 29-year-old has entered her first semi-finals of the World Tour event in both the disciplines at the Syed Modi International Super 300 tournament.
And it wouldn't have been possible without the immense on and off court support from partners Satwiksairaj Rankireddy and Sikki Reddy.
"Apart from having each other to support, we have our partners that keep us motivated. They're fresh and all we have to do is focus on our bit on the court. Fortunately, our partners are always ready for the match," said Ponnappa after fighting back from a game down to beat Ronald Ronald and Annisa Saufika of Indonesia 20-22, 21-17, 21-11 in the quarter-finals.
Having already played eight matches so far in the tournament, four more than the singles players, Ponnappa has not let fatigue get the better of her when she has stepped on the court.
With Rankireddy, Ponnappa missed out on winning the bronze medal at the Commonwealth Games but reached the quarter-finals of the World Badminton Championships in August. The 18-year-old shuttler defied age to show maturity in his gameplay from the backcourt at high-level tournaments, which not only caught the eye of the top doubles players on the circuit but also left Ponnappa in awe of the teenager's guile.
"Since I started playing with Satwik, he's getting better and better. He's taking charge now and he calms me down. He keeps the tempo on the court. For example, yesterday I had a very bad day and he controlled the situation perfectly. Thanks to the way he had his concentration that helped us get through," said the 2010 Commonwealth Games gold medallist.
Like Ponnappa, even Rankireddy has played two matches every day at the Babu Banarasi Indoor Stadium in Lucknow. Notably, the big-hitter has scalped a few upsets this year alongside men's doubles partner Chirag Shetty. The duo battled past Chinese duo of Ou Xuanyi and Ren Xiangyu 15-21, 21-19, 21-17 to enter the last four.
"Since the time we've started until now, all of them spoke about how I was leading the combination but it's not the case. Both of us help each other out and I listen to whatever he (Satwik) has to say. He is very insightful too. That's something that I can learn from him. Not to forget, Satwik is growing too. There's a long way to go. But in doubles, the support is what's needed, especially when things aren't going good and Satwik brings that to the table," Ponnappa said.
Apart from mixed doubles, the Bangalore-bred shuttler has had another crucial role to play, this time of a backcourt player with Sikki in women's doubles discipline. The duo clinched the bronze medal at the CWG in Gold Coast and reached the quarter-finals of the Asian Games this year. However, it's the mixed results at World Tour events that sound a note of caution to Ponnappa.
"Sikki and I have evolved for good in the last one year. There's a lot of difference if you compare last year with this season. We have built a good rapport between us. Our understanding on the court is much better. That's something that makes a huge difference. We haven't had the best of starts to the tournament but I'm grateful for the support of both Sikki and Satwik," she concluded.
Ponnappa and Satwik will play their ninth match of the tournament against Ou Xuanyi and Feng Xueying of China, while Sikki and Ponnappa are slated to face fifth seed Ekaterina Bolotova and Alina Davletov of Russia in the semi-finals.
Badminton
India had qualified for the Sudirman Cup after winning the bronze medal at the Badminton Asia Mixed team championships in February.
Badminton
PV Sindhu lost 15-21, 21-12, 18-21 to unseeded Putri Kusuma Wardani of Indonesia in their first-ever face-off at the international level on Thursday night.
Badminton
Both of last year's men's finalists, Viktor Axelsen and Lakshya Sen, lost on Thursday at the All England Open in Birmingham.