Swimmer Srihari Nataraj eyes Olympic challenge after creating a splash in Khelo India Youth Games
Having won seven gold medals at the Khelo India Youth Games 2019, swimmer Srihari Nataraj eyes Olympics qualification.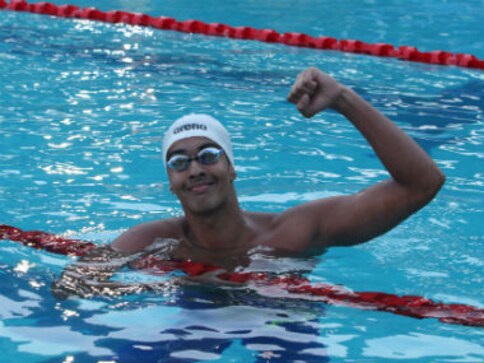 'I just want to get faster in each race. The crowd and the competition don't matter to me,' said Nataraj.

Nataraj won seven gold medals at the Khelo India Youth Games 2019.

Nataraj holds the national record in 50m, 100m, and 200m backstroke events.
New Delhi: Srihari Nataraj's Twitter bio reads 'Fastest Indian Backstroke ever.' One may diss it for vanity, but the finality is telling. Before he became eligible to vote a couple of days back, Nataraj's CV boasted of national records in 50m, 100m, and 200m backstroke events, and a seven-gold haul at the recently-concluded Khelo India Youth Games. Enough, perhaps, to justify that Twitter bio?
It's tough to ignore the earnestness in 18-year-olds. The vacuous joys of new-found legitimacy, the proverbial feeling of being on top of the world, the raging adrenaline, the bravado, the sulk... we have all been there. But unlike most, Nataraj finds himself on that elusive vantage point where stoicism befriends substance. He talks with furtive clarity; unabashed about his naked ambition and undaunted by its gravitas.
"I went to Khelo India with no expectations; the only focus was to better my timings. It's a good start to the year, and I could gauge the areas I need to work on," muses Nataraj in an exclusive interaction with Firstpost.
"I just want to get faster in each race. The crowd and the competition don't matter to me. When I stand on the blocks, all I see is the pool in front of me. That drives me. I never think of competition then. Sometimes my mind is blank; sometimes I think about my swimming, but other than that, I don't think of anything else," he says.
His longtime coach AC Jairaj swears by his ward's mental toughness. "He is a very smart kid. For someone that young, he is mentally very tough."
Jairaj and Nataraj have their goal of Olympics qualification in sight, and the seasoned coach is certain that the 100m and 200m backstroke events are within reach.
"I understand that in a sport, it is not always possible to time your personal best, which is what happened at Khelo India this year, but what kept me motivated throughout is the quest to do well at the World Championships this year and qualify for the Tokyo Olympics. At Khelo India, I didn't push as hard as I did at the Asian Games as the focus was more on improving myself and on the mental side of things. I am looking at incremental, gradual progress," says Nataraj.
Year 2018 was particularly important insofar as Nataraj's desire for steady, capital gains is concerned. He participated in the inaugural Khelo India School Games (where he bagged six golds and a silver), Commonwealth Games, Asian Games (where he set three national records in backstroke) and Youth Olympics, and rubbing shoulders with international swimmers transformed him.
"His entire approach towards training changed after those big events," says Jairaj. "Now, he seeks perfection in practice. He is very serious about little things such as his towel, swimsuit, goggles."
Nataraj concurs. "2018 was a good year. I was expecting more though, but that's the best I could do."
The youngster failed to qualify for the finals at the Commonwealth Games (CWG) and the Youth Olympics, but the learning was immense.
"I learned a lot and grew a lot more as a swimmer. Participation in such events helped me understand what I was not doing correctly. In Australia, when I saw other swimmers train, I understood where I was going wrong in my training, warm-ups, and preparation. There, I had a horrible time with my starts and I was very slow off the blocks. By the time the Youth Olympics came about, I had solved that problem.
"Coming into the Khelo India this year, my reactions at the start had become a lot sharper. The tiny details in my swimming that I picked during 2018 helped me get better. The exposure that I got in Indonesia and Australia was something that I haven't got ever in my life," Nataraj adds.
"My swimming, over the past year, has changed a lot. My most important learning has been being able to find what works for me and sticking to it. When something is working, you shouldn't change it, but that's a mistake that most people do. A lot of times people follow a certain process that is working well for them, but suddenly they realise it's not doing enough and they change everything."
Following the chastening experience at big-ticket events, Nataraj and coach Jairaj proceeded to make some important changes in the former's warm-up routines. Rather than simply warming-up on the land, his pre-race routine now has become more scientific.
"I try to stick to a certain pace now, and I don't warm-up on land a lot, because if I do that, I get a bit too warmed up by the time I enter the water. So I look to get warmed up in the water and get a good feel. That way, I get a good heart rate going before the actual swimming starts. I also changed my start. I've been experimenting with my starts lately. I've been working on the way I come up, the way I hold the bar, the way I turn...tiny details," Nataraj elaborates.
That apart, the Class 12 student who is six weeks away from his board exams, also claims to possess a certain 'feel' that tells him - mid-race - where and what exactly has gone wrong. He cites the example of the 50m backstroke final at Khelo India, where long before the race ended, he knew he was not going to breach the 25-second barrier despite being the fastest in the pool.
"In the final, with four strokes to go, I knew I had messed up the finish. When I did the last stroke before touching the wall, I already knew I would not be able to time 25 seconds because I stayed too long on the wall and I still had another stroke to take.
"I keep a video of all my races for reference. While swimming, I have a very good sense of what I am doing and I immediately know what I have done wrong. I think I analyse myself and my technique very well; I have that feel.
"I need to train with someone who can match my time. We have just two Olympic size pools in the country, and not everyone has access to them. Underwater video recording facilities, more technical inputs, and competitions will definitely help," he says.
Despite his recent success, areas of improvement remain. Natraj believes he needs to work on his intensity, while Jairaj is working on his "underwater streamline after the turn." Plans are also afoot to arrange more exposure trips or a training stint abroad, and Jairaj feels that his ward will make the cut in the government's TOP scheme soon.
"But he is an incredible talent," reminds the coach. That Twitter bio and the medal haul say as much.
Sports
The other six SOMs are M M Somaya (hockey), Rohit Rajpal (tennis), Akhil Kumar (boxing), Suma Shirur (shooting), Aparna Popat (badminton), and Dola Banerjee (archery).
Sports
PT Usha, a top sprinter of her times, has also been elected as one of the eight Sports Persons of Outstanding Merit (SOM) by the Athletes Commission of the IOA.
Sports
PT Usha had filed her nomination papers for the top job on Sunday, along with 14 others from her team for the various posts.