Super Bowl LI: Tom Brady fairytale inspires New England Patriots to stunning comeback win in overtime
Tom Brady inspired the greatest comeback in Super Bowl history as the New England Patriots stunned the Atlanta Falcons 34-28 in overtime
Houston: Tom Brady inspired the greatest comeback in Super Bowl history as the New England Patriots stunned the Atlanta Falcons 34-28 in overtime in Houston on Sunday.
Brady became the first quarterback in history to win five Super Bowls after the Patriots overturned a 28-3 third quarter deficit to snatch a sensational victory at Houston's NRG Stadium.
Brady, 39, collapsed to the turf with emotion after James White burrowed over from close range to score the winning touchdown on the opening drive of overtime.
"We all brought each other back," Brady said. "We never felt out of it. It was a tough battle. They have a great team."
The win completed a tumultuous season for Brady, who was banned at the start of the season for four games over the "Deflategate" saga.
Brady, who threw for 466 yards and two touchdowns, shrugged off suggestions that the win amounted to a personal redemption.
"This is all positive," he said. "It took a lot of mental toughness. We're going to remember this for the rest of our lives."
It completed an incredible comeback for the Patriots, who had looked dead and buried after the Falcons scored three first half touchdowns and an early score in the third quarter to power 25 points clear.
No team had ever come back from more than 10 points to win the Super Bowl before, and the Patriots looked to be heading for a crushing defeat as the Falcons ran riot.
But Brady, who had looked a pale imitation of himself for much of the game, suddenly fired into life in the second half to produce a performance that will go into National Football League folklore.
The Falcons, who had gone into the game boasting one of the most potent offenses in history, were left distraught and still waiting for their first Super Bowl crown.
They had appeared to be roaring to the championship with quarterback Matt Ryan pulling apart the Patriots in the first half.
Falcons dominant
The Falcons scored touchdowns through Devonta Freeman and Austin Hooper before Robert Alford picked off Brady for an 82-yard interception score.
The Patriots could only muster a Stephen Gostkowski field goal to go into half-time 21-3 down.
A shellshocked Brady looked bereft after his interception blunder and it got worse for the Patriots early in the third quarter.
The misfiring Patriots offense again squandered their next possession and Atlanta were back on the charge, powering forward with a nine-play drive that ended with Ryan lobbing a six-yard pass to Tevin Coleman for a touchdown.
New England grabbed what looked like a consolation score when Brady found running back White to make it 28-9.
But Gostkowski missed the extra point afterwards, and it seemed as if all Atlanta had to do was ride out the clock.
But a further Gostkowski field goal made it 28-12 and when Brady hit Danny Amendola for a six-yard touchdown, with a successful two-point conversion to follow, it had suddenly become a one-score game.
Now the Falcons were flustered and a crucial drive faltered and the Patriots won the ball back.
An epic drive hinged on a logic-defying 23-yard reception to Julian Edelman, who somehow gathered a deflected pass to put the Patriots in enemy territory.
Brady marched his team forward and White scampered in from one yard to make it 28-26. Another two-point conversion followed to make it 28-28 and take the game to overtime for the first time in Super Bowl history.
The Patriots won the toss and elected to receive and with momentum clearly on their side, there was only going to be one outcome.
Brady, just as he had done in his first Super Bowl victory in 2002, nervelessly led his team forward and soon they were camped on the Atlanta line.
It was left to White to score his third touchdown of the night to clinch an amazing victory.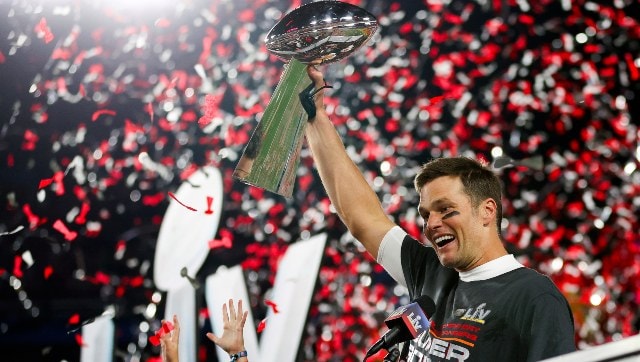 Sports
It is almost 20 years since Brady's NFL odyssey began. The 44-year-old remains at the sharp end of one of the most unforgiving crucibles in professional sport, where the average career span is just 3.3 years.
Sports
Asked in a Super Bowl half-time radio interview if he thought the Tokyo 2020 Olympics would go ahead, US President Joe Biden said any decision "has to be based on science". "I hope we can play, I hope it's possible, but it remains to be seen," he said.
Sports
Tom Brady and the New England Patriots on Sunday aim to defend their Super Bowl crown against a Philadelphia Eagles team chasing a first ever win.