Super Bowl 50: Manning cements place in history as Denver Broncos stun Carolina Panthers
Peyton Manning cemented his place in the pantheon of quarterback greats as the Denver Broncos produced a magnificent defensive display to stun the Carolina Panthers with an upset 24-10 victory in Super Bowl 50 here Sunday.
Santa Clara, United States: Peyton Manning cemented his place in the pantheon of quarterback greats as the Denver Broncos produced a magnificent defensive display to stun the Carolina Panthers with an upset 24-10 victory in Super Bowl 50 here Sunday.
Manning, 39, sealed the second Super Bowl title of his 18-year National Football League career on the back of a phenomenal display by the Denver defense, who racked up a record-equalling seven sacks at Levi's Stadium.
"I'm just glad we didn't have to play against our defense," said a delighted Manning, the NFL's all-time passing yards record holder.
Denver running back C.J Anderson crashed over for the decisive touchdown late in the fourth quarter as the Broncos defense harried Panthers superstar quarterback Cam Newton into a string of mistakes on a night of high drama.
The much-anticipated duel between Manning -- the oldest starting quarterback in Super Bowl history -- and NFL Most Valuable Player Newton never materialized.
Instead it was left to Denver's suffocating defense to decide the contest, with Von Miller and DeMarcus Ware smothering the Panthers at every opportunity.
Panthers superstar Newton, who had been tipped to dominate in his first SuperBowl appearance, cut a dejected figure afterwards.
"They just played better than us," Newton said. "I don't know what you want me to say...we got outplayed."
Miller -- named Super Bowl MVP -- ultimately set up the crucial Denver touchdown, forcing Newton into a fumble which the Broncos recovered close to the Carolina goal line.
"It was tough offensively but defensively we were tremendous," Broncos head coach Gary Kubiak said.
"It was just another grind-it-out win."
Panthers coach Ron Rivera blamed a failure to make scoring opportunities count.
"We had opportunities, we didn't take advantage of it," Rivera said. "They took advantage of their opportunities. We didn't."
Manning was largely a peripheral figure throughout, struggling to make any impression with his passing game as defenses dominated.
The veteran quarterback is widely expected to call time on his career at the end of the season, and can now do so with a second Super Bowl ring to set alongside the one he earned with the Indianapolis Colts in 2007.
"It's very special, I'm very proud of these guys," said Manning, who said he was unwilling to make a decision about his future plans in the Heat
of the moment.
"I'll take some time to reflect," he said. "It's been an emotional week and it's an emotional night."
Carolina rattled
An absorbing first half saw defenses exert a vice-like grip, with Denver's vaunted unit rattling the Carolina offense.
Denver took a 3-0 lead through a 34-yard Brandon McManus field goal after Manning mounted one of his few long-distance drives of the game early on.
Denver soon had Carolina under pressure and scored the opening touchdown when Miller swarmed through to smother Newton, stripping the ball loose and allowing Malik Jackson to recover for a dramatic touchdown for 10-0.
Newton showed glimpses of his dual threat with a couple of long rushes to set up a one-yard touchdown run from Jonathan Stewart to help make it 10-7 after Graham Gano added the extra point.
Chance spurned
Denver went 13-7 up with another McManus field goal before Carolina spurned the chance to draw closer when Gano missed a 44-yard effort.
It was left for Denver to get the first points on the board in the second half, with Manning twice connecting with Emmanuel Sanders in a 54-yard drive to Carolina's 12-yard line. McManus added his third field goal to make it 16-7 and give Denver a nine-point lead.
Carolina looked to be building ominous momentum on the next drive, when Newton launched a long pass to find Corey Brown for a 42-yard gain.
But the drive ended when Newton's attempt to find Teddy Ginn was intercepted by Broncos safety T.J. Ward.
Denver were unable to make any impression on the Carolina defense and seemed to be content to punt again knowing that the Panthers were getting little joy from the Broncos defense.
The tactic proved vindicated on the next Carolina drive, which stalled when Miller sacked Newton for the second time in the match.
But Denver's own offense was always struggling to capitalize on their opponent's problems, and they squandered a 1st and 10 situation on Carolina's 37-yard line when Manning twice fumbled on successive plays to hand the ball back to the Panthers who reduced the deficit to 16-10 with a Gano field goal.
Yet once again Denver's defense came through when it mattered, and when Miller forced Newton into his late fumble, Denver were home.
AFP
Sports
The 126 titles and 20 Majors between the two golf legends are known all over. The same cannot necessarily be said of Tom Brady and Peyton Manning, who are partnering Phil Mickelson and Tiger Woods respectively.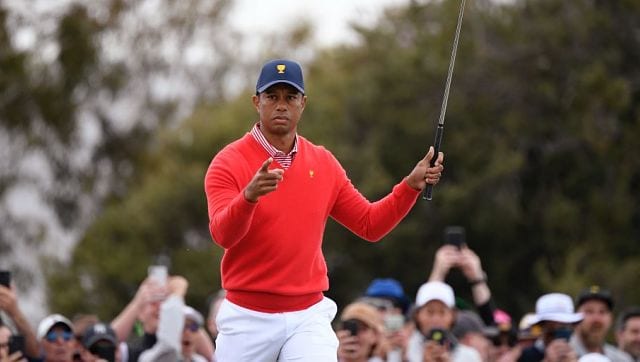 Sports
The 15-times major champion did not commit to the Charles Schwab Challenge at Colonial Country Club by the 5 p.m. ET (2100 GMT) deadline, and thus will not be part of a stacked field headlined by the top five golfers in the world.
News & Analysis
Facebook and Twitter released a barrage of data, special "heat" maps and slick animations on Monday to claim the title of most-popular social network for spectators watching the Super Bowl, but a winner was difficult to pick.