Sunil Chhetri interview: We're already very proud of how ISL 2017-18 season has been irrespective of result in final
On Saturday, Sunil Chhetri will play in his and Bengaluru's first Indian Super League final when they take one Chennaiyin FC at the Sree Kanteerava Stadium.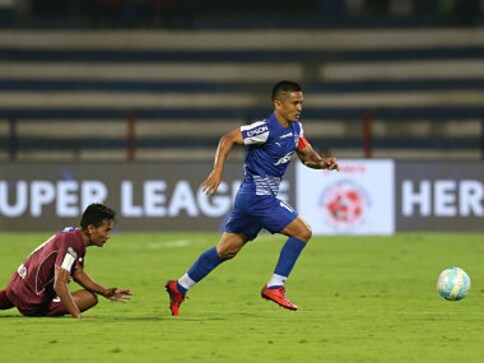 To say that Bengaluru FC have had a successful outing in their debut Indian Super League season would be an understatement. The Sunil Chhetri-led side have taken the league by storm, blowing their rivals out of the water with their attacking brand of football.
Captain Chhetri teamed up with new signing Miku up front and the pair scored 27 of Bengaluru's 35 goals in the season as the Blues deservedly topped the league standings with a record-breaking 40 points. With 13 goals, Chhetri has also amassed his highest ever goal tally in the ISL.
After a goalless draw against FC Pune City in the first leg of the semi-finals, a Chhetri-hat-trick sealed Bengaluru's progress to the ISL final in their first campaign. With a boisterous home crowd at the Sree Kanteerava Stadium expected to back them, Bengaluru go into the final against 2015 champions Chennaiyin FC as slight favourites.
Ahead of the final, Bengaluru skipper Chhetri answered some questions from Firstpost about the club's season so far, the upcoming final and Bengaluru's passionate fans.
How would you sum up Bengaluru's debut season in the ISL been so far?
We're one step short of finishing the job and while I cannot predict what the outcome will be, it's been a season we can all be very proud of. We've worked hard, reached a lot of milestones which is impressive given it is our debut in the ISL.
This will be your first-ever ISL final and if things go right, it will also be your first ISL title. What will it mean for you to achieve that with Bengaluru?
At this point, it would mean everything, because it is what we are working hard day in and day out for.
How much of an advantage will it be for you to play the final at home, particularly given the passionate fans?
It will be an edge, but in games like these, both teams are throwing everything at each other. Chennai isn't too far from Bengaluru and I'm sure they will have their fans at the stadium on Saturday. But yes, the turf and surroundings are familiar and I hope we can make it count.
This season, rivalries between fan clubs have started to emerge. Before the season started, there was a growing sense of animosity between Bengaluru and Kerala Blasters' fans on social media. There were also instances of away fans being abused in other ISL matches. As a player, what is your opinion on this?
I'm all for a good rivalry as long as lines are drawn. Things do get heated and you've got to take it as part of things that a rivalry brings with it. But like I said, it shouldn't cross a line where it doesn't remain about supporting your team anymore.
Ordinarily, players fine-tune their match-fitness during the pre-season. But this season, Bengaluru FC had to play AFC Cup matches during that period. How did it affect the way Bengaluru prepared for the regular season? Was it taxing for the players to overcome the physical demands in pre-season?
I guess it worked in our favour because it gave us more match practice against some very tough opponents at the business end of the AFC Cup. Yes, juggling tournaments can get taxing, but we have been using our squad well and the credit goes to coach Albert Roca and his staff for getting the job done.
Rahul Bheke has been one of Bengaluru's stand-out players this season and has also been one of the best defenders in the league. How critical has he been to the club this season?
Rahul has been a very, very good addition to the squad and the club has done very well to sign him for another three years. He's had a great season with us and wants to keep improving, which is a very good sign for any player.
Football
Kotal, who featured in ATK Mohun Bagan's victory over Bengaluru FC in the ISL final, was called up by Blue Tigers head coach Igor Stimac along with Singh in place of the injured duo of Sivasakthi Narayanan and Glan Martins.
Football
After Myanmar, the home team will next take on Kyrgyzstan on 28 March at the same venue.
Football
India will play a tri-nation international football tournament, at the Khuman Lampak Stadium in Imphal from 22 to 28 March, against Myanmar and Kyrgyz Republic