Highlights, Sultan Azlan Shah Cup 2018, India vs Malaysia: Sardar Singh and Co pick up impressive 5-1 win over hosts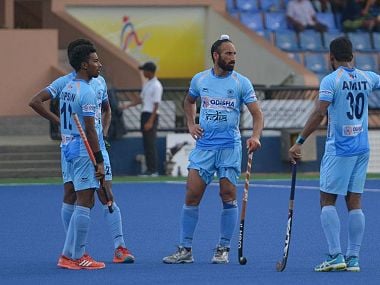 That's it from the Azlan Shah Cup.

India have won 5-1 against hosts Malaysia.

Third straight win over Malaysia. The big win will give them a boost for their match against Ireland. And a chance to go for the 3rd/4th playoff.

Ramandeep Singh is the man-of-the-match.

Malaysia are on six points and they play their last game against England.

Good play from India. Less errors in the 3rd and 4th and they scored five goals. It's four points now with a match against Ireland day after.

INDIA HAS WON THE MATCH. THEY HAVE BEATEN MALAYSIA 5-1.

India save it. But can't prevent another one. It's the 5th PC for Malaysia.

31 seconds to go. It's Malaysia's 4th PC.

It's a PC and they get the 4th from it also.

Malaysia ask for a referral. They want a PC with 39 seconds to go.

Less than a min to go. India lead 5-1.

Too less time for Malaysia to make their way back. Yet India shouldn't concede.

Under two minutes left. India lead 5-1.

GOAL. GOAL.

Brilliant strike. Rohidas flick. Gurjant slams in the rebound. It's 5-1

And it's a PC. India's 4th.

India looking for more goals. But they need to lock it down also. India get their 4th PC. Can they? Malaysia want a referral.

It was a Sumit hit into the middle of the circle. Ramandeep deflects high into the Malaysian goal. India lead 4-1.

GOAL. GOAL.

India make it 4-1. It's Ramandeep Singh

India would have killed it. But what a miss from Sumit Kumar. Empty goal. Shoots out.

India have their 3rd PC. Can they strike now and kill the game?

India stretching the play now. But they need to come up. And stop the midfield play of Malaysia.

Nine minutes to go. India lead 3-1. That was close for India. Gurjant almost had the strike.

Malaysia's 2nd PC was rendered ineffective by brilliant running by Sumit.

Malaysia get a green. They are down to ten. India should pressure now.

GOAL. GOAL.

Great skill by Sardar. Gives it to Ramandeep whose cross is tapped in by Sumit Kumar.

It's 3-1

Malaysia have their 2nd PC. Dangerous. Indian runner has to be fast.

India need another goal to push the Malaysians into a defensive mode. Otherwise, the hosts will come strong in the 4th quarter.

That's the end of the 3rd quarter. India lead 2-1.

Marijne screaming from the sidelines at Varun. With 51 seconds remaining, the coach wanted the full back to hold the ball and not go for an aerial.

India lead 2-1. There is a minute left in the 3rd quarter.

Brilliant goalkeeping from Hairi Rahman. Saves Varun flick and then Sumit Reverse hit. But Ramandeep picks rebound and flicks it towards goal. Gurjant taps it in.

GOAL. GOAL.

India have the lead. It's Gurjant Singh

Malaysian error gives ball to India. And they get their 2nd PC.

Simranjeet Singh holding onto the ball. Not releasing it with three Malaysians on him. Almost created an attack for Malaysia.

Suddenly, India lack imagination. Aimlessly pushing ball into the Malaysian circle. Sumit constantly overplaying.

The issue with the Indian team is not about talent or skills. But they simply lack cohesion. Bunch of youngsters playing with a handful of seniors and trying to make it count.

This match will be decided on which team profits from the others mistake.

India in tremendous haste to stop and release. They need to hold. Pick up players in better positions.

It's 1-1. Expect the Malaysians to power on.

GOAL. GOAL.

Malaysia have the equaliser. Lovely flick by Saari

Malaysia have the PC; their first.

India have to press. To ensure they have the ball to create moves.

First foray into the Malaysian circle to India. Nilakanta cross doesn't reach Ramandeep.

Teams are back on the pitch. Marijne would have again insisted that technical errors be kept down.

It's still raining here at the stadium. At the end of two quarters, it's India 1-0.

Surprising why India is not holding the ball and anxious to release knowing there are two Malaysians in front.

That's the end of the 2nd quarter. India lead 1-0. But Malaysia has come back strongly and almost got the equaliser with a few punishing runs.

And Fitri Saari almost gets the goal but the shot after a bout of great skill is wide.

Malaysia will squeeze one through if India keep making errors in trapping and passing.

Gurjant had a chance to push to Talwinder but decided to over play. Counter to Malaysia and Karkera brings off a brilliant save.
Ind vs Aus Match Report: India almost moved out of the race to reach the final of the 27th Sultan Azlan Shah Cup hockey tournament after losing 2-4 to reigning world champions Australia on Tuesday, thereby remaining winless in three matches so far here.
Ramandeep Singh (52nd and 53rd minutes) scored twice for India after Australia were 4-0 up, thanks to Mark Knowles (28th minute, penalty stroke), Aran Zalewski (35th), Daniel Beale (41st) and Blake Govers (43rd, penalty corner) as the World No 1 side registered its third consecutive victory.
India, who lost to Argentina in the opening match before playing a 1-1 draw with England, faced a must-win situation against the mighty Australian side.
Aware of India's counter-attacking strength, Australia kept their defensive structure tight as the current Asian champions applied pressure.
A golden opportunity was lost for India when a swift assist from Ramandeep Singh to Shilanand Lakra could not make it past Australian goalkeeper Andrew Charter in the eighth minute. Though the rebound was taken by Sumit, his shot on goal went wide.
After surviving the early pressure, Australia opened up play and pressed high, applying pressure on the Indian midfield at the Azlan Shah Stadium.
Australia gained momentum and an incursion into the Indian box saw Beale's shot hitting the foot of Mandeep Mor who was even behind the goalkeeper. It resulted in a penalty stroke which was converted by Australian skipper Knowlesin the 28th minute.
With seconds before the close of second quarter, India could have equalise but drag-flicker Varun Kumar's shot rebounded off the right post.
Australia upped the ante in the third quarter which saw them scoring thrice, putting the game beyond doubt.
Tom Craig made a superb pass from the left baseline and Aran Zalewski stunned the Indian defence as he dived forward to connect the ball and push the ball in in the 35th minute.
Australian built on their lead and dominated the proceedings, keeping the ball for longer stints finding space in the Indian circle.
Beale made it 3-0 in the 41st minute as he tapped in a rebound off goalkeeper Suraj Karkera from close range as Mandeep and Surender Kumar failed to clear the ball.
Three minutes later, Blake had his drag-flick being pushed away by Karkera but the ball fell in front of him. Blake then fired a grounder that found the space between Karkera's legs to the net, giving Australia 4-0 lead.
The final quarter saw India vie for a great comeback with Ramandeep scoring two back-to-back goals in two minutes, giving India slim hopes.
Ramandeep's cross from byline for Sumit Kumar, lurking in front of the Australian goal-post, was guided in by defender Jeremy Hayward in the 51st minute.
A minute later, Nilankanta Sharma fed Ramandeep, who from the top of the circle, beat goalkeeper Andrew Charter with a fierce backhander to reduce the deficit to two.
Though the late surge boosted the team's attack, as they won a penalty corner in the dying minutes of the match, a miss trapping dented their chance.
They lost for the second time in three matches. Sjoerd Marijne-coached India are fifth in the table with a point.
In the other matches of the day, England outplayed Ireland to jump to the fourth spot with four points, while Malaysia upset Olympic champions Argentina 2-1 to jump to the second spot with six points, same as Argentina but ahead due to the win.
India face hosts Malaysia in a tricky encounter.
Updated Date: Mar 07, 2018 19:43 PM