Highlights, Sultan Azlan Shah Cup 2018, India vs Argentina: Gonzalo Peillat's hat-trick seals win for the South Americans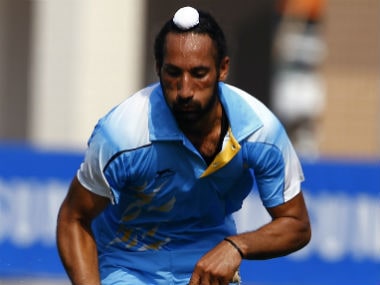 That's it from the Sultan Azlan Shah.

We will be back tomorrow for the match against England.

Lack-lustre display by India but they have positives from the match and hopefully they will do something different against England.

For India, Amit Rohidas got two goals. India now play England tomorrow, Sunday, in their 2nd match.

And that's it. Olympic Champions Argentina has beaten India 3-2 in the first match of the Azlan Shah Cup. It's a glorious hat-trick from Gonzalo Peillat that gives the South Americans three points.

Talwinder had a chance but muffs it.

Just about a minute left as Arg lead 3-2.

Ramandeep had a chance but can't control as rains come down again.

Minutes ticking away and so is hope of finding an equaliser. Arg leading 3-2 with three minutes to go.

Sumit gets a green card. India down to ten men.

Argentina playing well in short passes. Constantly putting India under pressure. Less than five mins to go.

Wrong pass from Gurjant again. It not only stops an attack developing. But gives the counter to Argentina.

Rain getting a little heavier again. Play continues. Argentina attacking.

Argentina on the attack. They are trying for a PC. But India get a free hit.

And the match has started once again.

Rain is down to a slight drizzle. Teams lining up, taking their positions. Argentina leading 3-2. India have eleven minutes to find an equaliser.

It's almost time to restart. Teams going back to the dug out after warming up slightly.

Players are getting ready to come on. Umpires are making another inspection. Water draining away quite fast. Teams are coming out for a quick warm-up.

Rains seems to be lessening. But it will take ten mins for the water to drain away. It's an umpires call now.

Umpire coming out to look at the turf. They need to check on the water logging. But there is water collected around the striking circle.

Irrespective of the result of this match, India have a lot to think about; Sjoerd Marijne also as the coach and leader of the think tank. If India can take a point here after play resumes, it would be great looking at Sunday's game against England.

It's still pouring here in Ipoh. Play has been stopped between India and Argentina. Not an uncommon sight to see rains in the Ipoh evening.

There have been some wonderful play also from the Indians. Amit Rohidas with two PC conversions, Sumit Kumar with some wonderful runs and a lovely overlap move by Nilam Xess.

Pitch water logged at the moment. Reminds one of the last match between both the teams. It had rained then also and Argentina had criticised the playing conditions. The Bhubaneswar pitch that evening resembled a lagoon.

Raining heavily now. Maybe the stop will help India to understand where they are going wrong. It's one thing to say you are a young team. But wrong passes have taken the sting out of the forward line. Unlike in the first ten mins where they held the ball and made every pass count, India have slowly slid. Thanks to Rohidas' two PC conversions, India have hit back with two goals. But Argentina look good leading 3-2 at the moment.

Play has been stopped. More because of the lightning. Teams back in their dugouts. With 11 minutes left in the match, Argentina lead 3-2.

And they fail to stop the ball cleanly. India get away.

And Argentina get their 7th PC after an almost 180 degree passing routine around the pitch.

Match still on. It can only be stopped if water collects on the pitch.

And it starts pouring at the Azlan Shah Stadium.

Back for the 4th quarter. It's a young Indian team. The youngsters shouldn't be giving away balls to Argentina. It's like giving Argentina the initiative to attack.

That's the end of the 3rd quarter. Argentina lead 3-2.

Just a minute left in the 3rd quarter. Five Indian players standing vertically on the right half. Structures all gone.

Yet if India can conjure up a moment of magic they can get a goal and an equaliser. Tough going for India.

India almost seem directionless at the moment. Bad pass from Mandeep Mor. Gurjant passes to nowhere. Argentina always getting the counter off Indian mistakes.

India need to build up momentum. Gaping holes in the midfield. Wrong passes giving Argentina the ball to build and keep India away. At this moment, Argentina playing easily.

Too many Indian players crowded into wrong positions. Argentina slowing the pace to suit their style.

Low intensity from India.

Defensive errors all over the place. Surender has the ball but passes to an Argentine. India losing the pace and set-ups. Ramandeep with the ball but the pass is wayward.

GOAL. GOAL. Argentina lead 3-2. Peillat completes a hat-trick. Brilliant flick into the corner. Suraj Karkera has no chance to stop it.

The umpire points for a 5th PC.

Argentina get their 5th PC.

The PC came off a brilliant run by Sumit Kumar. And Rohidas was on target.

GOAL. GOAL. India have the Equaliser. Amit Rohidas gets it . It's 2-2

It's dark now with the clouds hovering. The flood lights are coming on. And India get their 4th PC.

The 3rd quarter about to start. Can India create something here and get a goal? It's been a subdued display till now.

India have a lot of work to do. Not very effective in the midfield. Both Sardar and Uthappa playing a subdued role. They need more force in the middle.
Preview: India will look to begin their campaign on a positive note when they take on World No 2 Argentina in the opening game of the 27th Sultan Azlan Shah Cup hockey on Saturday.
The Sardar Singh-led team put up a fight against World No 1 Australia before going down 1-2 in a warm-up game.
Though the team lost with vice-captain Ramandeep Singh scoring India's lone goal, chief coach Sjoerd Marijne was optimistic.
"We played three quarters against Australia to adjust to the humidity. I was happy with a lot of things. For the first match together with this new combination, we put a good performance and we will use this to prepare for the opening game against Argentina."
India last played against Argentina in the World League Final in Bhubaneswar where the hosts lost a place in the title-round after losing 0-1.
"Like I have said in the past, I don't consider that result as the playing conditions were not normal.
We played in incessant rain and the only thing we learnt from that match against Argentina is that they were better in such conditions," stated Marijne.
Olympic champions Argentina, meanwhile, are in the city without the services of their celebrated coach Carlos Retegui who has resigned from the top job.
It was under the tutelage of Retegui that Argentina had won their only Sultan Azlan Shah Cup in 2008, beating India 2-1 in the final.
Though it will be interesting to see how the side does in the absence of Retegui, the squad remains strong with Gonzalo Peillat, Lucas Rossi, Juan Manuel Vivaldi, Pedro Ibarra, Matias Paredas.
It is interesting to note that under Sardar's captaincy, the Indian team has never returned home from Sultan Azlan Shah without a medal.
In 2008, he captained the team to a silver medal, and in 2015 and 2016 he led them to a bronze and silver respectively.
But this time, in the absence of key players Akashdeep Singh, SV Sunil, Mandeep Singh in the forward line, Manpreet Singh in the midfield, goalkeeper PR Sreejesh and dragflick specialists Rupinder Pal Singh and Harmanpreet Singh who are rested, Sardar will have to ensure his younger counterparts shake off the initial nervousness and stick to a structured game chalked out by the coach.
"While a winning start is what we look for, it's important for the team to execute the structure we want to play in. There is no room for error when you play a team like Argentina and we cannot let their 'Olympic champions' tag intimidate us. I am hopeful we will stitch together a good performance," stated the 31-year-old skipper.
"The practice match against Australia has given the first-timers an insight into what they can expect and I am sure they will take that confidence into the opening game as well."
India's second match on Sunday will be against England, who have retained 10 players from the squad that won the title last year. But for now, Sardar and his team's focus is on Saturday's match.
"We want to take it one match at a time and for now our focus is on doing well against Argentina," Singh signed off.
With inputs from PTI
Updated Date: Mar 03, 2018 15:52 PM