Stuttgart Open: Karolina Pliskova beats CoCo Vandeweghe in straight sets to clinch title
Karolina Pliskova beat CoCo Vandeweghe to earn the second clay trophy of her career after Prague three years ago.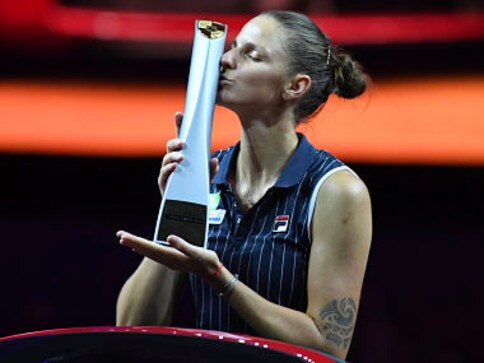 Stuttgart: Karolina Pliskova recovered from a slow start to beat CoCo Vandeweghe 7-6 (2), 6-4 and claim the Stuttgart Open title on Sunday.
The Czech fifth seed earned the second clay trophy of her career after Prague three years ago. She was the first from her country to play in the German final.
"I had such great support this week from the public and my team," said Pliskova, who collected her trophy after being driven across the court in the flame-red Porsche 718 Boxster cabriolet which came along with her prize money.
"CoCo played so well all week."
The 16th-ranked Vandeweghe enjoyed a great run in Germany's automotive capital after starting as a wild card entry because her agent forgot to enter her in the event.
The Californian, whose career-long aversion to clay began evaporating during the best week of her life on the dirt, upset three top 10 players - US Open champion Sloane Stephens, World No 1 Simona Halep and France's No 7 Caroline Garcia.
"Thanks for the wild card," Vandeweghe said. "I've had a fantastic week.
"I tried my best in the final but I didn't quite get there. Karolina played really well.
"I missed this year, but maybe next..."
Vandeweghe had won three of their four previous meetings but lost to the Czech in the Stuttgart second round a year ago.
The American had not dropped serve in her two wins prior to the final. On Sunday, Pliskova broke three times in a one and three-quarter hour victory.
Vandeweghe started by breaking Pliskova in the opening game before the Czech found her rhythm to break back in the fourth game.
The set then tightened with both women relinquishing little on serve. In the tiebreaker, Vandeweghe again jumped into an early lead.
But Pliskova won six consecutive points and earned three set points from a second-serve ace.
One was enough as the Czech found the line on a return to take the early lead.
Pliskova took a 3-2 lead in the second set and broke for a second time in the set to lead 5-2.
It took her two attempts to serve out victory, losing serve in the eighth game, but Pliskova settled affairs in her next service game as her opponent's backhand went long on match point.
Vandeweghe had been aiming to become the first American champion in Stuttgart since Lindsay Davenport in 2005.
Tennis
India were thrashed 0-3 by a far-superior Norway team as world No.2 Casper Ruud combined with Viktor Durasovic to win the doubles match and complete the rout in the World Group-I tie of Davis Cup.
Tennis
Roger Federer made roughly $1 billion (before taxes and agents' fees) in his career just from endorsements and other business endeavours.
Tennis
For many, Federer's sheer aesthetics stand out over and above his collection of 20 majors, 103 singles titles and 310 weeks at World No 1.