Star-struck Shubhankar Sharma announces arrival at biggest stage with inspired show at WCG
Be sure, next time around, it will not be "Shubhankar the Fan" but "Shubhankar the Competitor", who will be shaking hands with the legend that is Phil Mickelson.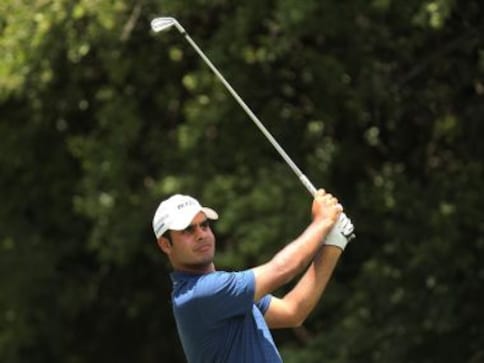 From a two-shot lead to Tied-9th in 18 holes might sound as a disappointment. Even Shubhankar Sharma felt so, but the fact is it was not so. The performance was highly creditable for the 21-year-old, who was not only playing his first-ever World Golf Championships but also his first-ever event on the PGA Tour itself. He was playing in the company of the very best in the game and with legends, some of whom he adored, admired and idolized.
After the first day he was Tied-second, rose into sole lead after the second and kept that two-shot lead intact after 54 holes. In a field that had 45 of the world's top-50, this was unreal. This is the kind of stuff that kids dream of when they take up golf clubs first.
Sharma was living it. But he was both a fan and a competitor at the same time. He confessed that watching the likes of Dustin Johnson and Jordan Spieth and Phil Mickelson at the range a few yards away from him was surreal.
Sharma was candid. "For me, it's actually almost like watching TV. I was telling to Baaz (Gurbaaz, a former Asian Tour pro), who's on my bag there, watching all of these guys on the range, it just seems like there's a TV in front of me and I'm watching them through the TV. Obviously the broadcasts these days are so clear in high definition, it just feels so unreal just watching them right in front of you. It just feels like there's a TV in front of me and I'm actually watching it through a TV. But yeah, it's great just to see the way some of the guys like Dustin strike the ball. I think it just pushes guys like me to play even better."
Next, if he does get into the Masters — he is close to getting into it — he could be on he same range as Tiger Woods. Of watching golf on TV and adoring Tiger, he said, "I remember when Tiger won the U.S. Open in 2008, that 18-hole play-off. I remember I had an exam the next day, so I studied all day for the exam just so that I could watch him play, and I remember when he made that putt to get into the play-off, which is Sunday night for us, I remember I jumped on my bed and almost broke it. These are the stories that inspire you. Yeah, it's been great."
For three days and 54 holes, he was ahead of them all — barring Tiger, who was not there — for three days.
The beginning
Sharma, like Anirban Lahiri, who he considers as one of his mentors among Indian players, comes from an Army background. They are also bonded through their Dads.
Shubhankar's father, Col. Mohan Sharma (retd) was posted at the same station, as Lahiri's father, Tushar, a gynecologist. The elder Sharma revealed it was Lahiri's father, who helped with he delivery of his daughter. Anirban was then one of India's top junior amateurs and Tushar advised Mohan to get his son to play golf.
The Army colonel picked up a golf set and took his son to the course and Shubhankar was given a cut-down 2-Iron. It was his first club. The rest is history.
Sharma did play other sports, particularly cricket like all Indian kids, and some football, too. But it was golf that caught his fancy. Sharma says, "By the time I was 12 or 13, I knew golf would be my life. I wanted to be a professional golfer."
The father took early retirement from the Army to focus on his son's golf. By the time Sharma was 16, he was India's top amateur, having won the All India amateur title, too. That's when the Dad asked his son to turn pro. The father recalls, "There was nothing left for him to prove as an amateur. I thought the sooner he turned pro and played with the best, the better it was." That decision meant Sharma would be able to play at the Asian Games or events like the World Amateur Team Championship and many more.
His first event was the 2013 Gujarat Kensville Challenge on the European Challenge Tour. Shiv Kapur won but the field included Brooks Koepka, now a Major champion, and Peter Uihlein, a PGA Tour player, among others. Sharma made the cut, but finished way down in T-61. But he knew pro golf was his calling.
In 2014, he won his first pro title in Kochi, where an Indian Tour event was reduced to 36 holes because of inclement weather. Next time he won was in 2016, when he won three times.
That year he also flitted between Indian, Asian Development and Asian Tours. By November he had not sealed his card for 2017 and had only couple of events left in the season. That's when he showed this ability to go deep with low scores. He shot 62 at Manila to finish T-4 and seal his card.
In late 2017, he shot a 61 in second round at the Joburg Open enroute to his maiden European Tour win. Seven weeks later, he shot 62 in the final round to win the Malaysian Championships and he was suddenly in the arc lights and inside Top-100. He was now set for the European Tour.
Qualifying for the WGC-Mexico meant his first appearance on PGA Tour and that in a WGC event. He took to the atmosphere like a duck to water and had the world spellbound for 54 holes and it included rounds of 65-66-69.
Shubhankar Sharma had arrived. But he was still a kid and star rolled into one. He was gawking at the likes Phil, Dustin, Jordan and Justin. He was at the same range as them and then he mustered enough courage to walk up to say 'Hi' to Mickelson before the start of the third round. Mickelson waved him off thinking he was media, before realizing he was a fellow player.
Mickelson apologized and then wished him "Have a good day." It turned out to be just that.
Sharma shot a third round 69 and led the field. Guess who was going to be one of his playing partners on the final — the same Mickelson. This time Mickelson went up to shake hands with a young man, who was born four years after he had turned pro in 1992.
The next stage level is here
The final day of the WGC-Mexico may well in time be seen as the next step in his journey to the world's elite.
Sharma's lead group had Mickelson and Tyrrell Hatton. Mickelson was playing like he did ages ago. Ahead of them was another magician Justin Thomas, who had seven wins and seven Top-10s in his previous 31 PGA Tour starts. Thomas produced what may well be the shot of 2018 from 120 yards. It went past the flag and then spun back to drop into the hole and he moved from a distant 14-under to a lead score of 16-under. Hatton and Mickelson did get there but were unable to cross leading to a play-off. Hatton dropped back on the last leaving Thomas and Mickelson to play off for the title.
Amidst this drama, Sharma, who had stars in his eyes was reduced to a sideshow. If watching his idols was lesson No 1; Lesson No 2 was that Golfing Gods could turn away any time they want.
After 14 birdies and two eagles in first 54, holes, he could not find a single birdie for first 11 holes on the final day. After giving away a mere five bogeys in his first 54 holes, that included a 22-hole bogey free streak from fourth on the second day to seventh hole on the third, he leaked four shots in his six last holes of the tournament.
From 14-under at one stage and starting the final day at 13-under he ended the week at 10-under; and from a sole leadership he was down to Tied-9th. Not bad for a 21-year-old debutant. But a disappointment alright.
Yet he smiled and said, "(I am) a little bit disappointed, I was leading and I think I couldn't finish it off today. But that's what the game is about. (But) what I learned, especially playing with Phil, I'll cherish it forever."
Then he added, "If you would have asked me four months ago that I would be playing with Phil at a WGC on the last day, I would have just laughed. Just playing with him has been fantastic. He's obviously a great man, showed me a few great shots."
Be sure, next time around, it will not be "Shubhankar the Fan" but "Shubhankar the Competitor", who will be shaking hands with the legend that is Phil Mickelson.
Sports
Canada's Henderson, 23 and ranked sixth in the world, finished with a 16-under par total of 268 to claim her 10th LPGA title and her first since the 2019 Meijer LPGA Classic in Michigan.
Sports
It was on the 1,000-mile flight from Charlotte to Dallas that DeChambeau got the news from his agent he was in 68th place
Sports
Matsuyama received the award from Japanese Prime Minister Yoshihide Suga, who saluted him for lifting spirits in Japan this time — and 10 years ago.