Spanish Grand Prix Paddock Diaries: From Fernando Alonso's hopes about McLaren's upgrades to F1's fan quotient
In his media session, Fernando Alonso estimated that McLaren were up to two seconds slower per lap than the front-running teams.
The Thursday of a Formula One Grand Prix weekend is probably the busiest for everyone. Media interactions are the order of the day and there are hundreds of reporters from different parts of the world reporting in all the possible languages running around according to the drivers' media schedules. Firstpost made the most of today by attending various interactions with the FIA and drivers - including exclusive interview opportunities with Marcus Ericsson, Romain Grosjean, Kevin Magnussen and Nico Hulkenberg.
First European round
The Spanish Grand Prix is crucial for many reasons. First, it is the first European round on the calendar. This means that team factories are only a few hours away and the first 'big' upgrades of the season are usually made available for Spain. Secondly, Spain is the chosen venue for pre-season testing and this offers a direct view of how each team has progressed from the first to the fifth race of the season — after all, Formula One is akin to an arms development race. Third, Formula One — the business — announced key introductions to the sport.
McLaren, the only team to have finished all races yet, are hoping that their upgrades deliver in Spain. In his media session, Fernando Alonso estimated that McLaren were up to two seconds slower per lap than the front-running teams. "If you take the first qualifyings over the year so far in Q2 times, that we were eliminated in all four races, we were 1.8-2.0 seconds behind. That's my estimation. I don't know how much they push in Q2, so maybe it is a little bit more or a little bit less and depends on the circuit."
"And, as I said, Spain brings a lot of updates for all of the teams. Some of them they work better, some of them, they need a little bit more time. So, hopefully, we can benefit somehow as well," signed off Alonso.
Red Bull squabble
It was only a fortnight ago that both Red Bull Racing drivers took each other out and registered the team's second double DNF in two races. A battle that was fought hard and fair throughout the race suddenly took a turn for the wild after neither driver refused to budge. Fans made the most of it on the internet after social media was flooded with multiple memes.
But how would Red Bull Racing react? Would they do what Force India did last year and not let their drivers race? Or would they let their drivers off with a warning? Helmut Marko, Red Bull's Motorsport Advisor, confirmed to Auto Bild, "We'll let them drive free. However, in the future, we will tell the race engineers that they will have to intervene when we see that it could escalate again.
"The two (Max Verstappen and Daniel Ricciardo) of them have spoken. There is no bad blood. You don't have to talk about it anymore. The book is closed."
Good news for Formula One and the fans that the Bulls will be free to race each other come Sunday!
Funnily enough, Esteban Ocon, Force India's driver who found himself in the middle of a destructive team-mate battle in 2017, was asked by a media scribe if he had advice for Red Bull Racing and how they should handle the matter. Ocon replied, "They are Red Bull Racing. They know what to do."
Formula One's push for fan engagement
Formula One announced various introductions to the sport to improve fan experiences at the track and at home. First, the much-awaited and also probably bit-delayed Formula One TV was launched across all markets. This earmarks Formula One's entry into live streaming and an OTT (over the top) offering to its fans. This service, in addition to Formula One's efforts to share more content on social media are an indication that the sport is going all out to attract newer and younger audiences.
Secondly, Formula One introduced 'Fan Vision', a trackside service aimed to improve the spectator experiences at the race. In true Formula One style, they labelled this service as "the most immersive spectator technology". This service would be offered via a five-inch screen big handheld device that would allow fans at the circuit to consume the race via the live broadcast, replays, audio feeds, live timing, etc. At the Spanish Grand Prix, renting the Fan Vision would cost approximately 100 euros; an investment that would definitely make watching the race at the circuit far more fun than watching cars zip by at high speeds. Fan Vision could actually be labelled as a reintroduction as Formula One had 'Kangaroo TV' in the mid-2000s. It is good to see Formula One care about bettering the experience at the circuit and on broadcast.
Formula One in the United States
Liberty Media's intentions to grow the sport in the United States of America is well known and it seems that a Grand Prix in Miami could be their first step to adding a second race in the country. Formula One confirmed late on Thursday that the possibility of a Miami Grand Prix was a step closer after the City of Miami Commissioners and the Economic Development and Tourism Committee (Miami-Dade County) unanimously voted in favour of the possibility of hosting a Formula One race. If approved, the race could be held in October, although the calendar would be confirmed only after running the process with the FIA and the WMSC. However, there is a possibility that the race in Maimi could come at the cost of the race in Baku unless Liberty Media is able to convince the teams to agree to a 22 race calendar. The fans wouldn't mind, would they?
All in all, Renault's Nico Hulkenberg probably offered the best summary of the Thursday when he said, "The Thursdays, I don't like so much. I am always happy when the Thursday is over and we can get to business!"
Find latest and upcoming tech gadgets online on Tech2 Gadgets. Get technology news, gadgets reviews & ratings. Popular gadgets including laptop, tablet and mobile specifications, features, prices, comparison.
Sports
Leclerc, 23, added that he had "mild symptoms" and was isolating at his home in his native Monaco.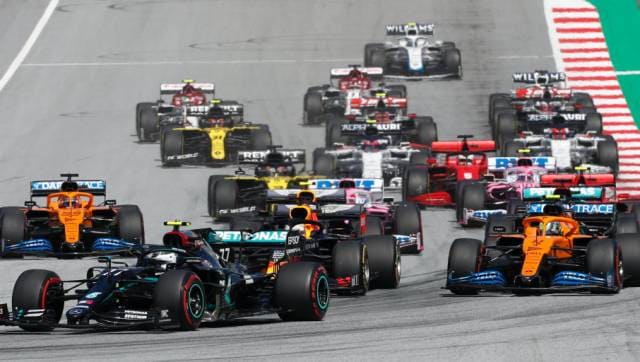 Sports
The Italian circuit of Imola, which returned last year as the calendar was hastily rearranged in the face of the pandemic, is expected to fill China's slot, AFP learned on Monday, confirming information from several specialised media.
Sports
The Australian race, usually the season-opener, was delayed from March to November, but no new date was set for the Chinese Grand Prix, normally held in April.