South Korea's hearing-impaired player Duckhee Lee hits right note on tennis court
Day in and day out Duckhee Lee, who was born deaf, slugs it out on the professional circuit and has an immediate goal to break into the top 100.
Pune: When your nervous system is without one of the most essential senses – hearing – you either curse life or find a way to overcome it and realise your dreams.
South Korean tennis player Duckhee Lee, who was born deaf, chose the second option.
Day in and day out he slugs it out on the professional circuit and has an immediate goal to break into the top 100. He also aspires to be the number one player in Asia.
Coached by Woo Chunghyo, who is also his cousin brother, 18-year-old Lee is ranked 152 at present and has reached the singles semi-finals of the Pune ATP Challenger event.
So how is he managing to excel without one of the most important powers in a living being?
"The only problem is that when umpires call the ball out I can't listen. So I keep on playing. This is just one problem, everything else is fine," Lee told PTI through Chunghyo, who also acts as his interpreter.
Since Lee can't listen how hard the ball has been struck from the sound of racquet, he just keeps an eye on the ball.
"Of course it becomes very difficult (to judge) but it is much better for eyes to look at the ball when opponent hits ball. I focus on the ball and try to think better which way to move," he responded.
Chunghyo says Lee actually can focus better than others.
"He is very good with his focus during the matches. Since he can't hear any noise, he's better focused than others," he said.
But how does he communicate when he is training and when he wants to express himself?
"He can read my lip motion. When we are in Korea there is no problem. I tell him things slowly, so he can understand. He also speaks slowly. But since he does not speak English, in other countries, he can't communicate much with others," he said.
Is it really difficult to coach him?
"There is no challenge, no problem. At the moment, he is with me and his father but sometimes other coaches have also come to teach him. He has trained with lot of coaches in Korea and other countries," he said.
Chunghyo says his younger brother is desperate to win a Challenger title before the end of this season.
"He likes power tennis. He has a good forehand, really good footwork. That is what is attractive about him." Lee says he has the confidence to end the title drought as he is playing his best now.
"Every tournament I want to win the title. I am feeling good this season and hope to pick up a trophy this week," Lee, winner of 10 ITF Futures singles titles, said.
It is only the third time in the season that he has managed to reach the semi-finals where he is up against India's Prajnesh Gunneswaran. He had lost the title clash of the Kaohsiung Challenger to his good friend Hyeon Chung in September.
After Pune Lee will go back to Korea and then play two Challengers in Japan and close the season in Kazakhstan.
Supported by Hyundai Motors and KBB bank in Korea, Lee Picked up the racquet after seeing one his friends play tennis and also likes football and table tennis. Chunghyo also says that Lee likes to meet people and has a number of friends in Korea and also on the pro circuit.
"Lot of tennis players in Korea are his friends. When he meets fans, he says hello, does hi fives, share jokes but at the same time, does not speak much."
Lee will graduate from High school next year and may go to a University.
He has practiced with the likes of Novak Djokovic, Rafael Nadal, and Kei Nishikori but likes Roger Federer the most since he is the most "handsome" of all players.
Sports
Sasnovich, a 27-year-old from Belarus ranked 100th in the world, saved nine of the 10 break points she faced to emerge with the 6-0, 6-4 first-round victory and advance to a meeting with Raducanu, the British 18-year-old whose run to the US Open title last month electrified the tennis world.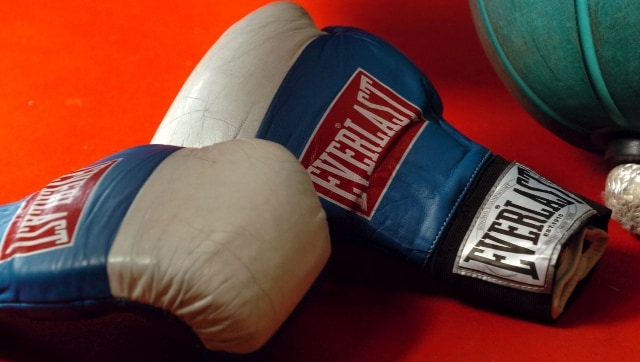 Sports
A former Asian Championship bronze-medallist and a four-time national champion, the 49-year-old Rana has been a seasoned coach with the Services Sports Control Board.
World
Within days, President Joe Biden's special envoy for North Korea, Sung Kim, is scheduled to hold talks with US allies in Seoul over the prospects of reviving talks with North Korea