South Asian Games 2019: Harmeet Desai, Anthony Amalraj win men's doubles gold, Madhurika Patkar, Sreeja Akula bag women's top prize
In an all Indian affair, Harmeet Desai and Anthony Amalraj defeated compatriots Sanil Shetty and Sudhanshu Grover in the table tennis men's doubles final to win the gold
Indian paddlers bagged the gold and silver medals in both the men's and women's doubles events of the 13th South Asian Games on Wednesday

In an all Indian affair, Harmeet Desai and Anthony Amalraj defeated compatriots Sanil Shetty and Sudhanshu Grover in the men's doubles final to win the gold

The bronze medals went to the Sri Lankan duo of Vishaka Madhurangi and Hansini Puilima and the pairing of Sonam Soma and Sadi Raman Mou of Bangladesh
Kathmandu: Indian paddlers bagged the gold and silver medals in both the men's and women's doubles events of the 13th South Asian Games on Wednesday.
In an all Indian affair, Harmeet Desai and Anthony Amalraj defeated compatriots Sanil Shetty and Sudhanshu Grover in the men's doubles final to win the gold. The duo of Harmeet and Amalraj defeated compatriots Sanil and Sudhanshu 8-11 11-7 11-7 11-5 8-11 12-10 in the title clash.
Nepal's Santoo Shrestha and Vinesh Khaniya secured the bronze medal as did the Sri Lankan pair of Chambers Ginige and Rashmika Krishnanand.
In the women's doubles final, Madhurika Patkar and Sreeja Akula beat Sutirtha Mukherjee and Ayhika Mukherjee 2-11 11-8 11-8 11-6 5-11 11-5 to clinch the top honours.
The bronze medals went to the Sri Lankan duo of Vishaka Madhurangi and Hansini Puilima and the pairing of Sonam Soma and Sadi Raman Mou of Bangladesh.
In mixed doubles event, Harmeet combined with Sutirtha Mukherjee to down Amalraj and Ayhika 11-6 9-11 11-6 11-6 11-8 to win the gold.
Sports
Rio-bound Indian paddlers Achanta Sharath Kamal and Soumyajit Ghosh are expected to play in the singles event of the Rs 4.25 lakh AAI 46th All India Inter-Institutional Championships starting from Sunday.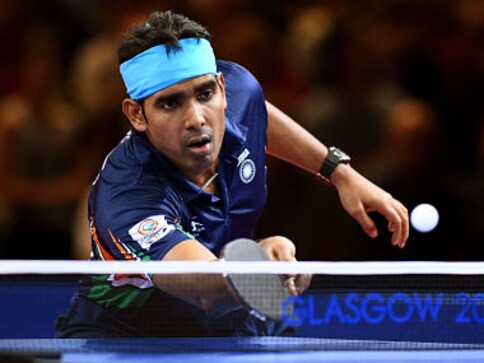 Sports
Kamal, the top-ranked Indian in the world will have to shoulder most of the burden of the eight-member squad, comprising four men and women paddlers, besides his own fans' expectations at home.
Sports
In the women's rankings, Manika Batra is in the 63rd position while Sutirtha Mukherjee entered the top-100 for the first time. She jumped 14 spots to be 95th