Solid starts for Bhullar, Sujjan at Thai Golf Championships
Bhullar had seven birdies and a bogey and was two shots behind leader Czech-born German Alex Cejka, who cracked a flawless eight-under 64 to lead by two.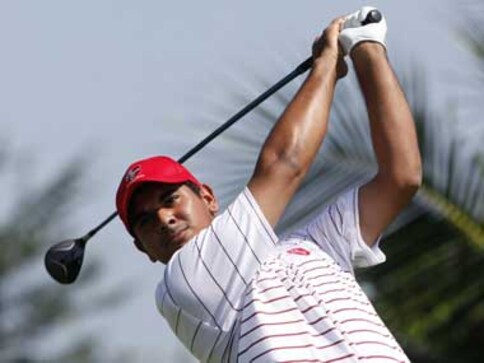 Bangkok: Gaganjeet Bhullar missed the final birdie by a whisker but managed to finish sole fourth with a six-under 66 on the opening day of the Thai Golf Championships here today.
Bhullar had seven birdies and a bogey and was two shots behind leader Czech-born German Alex Cejka, who cracked a flawless eight-under 64 to lead by two.
In between Cejka and Bhullar were US Open champion Justin Rose and young Thai Arnond Vangvanij, who shot 65 each on the first day of the USD one million Asian Tour tournament, which features eight of the world's top-50 players.
There was more good news for Indians as Sujjan Singh, playing on a medical exemption this year, showed he is on his path to recovery with a four-under 68.
Daniel Chopra, another one with Indian connection, carded five-under 67 despite going to the very edge of the water on the 18th. He rolled up his trousers, stepped into the lake and took a shot to come out with a bogey.
While Bhullar and Sujjan were in sizzling form, the rest of the Indian contingent had mixed luck. Chinnasawmay Muniyappa, also playing on medical exemption shot 71 as did Anirban Lahiri to be tied for 22nd, while Himmat Rai and Abhinav Lohan were even par 72 to be tied 39th.
Jyoti Randhawa (73) at 53rd, Jeev Milkha Singh (74) at 70th and SSP Chowrasia (75) at 92nd would need much better rounds to get into the weekend, while Ajeetesh Sandhu (76), Digvijay Singh (78) and Abhijit Chadha (81) will have to play out of their skins to make the cut.
Starting in the second group from the 10th tee, Bhullar looked set to go to seven-under but the putt on the ninth, his last hole, dodged the cup. "It ditched me in the end. I thought it would break from
left-to-right, but with 54 more holes to go just keep your head down and look for the opportunities," he said.
Bhullar has had a topsy-turvy run this season. He was dead last at the ISPS HANDA World Cup of Golf in Australia, but won the Indonesia Open the following week. He then missed the halfway cut at the Hong Kong Open last week and now said, "I'm due for a good week."
Bhullar added, "I'm glad that this is the last tournament of the season. This is my 13th straight event. I'm just dying to board the aircraft which is to New Delhi (and then) back home.
Appreciating the chance to play with some world-class names, he said, "We don't get that kind of chance very often, and whenever we do get a chance like at the CIMB (Classic), WGC (HSBC Champions) and this week, and we are all set to beat those guys."
Bhullar expressed satisfaction on his performance and said his putting was consistent on the front nine of the course. "It was a steady round. I hit about 15 greens in regulation today. I drove the ball really good and hit 14 fairways out of 14. My putting was pretty much consistent on my back nine, which is the golf course's front nine."
On his tiring and punishing schedule, Bhullar said, "I've been working a lot on my physical fitness lately. I've been hitting the gym about three to four times a week. I think that is one of the secrets which has been keeping me along. Mentally, I think it's all in your head."
Sujjan has made a habit of starting events with four-under cards. He did that at Indonesia and Hong Kong, too, but as he admitted with a smile. "They say well begun is half-done, but I seem to miss out after that. I am playing well, but I just need to be more consistent."
He needs a finish inside top-5 to have an outside chance of making his Asian tour card for 2014 as he is placed way down at 112th place. "I don't think about that since it is not in my control. I am fine with going back to Q-School if need be. I have done that before."
Currently, Sujjan is tied in sixth place alongside defending champion and the 2011 Masters winner Charl
Schwartzel, Sergio Garcia and Mardan Mamat, who at one stage was seven-under before dropping three bogeys in last six holes.
Leader Cejka, who migrated to Germany at nine, has represented his country 11 times and won four times in Europe. Cejka said, "I've been coming here since late '90s for the Thai Open back then. I've been here for two weeks already. I played Jakarta where I got acclimmatised a little bit. Hong Kong was a great temperature, so I'm here already three weeks. I like it."
He added, "I like it here. (After the tournament), I'm going to Phuket with my wife and just relax and get a good tan hopefully."
Rose, who has had a Major win and 11 top-10s around the world, said, "It was an early alarm call this morning at 4.30. Didn't enjoy that part but once I got out here to the golf course it was a perfect morning for golf, nice and cool to start with."
"It was the type of morning you wanted to capitalise on. My caddie did a really good job walking the course on Tuesday and told me the lines, and then in the Pro Am yesterday, I felt like I made enough birdies to feel comfortable with the conditions."
PTI
Sports
De Villiers and Barty will team up in the inaugural Icons Series golf event in Jersey City from 30 June to 1 July.
Sports
Jack Nicklaus, 82, an 18-time major winner said he turned down the offers out of loyalty to the PGA Tour.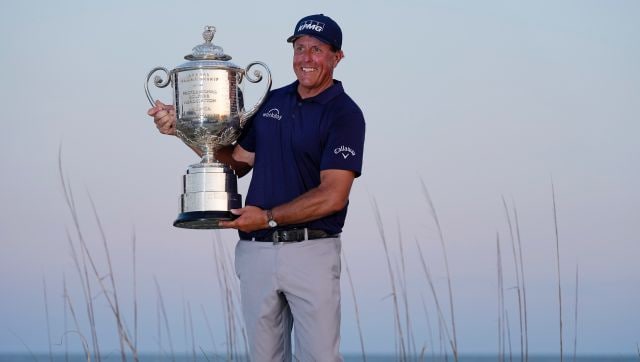 Sports
Phil Mickelson did not play in last month's Masters for the first time since 1994 and is missing the PGA Championship for the first time since he made his debut in 1993