'Small-town guy named Bubba' once again rules the Masters
Bubba Watson had just won his second Masters in three years, by the comfortable margin of three strokes, and the long-hitting lefty sounded like he needed to pinch himself to believe it.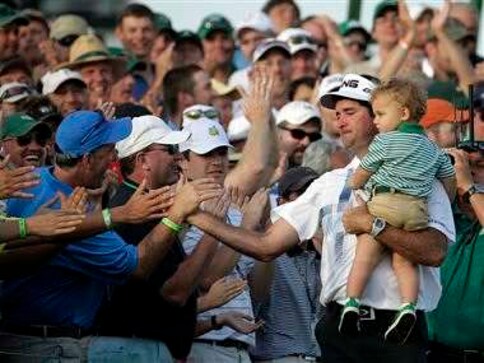 Bubba Watson had just won his second Masters in three years, by the comfortable margin of three strokes, and the long-hitting lefty sounded like he needed to pinch himself to believe it.
"A guy named Bubba from a small town, born in Pensacola, Florida, raised in Bagdad (Florida), it's crazy to think that you've won," Watson said at the champion's news conference on Sunday.
"A small-town guy named Bubba now has two green jackets. It's pretty wild."
Watson likes to keep it simple, and winning at Augusta National in 2012 rocked his world to such an extent that it took him nearly two years to win again on the tour.
There is no telling how joining the ranks of Ben Hogan, Byron Nelson, Tom Watson and Seve Ballesteros as a winner of a pair of Masters titles will affect him.
"After getting the green jacket the first time, 2012, winning it, you know, it's overwhelming," said the 35-year-old Watson, who wears his emotions on his sleeve and is easily moved to tears.
That first major triumph came one week after Watson and his wife Angie adopted their first child, Caleb.
"Learning to be a dad and then learning to have a green jacket with you is two big things to adjust to," explained Watson. "So it just took me a little time.
"It took me a year or so to get adjusted. I'm not really that good at that."
And it took nearly another year to get himself back in the winner's circle at Riviera Country Club two months ago.
"Finally I got adjusted to it and here we are, another green jacket," said Watson.
The turning point for Watson on Sunday came on a pair of two-stroke swings between him and playing partner Jordan Spieth at the eighth and ninth holes that turned a two-shot deficit into a two-shot lead at the turn.
"It was lucky for me today that nobody really made putts coming down the stretch," he said about the lack of a charge by any of his rivals on the back nine. "So I didn't have to make putts myself."
'MY WAY'
After the high-strung, emotional Watson cried during a hug with his caddie, Ted Scott, following the final putt, the winner scooped up Caleb as he waddled toward the green and the champion sobbed on the shoulder of his wife during an embrace.
Watson, a self-taught player who has never had a coach or taken a lesson, said he did not consider himself an elite golfer, just a man blessed to be able to do what he loves.
"I'm not trying to play golf for everybody to tell me how great I am or I'm one of the greats of the game," he said. "I play golf because I love it.
"The game has brought me everything that I've ever owned in my life. My parents taught me values through the game of golf.
"It brought me so much closer to my mom and dad. I've got a lot of friends, I've travelled the world because of this game, and that's really why I play it, because I love it.
"Every day it's different."
Watson plays by feel and his unorthodox approach was on full display at the par-five 15th when he held a three-shot lead.
"I've always done it my way," said Watson, who bends the ball to the right or to the left and keeps himself engaged by creating challenges for himself on the course.
Watson had hit his slicing tee shot into the pine straw off the left side of the fairway with a stand of trees in his way to the green.
Instead of punching out safely, Watson flew his approach in between an opening in the trees and over the water guarding the green on his way to a par.
"You have to play your swing. You have to play what you know," he said. "Sometimes I hit a big slice off the tee to get it in play. Sometimes I hit a big draw with an iron. Just whatever makes you feel comfortable."
In 2012, Watson won at Augusta in most contrasting fashion.
He battled to join Louis Oosthuizen in a sudden-death playoff and won it on the second extra hole with a remarkable recovery shot out of the woods and onto the green for a title clinching par at the 10th.
"The shot out of the woods made me famous, but this one was a lot better for me and my nerves, my family, and probably on (caddie) Teddy," said Watson.
Watson shed no tears at his news conference, but expected to have another good cry once his achievement sank in.
"Why Bubba Watson from Bagdad, Florida? Why is he winning? I just always ask the question, why? Why me?" said the world number 12.
"That's why I'm always going to cry. I'll probably cry again tonight sometime, just thinking about it."
Reuters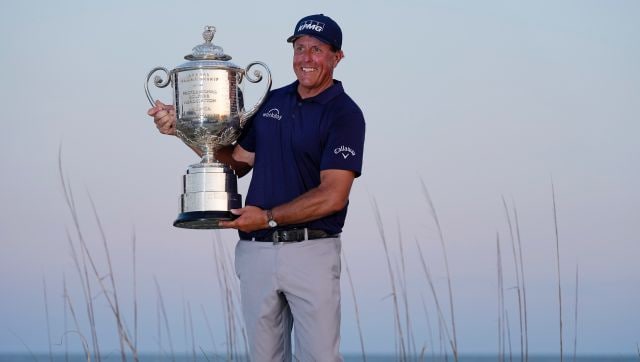 Sports
Phil Mickelson did not play in last month's Masters for the first time since 1994 and is missing the PGA Championship for the first time since he made his debut in 1993
Sports
With LIV Golf's first event next month in London set to pay a record $25 million, Rory McIlroy's tune has changed even with no players so far committed to the upstart series.
Sports
Will Zalatoris fired a bogey-free five-under-par 65 to seize a one-stroke lead after Friday's second round of the PGA Championship.