Skier Aanchal Thakur's father narrates how he introduced PM Narendra Modi to paragliding
Bronze medal-winning skier Aanchal Thakur's father narrated how Prime Minister Narendra Modi learnt paragliding while on a political visit to Himachal Pradesh in the late 1990s.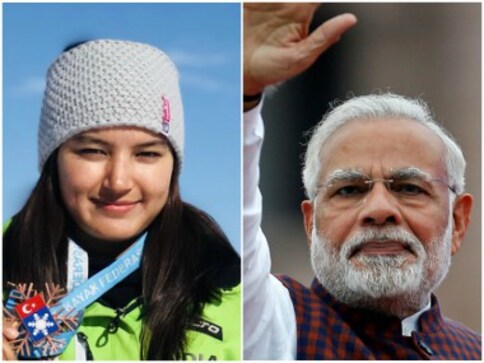 Following Aanchal Thakur's historic feat of becoming the first Indian to win a medal in an international skiing competition, Prime Minister Narendra Modi was among those who hailed the 21-year-old's achievement.
The Himachal Pradesh native clinched bronze in the coveted Alpine Ejder 3200 Cup organised by the Federation Internationale de Ski (FIS), skiing's international governing body, at the Palandoken Ski Centre in Erzurum in Turkey.
"Well done @alleaanchal for winning an international medal in skiing! The entire nation is ecstatic on your historic accomplishment at the FIS International Skiing Competition in Turkey. Wishing you the very best for your future endeavours," tweeted Modi.
However, what might have slipped the PM's mind is that he might have had a brush with Thakur's father in the past.
According to a report in The Indian Express, Roshan Lal Thakur introduced PM Modi to paragliding two decades ago.
While campaigning in Himachal Pradesh during the recent assembly polls, Modi even made a mention of "a Thakur" being his first instructor when he became a fan of paragliding. Modi happened to visit the senior Thakur's institute while visiting Solang for political reasons in 1997.
"A local leader brought Modiji to show him the paragliding facility. The ground was slushy because it had been raining. He wanted to give it a try but I said he couldn't because you need a firm ground for the run-up. But he was adamant. He tried it and he was hooked," narrated Thakur senior, who added that he had attended Modi's rallies in the recent elections.
Aanchal and her father aren't the only members of the Thakur family with an inclination towards winter sports. Aanchal's brother Himanshu had earlier participated in the 2014 Winter Olympics, securing a rank of 72 in the giant slalom race.
India
The prime minister's proposed public meeting would be a historic and attended by a large number of people to celebrate Modi's eight years as the country's prime minister, said BJP president Suresh Kashyap
Opinion
Prime Minister Narendra Modi's recent visit to three European countries — Germany, Denmark and France — and participation in the Indo-Nordic Summit at Copenhagen have prompted much celebration and speculation
Politics
The home minister said that Prime Minister Narendra Modi thinks about the result and this thinking has brought a big change in the country