Sinquefield Cup: Viswanathan Anand tied sixth in standings after playing draw with Fabiano Caruana, remains unbeaten
The race to top four places of the Grand Chess Tour has become complicated as on date, with many theoretical possibilities depending on the outcome of the last round to be played on Monday.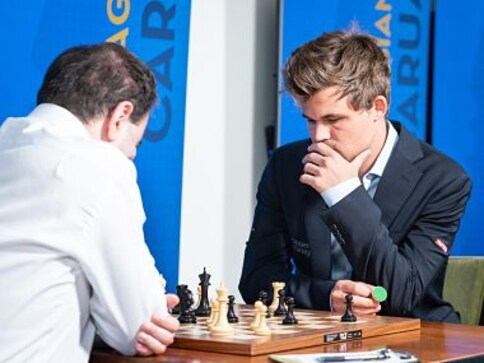 For the second successive day, all the games of the 8th and penultimate round ended in fighting draws in the Sinquefield Cup Chess tournament being held at Saint Louis, Missouri. World Championship challenger, Fabiano Caruana has maintained his sole lead with 5 points. Former world champion, Viswanathan Anand had a fighting draw with black pieces against Caruana and thus maintained his unbeaten run by scoring draws in all the 8 rounds so far. World champion Magnus Carlsen and three more players follow the leader with 4.5 points each. Anand with 4 points is in a tie for 6-7 places.
The race to top four places of the Grand Chess Tour has become complicated as on date, with many theoretical possibilities depending on the outcome of the last round to be played on Monday.
As the battle between Caruana and Carlsen to win the title hots up here, Anand's game with Caruana became the centre of attraction. Anand was defending a slightly inferior position with black pieces from the Queen's Gambit Declined opening. Anand has employed this solid but orthodox defence with success in the Sinquefield Cup so far, with draws from all the games played with black pieces against the queen pawn opening.
In a conversation with Firstpost, the former world champion explains about his opening strategy, "It is a luxury if you have four openings, and you can pick and choose (between them), but nowadays it takes so much work to work through all the opening ideas...In most (variations) you can be attacked from many sides. It is hard to pinpoint. It takes time to work through all the material".
For him, the advantage of such a method is that, his depth of opening preparation is feared and respected in the professional circuit. Well versed with nuance in openings employed, he is known for generating new ideas, even in well known positions. Opponents find it difficult to unearth weaknesses in his preparation and fear getting lured into new schemes which they find difficult to cope with over the board.
It was with such a new opening idea on the 13th move that Anand surprised Caruana on Sunday. Further, he achieved a slightly passive but defendable position, though he admitted that he felt 'uncomfortable' at some point. As Caruana did not continue accurately, the game ended in a draw in 39 moves.
Magnus Carlsen was under pressure in the opening stages against Shakhriyar Mamedyarov from the black side of a Neo-Grunfeld set-up. However, Mamedyarov's imprecise handling of the middlegame resulted in a balanced but complicated endgame. Though Carlsen looked like achieving one of his trademark grinding endgame advantages, Mamedyarov defended accurately to draw in 58 moves.
Scrutiny of the leaderboard shows that there can be no definite predictions about the prospective final four finishers of the Grand Chess Tour standings, as it involves too many permutations. The only player, who seems to have made it into the bracket, is Hikaru Nakamura. Everyone else in the tournament has to count on an even performance in the last round and others' performances to qualify. Carlsen's performance doesn't count for the tour standings, as he is not part of the circuit and only a wild card entry here at Saint Louis.
But chess lovers all over the world will be waiting to see, if Carlsen will be able catch up with Caruana at the top of the table and force a tie-break match to decide the winner of the Sinquefield Cup. Such a mini-match will contain two games with a time control of 10 minutes for the whole game, with 5 seconds time-delay per move. Coming on the backdrop of their impending summit clash in November 2018, such a match will be a delight for spectators.
Results (8th Round):
Caruana (5) Drew Anand (4)
Mamedyarov (4.5) Drew Carlsen (4.5)
Grischuk (4.5) Drew Wesley So (3.5)
Vachier-Lagrave (4) Drew Aronian (4.5)
Nakamura (3) Drew Karjakin (2.5)
Pairings (Final Round):
Wesley So - Caruana
Carlsen - Nakamura
Aronian - Grischuk
Anand - Mamedyarov
Sports
The Indian put up a stupendous performance to see off Altansetseg 5-0 and claim the title for the minimum weight category in front of a packed crowd, with Beijing Olympics bronze medallist and Nitu's idol Vijender Singh also in attendance
Sports
Commonwealth Games gold medallist Nitu Ganghas (48kg) began her campaign with a RSC (referee stopped contest) win over Doyeon Kang of Korea, while Preeti (54kg) eked out a 4-3 split decision victory against Romania's Lacramioara Perijoc