Sinquefield Cup: Vishwanathan Anand finishes undefeated; Magnus Carlsen, Levon Aronian and Fabiano Caruana emerge joint winners
Hikaru Nakamura, Levon Aronian and Vachier-Lagrave have qualified to play the Grand Chess Tour final event at London in December.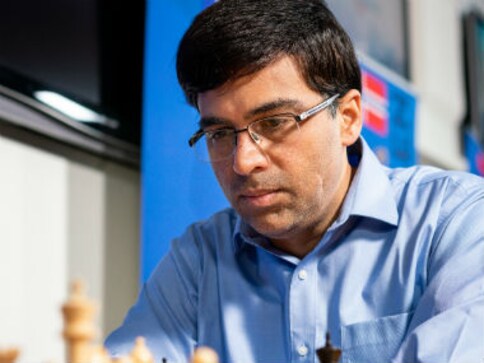 World Champion Magnus Carlsen and Levon Aronian scored dramatic final round victories to reach 5.5 points from nine games and catch up with Fabiano Caruana to finish in a three-way tie for the first place in the Sinquefield Cup that concluded at Saint Louis Chess Club, Missouri, USA.
Hikaru Nakamura, Levon Aronian and Vachier-Lagrave have qualified to play the Grand Chess Tour (GCT) final event at London in December. There is a tie-break match, scheduled for Tuesday between Fabiano Caruana and Wesley So, to decide the fourth and final qualifying spot.
Viswanathan Anand had a fighting draw with Shakhriyar Mamedyarov of Azerbaijan to finish the event undefeated on 4.5 points, scoring draws in all the rounds.
In an unexpected twist after the end of the last round, Carlsen, Aronian and Caruana reached a compromise to share the title of the Sinquefield Cup equally between them, instead of tie-break match as per original rules.
Grand Chess Tour stipulates a tie-break match to decide the winner of an individual event in case of players scoring equal points and tying for the first place. Since three players tied for the first time in this tournament, the standard tie-break methods applied showed an equal score for all three players, which meant that one of the players were to be eliminated by a drawing of lots for the other two to qualify for the tie-break match. This was objected to by Carlsen, who suggested an all-play-all play-off among all three of them to decide the champion. However, this was not agreeable for Aronian and Caruana. Hence, they came to the compromise that they might be declared as joint champions of the event.
Among the Grand Chess Tour leaderboard, only Nakamura was a confirmed qualifier to the top 4 in the tour standings even before the last round. Aronian, Wesley So, Alexander Grischuk, Vachier-Lagrave and Mamedyarov all needed wins or favourable results in the last round to improve their Grand Chess Tour points, so that they make it to the finals. The colour of the pieces was of importance too, as creating chances to score a win is considered difficult with black pieces at the top levels of chess.
Grischuk played the Old Indian Defence with black pieces against Aronian and this was seen as a risky strategy, as the opening does not have fundamental soundness at the highest level and hence a rarity. But Grischuk's idea was to play an unusual opening so as to catch Aronian unaware and thus create a middlegame offering chances for the black side also.
In a chat with Firstpost, Aronian admitted that though he was not expecting the particular opening for this round, he was expecting an opening which had not featured in Grischuk's play ever. Hence, Aronian was able to adapt himself to the flow of the game that led to an interesting middlegame battle. On the 18th move, Aronian boldly sacrificed a rook for his opponent's bishop, though it was not sound enough in the concrete analysis. However, having consumed excessive time on his clock, Grischuk made a series of mistakes and even allowed a checkmate on the 34th move to lose the game.
In contrast, Carlsen played a characteristically long game, where, for long stretches, it wasn't apparent if he was making any progress at all. With characteristic tenacity, he tricked Nakamura into creating mistakes in simple looking positions and won the game in a rook ending after 97 moves.
Anand and Mamedyarov were involved in a sharp opening battle from the Open Ruy Lopez variation, where Anand's superior opening preparation gave him a better position in the middlegame. However, both the players did not commit any big mistakes in a high-quality game that ended in a draw in 59 moves.
Results (9th Round):
Wesley So (4) Drew Caruana (5.5)
Carlsen (5.5) Beat Nakamura (3)
Aronian (5.5) Beat Grischuk (4.5)
Anand (4.5) Drew Mamedyarov (5)
Karjakin (3) Drew Vachier-Lagrave (4.5)
Final placing: (Sinquefield Cup)
1 - 3: Caruana, Aronian & Carlsen 5.5 points each from 9 games - declared as joint champions of the Sinquefield Cup
4: Mamedyarov 5
5 - 7: Grischuk, Anand & Vachier-Lagrave 4.5 each
8: Wesley So 4
9 - 10: Nakamura & Karjakin 3
Current Grand Chess Tour Standings at the end of Sinquefield Cup:
1. Nakamura 34.5 Grand Chess Tour Points
2. Aronian 34
3. Vachier-Lagrave 31
4 - 5: Caruana & Wesley So 26 each
6: Karjakin 25.5
7: Mamedyarov 25
8: Grischuk 18
9: Anand 15
Sports
Armenian Levon Aronian produced inspired play against Viswanathan Anand but the Indian maintained his composure as the game ended in a draw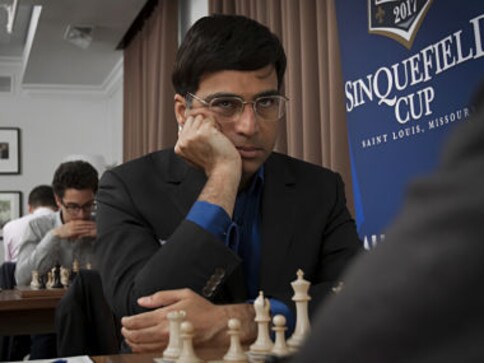 Sports
Though holding an initiative for most of the game, Viswanathan Anand could not make headway against co-leader Maxime Vachier-Lagrave's defence
Sports
Anand showed nerves of steel and deep calculation in outplaying his opponent Fabiano Caruana of United States