Sinquefield Cup 2017: Viswanathan Anand remains joint leader after draw with Maxime Vachier-Lagrave
Though holding an initiative for most of the game, Viswanathan Anand could not make headway against co-leader Maxime Vachier-Lagrave's defence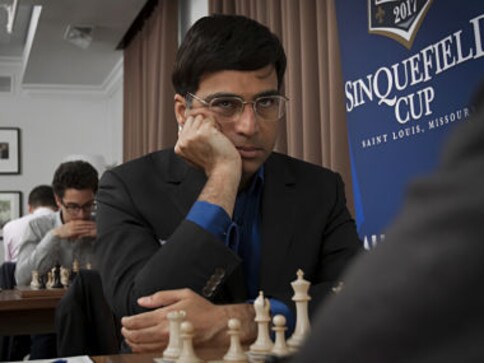 Despite holding an initiative for most of the game, Viswanathan Anand could not make headway against co-leader Maxime Vachier-Lagrave's defence, settling for a draw in the eighth and penultimate round of the Sinquefield Cup being held at Saint Louis in United States. Levon Aronian, who was in joint lead along with Anand and Vachier-Lagrave also could not score a victory against Peter Svidler, while Magnus Carlsen could not overcome Ian Nepomniachtchi.
Thus Anand, Vachier-Lagrave and Aronian continued to be the joint leaders with five points each heading into the last round and the tournament is interestingly poised for a photo finish on Friday.
One of the main reasons for Anand's longevity as a performer in chess has been his ability to reinvent himself periodically in his long and illustrious career spanning more than three decades now. Till his World Championship match in 2008 against Vladimir Kramnik, Anand was always a player who opened with the king's pawn on the first move, 1.e4. When he expanded his repertoire to 1.d4 for the match and emphatically defeated Kramnik, his arsenal got richer by the addition, as it combined with his meticulous opening preparation which would ultimately become one of the hallmarks of his strengths. Along with such addition of Opening repertoire, a change of style in one's play, ability to play more varied types of positions and pawn structures, and a general widening of one's knowledge takes place, which was one of the main reasons of Anand's rejuvenation post-2008 period.
Since 2015, Anand has again reverted back to be faithful to 1.e4, and has been consistent with his first move, more or less.
In the current Sinquefield Cup, when he opted for 1.c4 – the English Opening – in his fifth round game against Caruana, it must have raised quite a few eyebrows of his fellow competitors, especially as he won that game and proved his knowledge of the position to be the result of deep preparation than speculative play. However, his rivals also have to cope up with the angle if this whole change is just a smokescreen to keep guessing his opening move intentions in the upcoming World Cup in September.
In the eighth round game against Vachier-Lagrave too, Anand opted for the English opening, though it started with the move order 1.Nf3 & 2.c4. Once again, it was obvious that Anand was well prepared in the ensuing variations and was able to squeeze out an advantage out of the opening, proving that his English Opening has come about only after a thorough preparation of opening theory.
However, a weak 20th move of doubling the rooks along the d-line was Anand's error, which ultimately resulted in Vachier-Lagrave equalising and the game ending in a draw after 30 moves.
Levon Aronian had fair chances to win against Peter Svidler and capture the sole lead, but instead opted for safety and drew the game after 19th move preferring repetition moves rather than risking for a victory. On the other hand, world champion Magnus Carlsen, who was trailing the leaders by half a point overextended his position and was forced to defend an inferior position which he was relieved to draw after 32 moves.
This means that Anand, Aronian and Vachier-Lagrave continue to lead the tournament with five points each after the eighth and penultimate round followed by Magnus Carlsen and Sergey Karjakin on 4.5 points. Thus, the event is going towards an interesting finish, as due to the high average strength of all the participants of the tournaments, and complicated tie-break rules. Simply, to keep the chances for outright victory or a tie for the top place, Anand needs to defeat Wesley So in the last round with black pieces. While So's uneven form is an encouraging factor for Anand, scoring a victory with black pieces is never an easy task.
Results: (8th round)
Viswanathan Anand (4 ½) ½ - ½ Maxime Vachier-Lagrave (4 ½)
Levon Aronian (4 ½) ½ - ½ Peter Svidler (3)
Ian Nepomniachtchi (2 ½) ½ - ½ Magnus Carlsen (4)
Fabiano Caruana (3 ½) ½ - ½ Hikaru Nakamura (2 ½)
Sergey Karjakin (3 ½) 1 - 0 Wesley So (2 ½)
Points position after 8 rounds:
1 - 3: Anand, Vachier-Lagrave and Aronian - 5 points each
4 - 5. Carlsen and Karjakin - 4 ½ each
6. Caruana - 4
7. Svidler: 3 ½
8 - 9: Nakamura, So and Nepomniachtchi - 3 each
10. So - 2½
Pairings for the last round:
Carlsen - Aronian
Vachier-Lagrave - Nepomniachtchi
So - Anand
Nakamura - Karjakin
Svidler - Caruana
India
This was the first time that India was hosting the Chess Olympiad, which started from 28 July in Mamallapuram and will conclude on 10 August. The international tournament would see a participation of 349 teams from 187 nations, breaking the earlier records of participation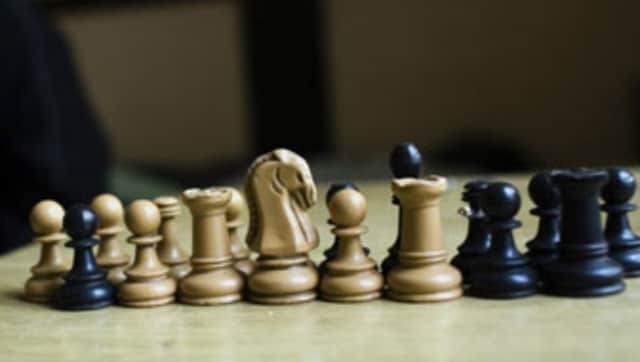 Sports
Uzbekistan sprung a surprise by bagging the gold medal with a 2-1 win over the Netherlands ahead of a strong Armenian team, which beat Spain 2.5-1.5 in the final round, in the Open section.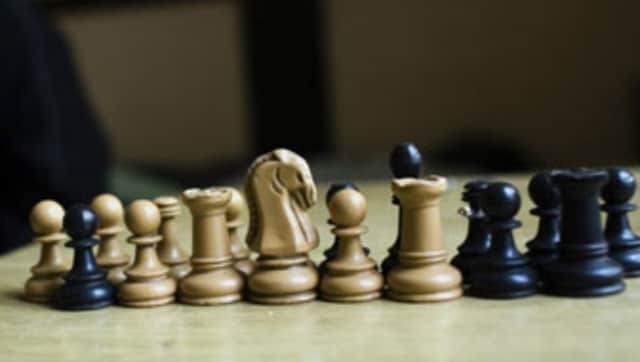 Sports
Top player Koneru Humpy returned to winning ways, beating Zhansaya Abdumalik while Tania Sachdev and Bhakti Kulkarni scored over Xeniya Balabayeva and Gulikshan Nakhbayeva respectively. R Vaishali drew with Bibisara Assaubayeva on the second board.