Sinquefield Cup 2017: Viswanathan Anand impresses despite draw with Peter Svider in second round
India's Viswanathan Anand remains unbeaten in the Sinquefield Cup with two draws from as many games
Second round of the Sinquefield Cup saw Viswanathan Anand employ one of his favourite methods of play, preferring a Knight over a Bishop even in the middlegame when considering exchange of minor pieces, not conforming to the generally prevalent school of thought in chess. It was a bold play, creating a passed pawn on the middle of the board and a position without any strategic weaknesses enabled Anand to hold Peter Svidler to a draw with black pieces. Anand remains unbeaten with two draws from as many games.
World champion Magnus Carlsen scored a crucial victory over his ex-challenger Sergey Karjakin, while Ian Nepomniachtchi crashed to his second defeat with reckless play against Wesley So. Levon Aronian with white pieces made a surprisingly elementary blunder and lost to Fabiano Caruana after a marathon 110 move battle which lasted 7 hours. After an uneven draw with black pieces against Nakamura, Vachier-Lagrave joins Carlsen and Caruana in the lead with 1.5 points from two games.
Anand faced the English Opening against Peter Svidler and soon the game got transposed to a Tarrasch Defence setup. Anand accepted an isolated pawn on d5, a rare occurrence for the Indian in general. Later admitting that he hadn't anticipated during preparation this particular position in Thursday's game, Anand spent considerable time in the middlegame working out a precise way to defend the position. But when he saw the opportunity to simplify the position, Anand went for the twin exchange of giving up both his bishops for white's knights at f4 & f3, but forcibly exchanging the white bishop on b3 too afterwards.
The resultant position saw Anand defending an open position where Svidler's bishop could become threatening anytime. But Anand's judgement prevailed ultimately as the game petered out to a draw in 31 moves.
Queried by Grandmaster Maurice Ashley after the game regarding popular perception of his preference for knights over bishops, Anand quipped, "I think it is true. Quite a few people have made that observation, and even I have noticed that more often than not my bishops are gone but my knights are still there! So I too think that I somehow contrive to keep my knights rather than my bishops."
Having already exchange one his bishops for a knight with ...Bxf4, Anand played a favourite manoeuvre 15...Bg4 followed by 16.h3 Bxf3 17.Qxf3 Nd4. Thus, further exchanging the white bishop on b3 for his knight, he held balance in the resultant position with his bishop against white's knight as the material equation.
Anand will be a playing a crucial game against Magnus Carlsen in the next round with white pieces.
Chess is often credited as an activity of concentration due to lengthy periods of time when one requires to be totally focussed and alert over the board. More often, loss of concentration for even a single move, coupled with a loss of one's sense of danger can result in disaster. On Thursday, it was one such moment of tragedy for the Armenian Grandmaster Levon Aronian. Having played a creative game in the first round and possibly in high spirits, he was defending a slightly worse position against Fabiano Caruana when a lapse of concentration meant a beginner's blunder on the 33rd move resulting in his losing a full piece.
In the resultant endgame, imprecise play by Caruana saw the game being fought for a mammoth seven hours but finally Aronian had to resign after 110 moves.
Just eight months ago, Carlsen and Karjakin fought each other in a world championship match held in New York, and their second round encounter was reminiscent of those times. Carlsen employed the Reti opening and achieved a quite manoeuvring game to keep up steady pressure on black. He was rewarded for his tenacity when Karjakin failed to put up the best defence and went down in 42 moves due to a direct assault on the black king.
Ian Nepomniachtchi showed signs of poor form and preparation, as he once again found himself playing too fast early in the game and paying the price by handing over the advantage to the opponent in under 20 moves. Wesley So played precisely to convert the advantage to a win in 39 moves from a rook endgame.
Sinquefield Cup is a tournament which employs one of the quirky modern inventions of a chess tournament, when there is a 'confession booth' for participants where any player can get inside and talk about his position even when the game is in progress. Maxime Vachier-Lagrave had entered the booth during the game and had expressed confidence about his opening preparation with black pieces in a Sicilian Najdorf game. He kept his word and maintained equality to hold Hikaru Nakamura to a draw.
Results: (2nd Round)
Peter Svidler (0)   ½ - ½   Viswanathan Anand (½)
Magnus Carlsen (½)   1 - 0   Sergey Karjakin (1)
Ian Nepomniachtchi (0)  0 - 1  Wesley So (0)
Levon Aronian (1)   0 - 1  Fabiano Caruana (½)   Hikaru Nakamura (½)  ½ - ½  Maxime Vachier-Lagrave (1)
Points position after two rounds:
Magnus Carlsen, Fabiano Caruana & Maxime Vachier-Lagrave: 1.5 points each
Viswanathan Anand, Wesley So, Levon Aronian, Sergey Karjakin & Hikaru Nakamura: 1 each
Peter Svidler: 0.5
Ian Nepomniachtchi: 0
Sports
Even though Viswanathan Anand did his best to carve out a win, there simply wasn't enough in the position for him to create too many complications.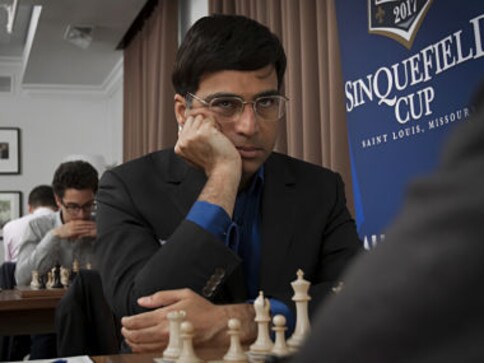 Sports
Though holding an initiative for most of the game, Viswanathan Anand could not make headway against co-leader Maxime Vachier-Lagrave's defence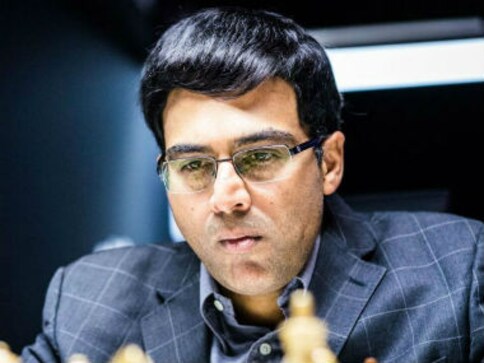 Sports
Playing black for the first time in the tournament, Anand was up against an English opening that got transposed to the Queen pawn game against Svidler.