Sinquefield Cup 2017: Viswanathan Anand draws against Levon Aronian; Magnus Carlsen suffers shock loss
Armenian Levon Aronian produced inspired play against Viswanathan Anand but the Indian maintained his composure as the game ended in a draw
Viswanathan Anand's resourcefulness carried the day against Armenian Levon Aronian's inspired play, but Maxime Vachier-Lagrave sprang the biggest shock of the tournament by defeating world champion Magnus Carlsen in the fourth round of the Sinquefield Cup being held at Saint Louis, United States.
Anand and Aronian have produced remarkable clashes over the years, and their encounters have always been welcomed for the creative contents produced. And both have been completely different in their tempo of play so far in this tournament. While Anand has shown his usual composure and played logical chess, he has not been able to produce any forceful ideas to create chances of victory so far. At the same time, Aronian's ingenuity saw him create a remarkably artistic win in the first round against Nepomniachtchi, especially when he let loose his h-pawn very early in the opening itself posing problems in defence for black. But a painful blunder in the second round saw him losing to Caruana from a position he could have held for a draw and this made him play dispiritedly in the third round where he took a quick draw against Karjakin.
In the fourth round against Anand, Aronian once again showed the same boldness and creativity as in the first round and pushed his h-pawn to the h6 square by the 10th move itself, and seemed to be playing with maximum thrust. However, Anand defended coolly to part with his bishop for the white knight on the 12th move, his trademark chess concept. Correctly judging that white's pawn on h6 will not be a serious threat to his position, he castled on the kingside and consolidated all his pieces towards the centre, thus showing his mastery of chess basics
The middlegame phase of the game involved Aronian running out of ideas to further pursue the boldness shown in the opening, and soon it seemed to be Anand, who was in command.
In chess, it is no secret that white starts the game as the side which actively seeks for an advantage, being a move ahead from the initial position. However, when the black manages to neutralise that slight deficiency of a starting advantage and achieves parity, the psychological advantage passes over to the black player. Many of the times, this is the point when the black player starts truly playing a full game, gaining confidence that the pressure of equalising in the opening phase has eased and he is entitled to fight for a victory.
It was one such scenario for Anand on Saturday, but he didn't make full use of the opportunity. He continued to maintain equilibrium in the position and the game ended in a draw by threefold repetition in 27 moves.
Carlsen's complicated fighting game against Vachier-Lagrave was truly the game of the day, stretching as a hard battle of nerves for a long 6 hours and 20 minutes. Starting the game with an unorthodox exchange of queens early in the opening, Carlsen had to play precisely in the queenless middlegame, not to become worse positionally due to lack of development of pieces.
However, once he achieved active placements for his pieces, he brought Vachier-Lagrave under typical pressure and was clearly better after the 45th move. However, uncharacteristic tactical double blunders on the 46th and 48th moves saw him losing an exchange and the game ended in a painful loss after 71 moves. Thanks to this victory, Vachier-Lagrave jumped into sole lead with three points from four games.
Russian Grandmaster Ian Nepomniachtchi staged a remarkable comeback by playing fast and defeating the American powerhouse Hikaru Nakamura, in a surprisingly smooth victory achieved spending just 33 minutes on his clock. Having lost the first two rounds due to reckless play, Nepomniachtchi's play was admirably smooth and logical.
Games between Peter Svidler and Wesley So, and Fabiano Caruana and Sergey Karjakin never got out of the rational boundaries of balance, and ended in smooth draws.
Results: (4th Round)
Magnus Carlsen (2) 0 - 1 Maxime Vachier-Lagrave (2)
Levon Aronian (1½) ½ - ½ Viswanathan Anand (1½)
Peter Svidler (1) ½ - ½ Wesley So (1½)
Ian Nepomniachtchi (½ ) 1 - 0 Hikaru Nakamura (1½)
Fabiano Caruana (2) ½ - ½ Sergey Karjakin (1½)
Points position after four rounds:
1. Vachier-Lagrave: 3 points
2. Caruana: 2 ½
3 - 7. Anand, Carlsen, Aronian, Karjakin and So: 2 each
8 - 10: Nakamura, Svidler and Nepomniachtchi: 1½ each
Subscribe to Moneycontrol Pro at ₹499 for the first year. Use code PRO499. Limited period offer. *T&C apply
Sports
The French Rugby Federation said the unnamed player tested positive following another round of tests late Wednesday, prompting their medical committee to suspend training.
First Cricket News
The coverage will capture the performance of new teams including Hungary, Romania, and Serbia, who are competing for the first time in the men's T20 World Cup qualification, and Finland playing host to an ICC event for the very first time.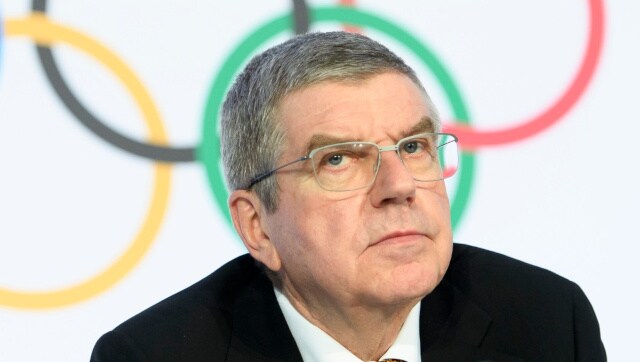 Sports
The IOC announcement does not mean Brisbane is guaranteed to get the Games, and there is said to be interest from other cities, but it is now the hot favourite.