Sinquefield Cup 2017: Viswanathan Anand becomes joint leader after impressive win over Ian Nepomniachtchi
Anand now leads the tournament with Vachier-Lagrave and Aronian with two more rounds to go, and he is scheduled to play Vachier-Lagrave and Wesley So in the remaining games
As Viswanathan Anand won his game and entered the commentary box, American Grandmaster and commentator Maurice Ashley quipped, "The number of world champions present here has just doubled!" referring to the presence of Garry Kimovich Kasparov, arguably one of the greatest players ever in the history of Chess. It was only fitting that Kasparov had entered the commentary box at the very moment when Anand, who took over the mantle from Kasparov and dominated the World Championship crown from 2007 to 2013, had scored a crucial win over Russian Grandmaster Ian Nepomniachtchi and had joined the leader table after the seventh round of the Sinquefield Cup.
What followed was a fascinating display of combined analysis with mutual respect and deep insight, between two former rivals who fought against each other many a great battles, including the World Championship match at New York in 1992, till Kasparov retired from the game in 2005.
Anand has been a connoisseur of the Najdorf variation of the Sicilian Defence for his entire career, scoring many memorable victories with both colours. Of late, he has been specialising the uncommon variation which starts with the move 6.h3 which he has already employed many times in the past – his recent win against Nepomniachtchi himself and a loss to Vachier-Lagrave at the previous leg of the Grand Chess Tour at Leuven, Belgium in June 2017 being examples. Hence it was no surprise that variation figured on the board once again, and both the players blitzed out the moves till the 17th move.
It was obvious that Nepomniachtchi had come to the board armed to the teeth, as he varied with 12...g6 in compared to his game from Leuven, and played a clear-cut strategy, regularly exchanging White's minor pieces and achieving an equal position by the 26th move, as admitted by Anand himself.
However, Nepomniachtchi's downward spiral started at this very point. Probably after achieving equality and stepping aside the feared opening preparation for which Anand is known for, the Russian was surprisingly careless in his defence in the resulting position, which still had its venom left. First he sacrificed a pawn on the 27th move to exchange off Anand's Bishop for his Knight, and then sacrificed another pawn four moves later to activate his rooks. Anand himself was surprised by the Russian's impulsiveness, calling the second sacrifice as 'kamikaze', especially as Nepomniachtchi had an hour on his clock to consider his position carefully.
Though his rooks had doubled up on the strategically important seventh rank, it was obvious that it was not enough to compensate for a two-pawn deficit, and the former world champion kept his nerve and coolly pocketed the point with precise play in 40 moves.
The seventh round also saw a remarkable game between the France's Maxime Vachier-Lagrave and Sergey Karjakin of Russia. Exhibiting deep opening preparation, Vachier-Lagrave blitzed out moves in quick tempo and entered a highly complex endgame where Karjakin had to carefully wade through a minefield and numerous ways to go wrong in a tactical maze of an ending between a his Knight and the opponent's Bishop. To his credit, he held his nerves and found the perfect defence to hold the draw in 45 moves.
Another important win of the round came from the Armenian Grandmaster Levon Aronian, who played a brilliant attacking game sacrificing his Knight on the 33rd move to pursue White's King, even when there were no Queens present on the board – a rare occurrence in chess. He liquidated into a won endgame with Bishop against the black Knight and converted his advantage in 53 moves
Anand now leads the tournament with Vachier-Lagrave and Aronian with two more rounds to go, and he is scheduled to play Vachier-Lagrave and Wesley So in the remaining games, with White and Black pieces respectively. A delighted Anand remarked to Kasparov and other commentators, "The tournament situation has changed. I will take it one game at a time and play tomorrow."
Results: (7th round)
Viswanathan Anand (3 ½) 1 - 0 Ian Nepomniachtchi (2 ½)
Hikaru Nakamura (2 ½) 0 - 1 Levon Aronian (3 ½)
Maxime Vachier-Lagrave (4) ½ - ½ Sergey Karjakin (3)
Peter Svidler (2 ½) ½ - ½ Magnus Carlsen (3 ½)
Wesley So (2) ½ - ½ Fabiano Caruana (3)
Points position after 7 rounds:
1 - 3: Anand, Vachier-Lagrave and Aronian 4 ½ points each
4. Carlsen 4
5 -6. Caruana and Karjakin: 3 ½ each
7. Svidler: 3
8 - 10. Nakamura, So and Nepomniachtchi: 2½ each
Sports
R Praggnanandhaa had defeated highly-rated Dutchman Anish Giri in the semi-final to become the first Indian player to reach the final of a Meltwater Champions Chess Tour event.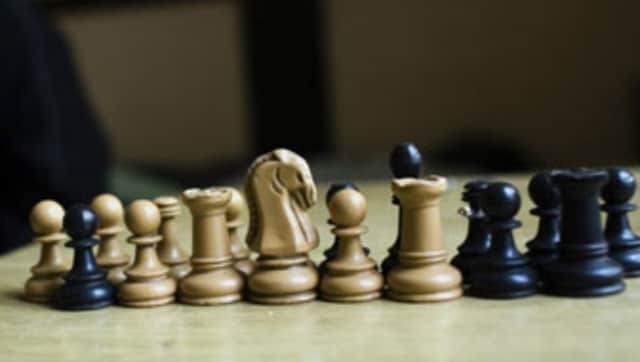 Sports
The initiative, a part of the Chess in Schools Project by AICF, will be conducted through the state associations and with the support of the government of Tamil Nadu
Sports
The fifth round match of the Chessable Masters online rapid chess tournament was headed towards a draw but a one-move blunder from the Carlsen resulted in his defeat.