Shubhankar Sharma cards modest 73 at Dubai, but stays favourite to win Rookie of the Year award on European Tour
The opening day of the season-ending DP World Tour Championships at the Jumeirah Golf Estate's Earth course, did not pan out quite the way Shubhankar Sharma may have wanted as he carded a disappointing one-over 73.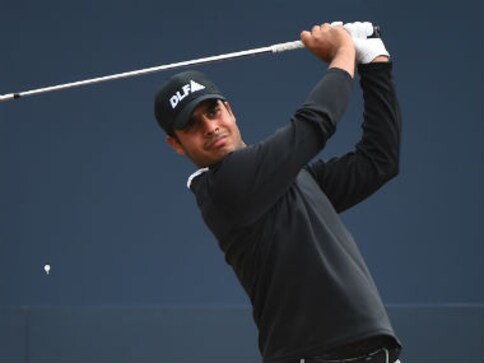 Dubai: The opening day of the season-ending DP World Tour Championships at the Jumeirah Golf Estate's Earth course, did not pan out quite the way Shubhankar Sharma may have wanted as he carded a disappointing one-over 73. Yet, the 22-year-old Indian could still come away from the week with one of Tour's prized awards by finishing the season as the Rookie of the Year, a race he is leading by a handsome margin. He is Tied-47th, but his closest rival is behind him and the next best is only tied with him after first round.
Spaniard Adrian Otaegui and English Jordan Smith posted first rounds of 66 each to set the clubhouse target midway through the afternoon and the score held out for the rest of the day.
Defending champion Jon Rahm and Danny Willett had 67 each both getting seven birdies against two bogeys to share the third place.
Italian supertstar Francesco Molinari, who is bidding to close the best year of his career with a win here and the Race to Dubai honours, opened with a 68 despite a closing bogey on 18th.
His closest rival, Tommy Fleetwood, the defending Race to Dubai champion, needing nothing less than a win to have any chance of overtaking his Ryder Cup partner, shot three-under 69 with two birdies in last five holes.
Six players, including Molinari, Li Haotong, Thomas Pieters and Matt Wallace were at four-under 68.
Even the Race to Dubai leader and favurite to emerge as European Tour's No. 1 Francesco Molinari, too, mentioned, "I putted really well up until the 14th and then just misjudged the pace on a couple of those putts and left myself more work to do than I needed to." Molinari reached six-under and was tied for the lead, before dropping shots on the greens of 15th and 18th.
Shubhankar who began in style with three birdies in the first five holes, crumbled in the face of five three-putts in the remaining part of the round as he gave away six bogeys while adding only two more birdies.
The slightly downcast face gave away to a smile, when asked about the possibility of the Rookie of the Year award. "You have only one chance to be a Rookie and it would be great. As I am also leading the Asian Tour Order of Merit, it would be nice to have both to complete a long and tiring, but fairly satisfying season."
Going back to his round, he said, "It was a great start, but the three-putt on sixth and another missed chance on seventh spoilt the momentum," said Shubhankar. "I did manage two more birdies, but a series of three-putts, five of them, including off the green on 18th, messed up the card."
Sharma, playing his 11th straight week, was also hampered by a shoe bite, which seemed to have taken off a bit of skin on his left heel. "It made me uncomfortable, but I hope it will be fine by tommorrow."
On a course, where finding the fairways is as important as staying away form the deep bunkers, some of the players found the large but often two-paced greens difficult to read. Shubhankar had three early birdies, but his momentum went for a toss after a three-putt on sixth and he had four more of those. He admitted, "I misread a few greens to start with and then the grains did not go the way I thought they would. They were quite different from what we had in the practice rounds."
Currently leading the standings for the Sir Henry Cotton Rookie of the Year Award, Sharma was Tied-47th with one of his main rivals for the award, Australia's Lucas Herbert (74) behind him at T-52, while England's Sam Horsfield (73) is Tied-47th with the Indian. Sharma, who won twice in the early part of the season is 25th in the Race to Dubai Rankings with 1,381,291 points but is the topper among the rookies this year.
Herbert with 974,371 points is second but trailing by 406,920 points, while Horsfield with 832,617 points is 548,674 points behind. Both Herbert and Horsfield would need at least a top three finish to overtake Sharma. Not just that, but they would also need Sharma to finish close to the bottom.
While Spaniard Otaegui was a picture of consistency with three birdies on either side of the course and no bogeys on the card, Englishman Smith was even par with one birdie and one bogey on the front nine. However, he exploded on the back nine with a six-under including five birdies, an eagle and one bogey and just two pars on the evenftul return journey.
Sports
The change is aimed at elite players to trim driving distances by 14-15 yards, reducing concerns about technology boosting length and potentially rendering some courses
Sports
Journeyman Chad Ramey, playing the Players Championship for the first time, shot a bogey-free eight-under-par round of 64 to earn a one shot lead over Collin Morikawa
Sports
Scottie Scheffler ran away with the Players Championship after making five straight birdies between the eighth and 12th holes