Shiva Keshavan, India's lone warrior and the Winter Olympian this country does not deserve
India's Shiva Keshavan finished 34th position at Pyeongchang 2018. He leaves the sport as Asia's fastest man and India's only six-time Winter Olympian.
On a frigid evening at the Olympic Sliding Center at Pyeongchang on Sunday, an inconsolable Felix Loch doubled over his sled after finishing his fourth and final luge run. The expression on his face, when the television camera caught up to him, was hauntingly desolate.
The 28-year-old had started the day as the overwhelming favorite to win the men's singles gold — a medal which, had it come, would have only served as a reminder of his dominance over the discipline for the last eight years. Yet, at the end of two days and four luge heats, he had ended his third Olympics in fifth position after an uncharacteristic mistake in the fourth run had left his hopes of winning his third straight Olympic gold medal in tatters.
Loch's disappointment served another reminder of how cruel luge can be — after all, his final cumulative timing after four runs was 0.266 seconds off the gold medal-winning time. Widely called the world's most precisely timed sport, medals in luge are won, or lost, by timings of less than a second.
This is the sport which India's Shiva Keshavan has come to inhabit. For 22 years, he's lived in this world, competing against men like Loch, hoping against hope, fighting as hard as he could.
For six Winter Olympics, he's been India's only constant.
On Sunday, just under an hour before Loch's fate was realised, Keshavan had walked away from the sport, having finished his unprecedented sixth Olympics in 34th position. Keshavan's mood was as contrasting as it could be from Loch's. The Indian strutted away after his third run pumping his sled in the air, revelling in the cheers and hoots that were ringing around the Olympic Sliding Center. The two-day men's luge event had become something of a celebration of Keshavan's 22-year luge career, with friends and family members in attendance as the 36-year-old hurtled down an icy slope for the last time at an Olympics.
Keshavan will leave the sport as Asia's fastest man and India's only six-time Winter Olympian. For context, 11 of the 13 athletes from India to have competed at the Winter Olympics never made it to their second Games.
Let's get back to Loch for a minute here. The German likes to leave nothing to chance and consequently is known to undergo frequent wind tunnel tests to analyse things like his position on the sled during a run, and the aerodynamic set-up of his sled among other things.
Many of Keshavan's competitors in luge, equally as fastidious as Loch, do the same. Some of them get the assistance of organisations like NASA, or Formula One teams like Ferrari in fine-tuning their sleds.
Loch and luge pilots from other countries have been nurtured through a national system, have adequate funding and can rely on an entourage filled with technicians during a competition.
Keshavan, meanwhile, has had to make do for the last 22 years with a part-time coach. He's trained for competitions by fixing wheels on his sled and zipping down Himalayan mountains, all the while avoiding oncoming vehicles and animals.
In place of funding, Keshavan gets told to win a medal first and then ask for financial help. In place of complete backing, he's asked to provide a certificate to prove that the Winter Olympics are as prestigious as the "real Olympics."
The last 22 years have not been easy on Keshavan. As a 16-year-old at his first Olympics, when he reached the Games Village in Nagano, he was made to wait outside for half a day because the Indian officials had not bothered to send through his requisite paperwork.
He's had maxed out credit cards, debts piling up, and nights spent sleeping in cars to save money on hotel rent. But at least he's had a warm plateful of official and corporate indifference to help him on such frosty nights.
Four years ago, Keshavan had to raise money through crowd-funding to finance his Olympic ambitions. He thanked his backers by putting all of their names on his suit when he competed in Sochi 2014.
He has also had to compete with borrowed sleds for a significant part of his life — akin to cycling with weights strapped to your legs.
'But why can't you win an Olympic medal, Keshavan?'
Despite all this, in 2002, he got an offer he just could not refuse. The Italians came bearing gifts — full access to their training facilities and even citizenship, if only he would agree to compete under their flag. Thanks to his Italian mother, Rosalba, he would have qualified to compete for the European country, a nation which takes luge seriously.
He refused. Rejected the offer out of hand. Didn't even consider it as he wanted to only represent India.
The country somehow never got around to thanking him for that. You see, a Winter Olympian just does not warm the heart of the nation of over a billion people.
We truly are a country with muddled ambitions. We're perfectly content to shove Olympic athletes down in some inaccessible corner of our consciousness for the better part of four years. But come the Olympics, if we switch on the sports channel to check out the men and women representing us at the biggest stage of all, and if any sports channel has bothered bidding for something as obscure as the Winter Olympics in the first place, we have questions. Many of them.
'Why is this man not good enough to win a medal?'
'When will Indians be among the best in the world?'
'Have they gone there to just click selfies?'  
'Why do our athletes complain so much when they lose at the Olympics?'
Our administrators are an even more delusional lot. Only a few months ago, it became apparent that the Indian Olympics Association (IOA) had asked the Indian government for permission to bid for the 2030 Asian Games and the 2032 Olympics. Hosting the showpiece tournaments would put India at the heart of the international sporting community, believes N Ramachandran, the IOA President.
That India wants to host an Olympics is ambitious. More so given the fact that the bidding for the Olympics is fast becoming a race no one wants to win. Budapest, Rome, Boston and Hamburg ended their interest in hosting the 2024 Games prematurely, leaving only Los Angeles and Paris in the race. For the 2022 Winter Games too, four of six bidders had pulled out unceremoniously.
Hosting the Olympics is great. But maybe, just maybe, our sports officials should set the country a target of winning at least gold medals at the Olympics regularly.
In a country where athletes regularly complain of a paucity of money trickling in from the government coffers to help in training or exposure camps, maybe pouring down millions of dollars to host the Olympics is a slightly ludicrous idea.
Maybe, just maybe, before we bid for the Olympics our officials could wonder aloud what could have been if they had poured even a fraction of that money into a sport like luge or on an athlete like Keshavan.
Maybe we should stop asking what Keshavan has won. The question haunting us should instead be whether we deserve to have a Shiva Keshavan representing us in the first place.
Photos
Take a look at some of the best pictures from the opening ceremony of the Pyeongchang 2018 Winter Olympic Games.
Sports
Keshavan, the poster boy of winter sports in India for the last 20 years, brought the curtains down on his international career after taking part in his sixth Winter Olympics in South Korea.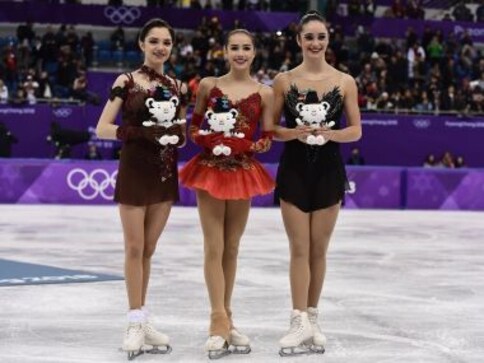 Sports
Teenage figure skater Alina Zagitova prevailed in her duel with Evgenia Medvedeva to claim Russia's first gold medal at the Pyeongchang Olympics on Friday.