Sex tapes, Rohit, Djokovic, Leicester, Barcelona, and Kobe Bryant: An incredible day in sports
Kobe Bryant provided the exclamation point at the end of a great day in sports - the great storyteller that somehow never ceases to surprise you. Somehow, it always manages to do something so ridiculously apt
So, Karim Benzema isn't going to the Euros, Novak Djokovic lost, Rohit Sharma won. Three players from Leicester City — Jamie Vardy, Riyad Mahrez, N'Golo Kanté — were nominated for the PFA player of the year award. Manchester United won, but Barcelona lost (hilarious, right?). Golden State Warriors created "H73TORY" with unprecedented 73 wins in an NBA season as Steph Curry, human extraordinaire, ramped up his 400th 3-pointer of the season in a 46-point game. But then Kobe Bryant stole Warriors' thunder when he first dropped 60 points in his last game and dropped the mic, literally, with "Mamba out".
Phew! What a day in sports.
*********************
Where do we even begin? Okay, let's start where all great stories come from. A sex-tape. Sex-tapes are versatile. They can do many things; good, bad and ugly. Good for Kim Kardashian, Paris Hilton, Pamela Anderson; made them overnight stars, launched their careers in the twisted world of entertainment, paved their paths for success in the same. Ugly for Benzema.
Benzema, my friend, you can sleep with your teammate's ex-girlfriend and get away with it. Ask John Terry, ask half of all sportsmen in the world. They all did. But you can't blackmail your teammate (Mathieu Valbuena) to extort money over his sex-tape and expect to get away with it. No sir, that's not possible. So it wasn't a big surprise when Benzema revealed that he won't be selected for the Euro 2016 in the summer. France Football Federation confirmed a little while later. Big loss for both parties.
French football team has always flirted with controversy; Thierry Henry's infamous 2009 hand-ball against Ireland in World Cup play-offs -- seen by many as an act of blatant cheating -- broke an entire nation's heart. And when France reached the World Cup, Nicolas Anelka had a halftime meltdown, blasted his coach Raymond Domenech, and was sent back home mid-tournament after he refused to apologise. Other France players did an Arvind Kejriwal and went on strike, refusing to train in solidarity with Anelka. Then in Euro 2012, Samir Nasri lost his cool and abused the mother of a French journalist after the quarter-final loss to Spain. He was banned by FFF and since then he has retired to a quiet and peaceful life on the bench at Manchester City.
France is football's version of reality television.
*********************
Djokovic lost. These two words are so incongruous with each other that they almost form an oxymoron. Novak Djokovic can't lose, he's programmed to win. But the one champion Dwayne Bravo left out of his song did bow out of the Monte Carlo Masters against Czech Jiri Vesely, in what was the Serb's only second loss of the season.
"This is a proof that nobody's unbeatable," the Djoker said after the game, reinforcing the fact that humility is his only weakness. Although Djokovic did say his opponent played well, but not without adding "I was playing really, really bad."
No really, he did say "really" twice.
*********************
Going back to sex-tapes, Rohit Sharma and Eden Gardens should make one. You know, since they are so much in love with each other. Let's take a look at his Eden marksheet — 200 not-out vs Bengal in Ranji Trophy 2010-11, 109 not-out against Kolkata Knight Riders in IPL 2012, 177 on his Test debut against West Indies in 2013 (aka the Sachin Tendulkar farewell tournament), 264 off 173 balls (33 fours, 9 sixes) in an ODI against Sri Lanka in 2014, 98 not-out against KKR again in IPL 2015 opener, 50 in a winning cause against Chennai Super Kings in IPL 2015 final, and his 84 not-out on Wednesday night against KKR again, in IPL 2016.
Just get a room already, you two.
*********************
Let's turn our attention to the Leicester City player of year award PFA Player of the Year award. The shortlist is out and Leicester City's holy trinity — Jamie Vardy,  Riyad Mahrez and N'Golo Kanté — round up half of those in contention (the others include Harry Kane, Mesut Özil and Dmitri Payet).
It spells out the story of the season. Vardy has arguably been the best forward of the Premier League, Mahrez the best attacking midfielder, Kanté the best defensive midfielder, and Leicester the best team.
From scraping through to survive in the Premier League last year to being a few weeks away from winning it, Leicester is now no longer a fairytale. They are a formidable football team and deserve all the credit for what they have done.
Claudio Ranieri might just open a pizza joint at King Power stadium the day Leicester are crowned champions.
Also every football fan is obligated to have a drink in the Foxes' name when that happens. Chin Chin.
*********************
Another oxymoron, at least for the season; Manchester United won. And in the process reinforced their evil nature by beating West Ham in the last FA Cup game at Boleyn Ground, their home for 112 years. West Ham will be moving to the London Olympic Stadium next season and Louis van Gaal, after denying joy to millions of Manchester United fans all over the world, did the same to West Ham fans as well. He is plain cruel.
The funny part is most Man United fans and Jose Mourinho were cheering for West Ham, because if, in an off-chance, van Gaal goes on to win the FA Cup, he might just stay on for another season. And any proud Man United fan wouldn't want that to happen, considering how the Red Devils have already rolled out the red carpet for the "special one".
Football, bloody hell.
*********************
The first law of Champions League states that you cannot retain the Champions League. And Atletico Madrid made sure it held true. This was it, people had thought. This is the season when Barcelona will boldly go where no team has gone before, and retain the Champions league. Messi, Neymar, Suarez -- a forward line enough to make a football fan cream his pants. And together they make up one hell of a footballing orgy.
Bet on them to bring home the Champions League in a second year running.
But also bet on Atletico to wage a war against the world and knock Barcelona out of their backyard competition. If football is film, Atletico belongs to the Wild West genre. True Grit.
All that Atletico players do is go out and play football like their lives depend on it. They are survivalists, playing dystopian football, managed by Diego Simeone, the Mad Max of that dystopian world.
Manchester City's job just got tougher.
*********************
Golden State Warriors. They are not just trying to defend their championship ring, they are trying to do it in style, decimating every obstacle on their path and writing history in their wake. On Thursday morning, the Warriors beat the Memphis Grizzlies —no Leo, it's not that bear, don't be scared — 125-104 in the last game of the regular season to reach an unprecedented 73 wins in a single NBA season.
The previous record of 72 was set by Michael Jordan's Chicago Bulls in 1995-96 season, but it had to be Stephen Curry's Warriors to surpass that. Curry also became the first ball-player to score 400 three-pointers in a season when he took his tally to 402 in the game in which he netted 46-points. But this was inevitable, considering how Curry keeps breaking the three-pointer record every season. It's a game he plays with himself. Next up, 500.
The Warriors completed the greatest regular pro-season in NBA history with an astonishing 73-9 win-loss record and will play Houston Rockets in the first round of playoffs as the No. 1 seed from the Western Conference.
Records are meant to be broken, but there weren't many who thought Bulls' record of 72 wins riding on peak Jordan would ever be broken. In fact, Warriors' coach Steve Kerr, who himself played for the 1996 Bulls team in that historic season, didn't think it was possible.
"I never thought anyone would break it," Kerr said after the game.
You were wrong, coach.
*********************
It's time to address the elephant in the article. Kobe Bryant. It was as if the world of sport stood up and showered gems on Mamba Day, hence all the words above. One of all-time greats, LA Lakers' Kobe Bryant, who gave himself the nickname "Black Mamba" after the deadly snake, bowed out in a manner the finest of poems would be proud of.
In his last game after 20 years in the NBA, Bryant scored 60 points as Lakers came from 15-down to beat Utah Jazz 101-96 in the last quarter. What a farewell! You cannot script it. The last time Bryant scored 50 was in February 2009. How did this happen then?
"I challenged him to get 50 and the mother*****r got 60," Shaquille O'Neal, Kobe's former Lakers' teammate said after the game.
Well, maybe that explains it.
Sport is one of the greatest storytellers and somehow it never ceases to surprise you. Somehow, it always manages to do something so ridiculously apt, that all you can manage to come up with is an applause. And you have it from us, once again, a loud and thunderous round of applause that'll be heard across dimensions of time. It'll be written in the history books — Kobe Bryant scored 60 in his final appearance, won the game, gave a speech and dropped the mic after "Mamba out".
In the words of the Mamba himself, 13 April, 2016 has been absolutely beautiful.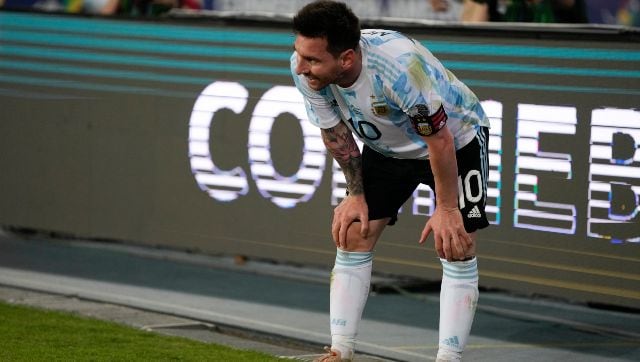 Sports
Paraguay have never beaten Argentina in 22 games in the South American championship.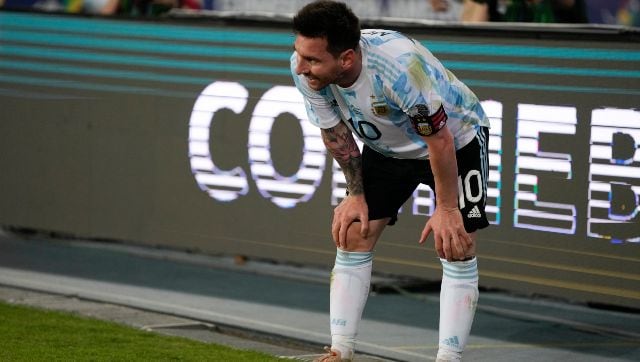 Sports
Messi's magical left foot gave dominant Argentina a deserved first half lead but Chile's Eduardo Vargas equalized in the second half.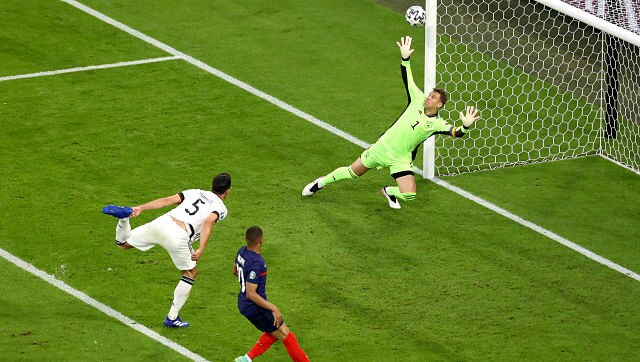 Sports
Hummels turned the ball into his own net in the 20th minute, which ultimately decided the contest.