Serie A: SPAL halt Juventus' 12-match winning streak to offer second-placed Napoli lifeline in title race
Juventus's march towards a seventh consecutive Serie A championship was stalled on Saturday by a goalless draw at struggling SPAL that kept the suspense alive in Italy.
Rome: Juventus's march towards a seventh consecutive Serie A championship was stalled on Saturday by a goalless draw at struggling SPAL that kept the suspense alive in Italy.
Massimiliano Allegri's side had been bidding to open a seven-point cushion on Napoli, who can now close the gap to two when they host Genoa on Sunday .
"I'm neither angry nor disappointed, we came up against a battling SPAL who fought us and played a wicked game," said Allegri.
"They made many fouls, 29, to break up our game. These are not excuses, but things that can happen during the season.
"It's only human that when you are top of the Serie A table, in the Champions League quarter-finals and the Italian Cup final, you can miss a beat and lack energy once in a while.
"The positive thing is that we kept a clean sheet and still have a five-point advantage."
Juventus's 12-match league winning streak came to a halt but they matched their own Serie A record of 10 games without conceding a goal.
The champions lacked inspiration against the promoted side from Ferrara, to the north of Bologna, with normally reliable goal machines Paulo Dybala and Gonzalo Higuain failing to fire.
It was the first time in nearly 50 years that Juventus had played in Ferrara and they came up against a solid and well-organised SPAL unit.
Juventus almost scored in their first attack of the night when a Douglas Costa solo run created space for fellow Brazilian Alex Sandro but his effort was deflected wide.
Dybala tried his luck after 17 minutes with a long-range curling effort that flew wide.
There was also a worry three weeks before their Champions League quarter-final first leg against Real Madrid with Giorgio Chiellini leaving the pitch 10 minutes before the end with a thigh injury which Allegri later said was "muscle fatigue".
'Battle to the end'
Costa missed a golden chance to break the deadlock as the clock ticked with Mario Mandzukic also sending a late diving header wide.
Juventus's next match after the international break will be against AC Milan in Turin on 31 March.
"Fortunately there is a break," said Allegri.
"We have time to regroup, to recover some injuries and, above all energy and get back into position, physically and mentally, then we will think about Milan and Real Madrid."
Promoted to the top flight this season after a 49-year absence, SPAL are one point above the relegation zone with 25 points from 29 games.
"There's a long way to go, but tonight SPAL showed that we belong in Serie A," said coach Leonardo Semplici of his side's best run in form this season with eight points from four games.
"It'll be a battle (for the title) to the end, but right now Juventus remain the favourites," added Semplici of the title chase.
"Juve have the experience of a side used to challenging on many different fronts and have a bigger squad, but Napoli are to be respected for their style of football and organisation."
Earlier Sassuolo got their first win since December, triumphing 2-1 to condemn Udinese to a fifth consecutive defeat.
Iraqi international Ali Adnan conceded an own goal after 42 minutes but two minutes later Seko Fofana pulled hosts Udinese level.
Stefano Sensi scored the winner 15 minutes from time to give Sassuolo breathing space as they move away from the relegation zone.
Sports
AC Milan need four points from their final two games to claim a first Scudetto since 2011.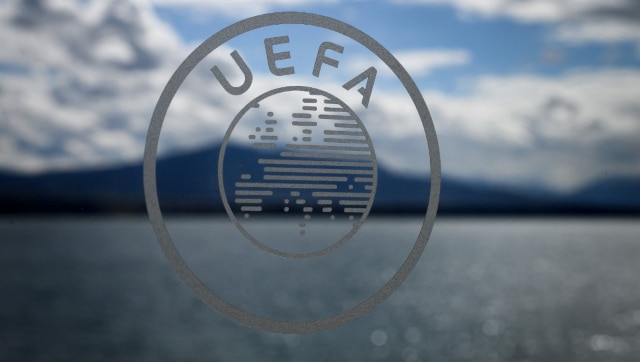 Sports
"Russia will have no affiliated clubs participating in UEFA club competitions in the 2022/23 season," it said in a statement.
Sports
With a place in the Champions League final on the line, Pep Guardiola can take comfort from his impressive record in Real Madrid's intimidating Bernabeu Stadium.