Serie A: Sassuolo striker comforts fans as Italian league is suspended due to coronavirus outbreak
Sassuolo won by 3-0 against Brescia before Serie A was suspended due to coronavirus outbreak in Italy
Sassuolo won by 3-0 against Brescia before Serie A was suspended due to coronavirus outbreak in Italy

Sassuolo striker Francesco Caputo displayed a sign that read 'It will all be OK. #Stayathome' in Italian

While the Mapei stadium was empty of fans as part of anti-virus measures, Caputo made sure to show the sign to a TV camera for spectators watching at home
Reggio Emilia: In what was the last Serie A game for several weeks, Sassuolo striker Francesco Caputo sent a comforting message after scoring the first of his two goals in a 3-0 win over Brescia on Monday.
Caputo displayed a sign that read "It will all be OK. #Stayathome" in Italian.
While the Mapei stadium was empty of fans as part of anti-virus measures, Caputo made sure to show the sign to a TV camera for spectators watching at home.
All the sporting events and travel in Italy has been banned by Premier Giuseppe Conte. A new government decree that will come into effect Tuesday and last until 3 April will stop games in Italy's top football division and preparatory events for the Tokyo Olympics.
About 16 million people have been put under a widespread lockdown in northern Italy.
Jérémie Boga scored Sassuolo's third goal, completing a run by shooting in between three defenders.
Sassuolo moved up to 11th place while Brescia remained last.
The game had been postponed from 1 March.
World
More than 20,000 boat migrants have arrived in Italy so far in 2023, a trend that threatens the all-time record set in 2016 when 181,436 people reached the country, mostly in flimsy vessels. According to UN data, at least 12,000 of those who have reached Italy this year set sail from Tunisia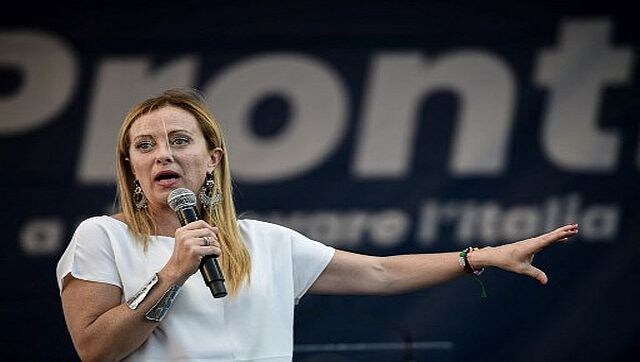 World
Meloni's government took office in October after elections in which her party promised to cut mass migration into Italy
World
More than 20,000 migrants have landed on Italy's shores so far this year, compared to around 6,000 in the same period in 2022 and 2021