Seema Punia interview: If not for discus throw, I would have been in some remote village tending to cows
The road to glory in Tokyo will not be an easy one for Seema but the battle scarred veteran is not willing to give up. Her previous Olympic campaigns have been forgettable, failing to make it to the finals. And this is reason for the gutsy fighter to give her best shot at redemption.
Amidst the euphoria surrounding the youngsters who blazed the track and field competitions in the Asian Games, the bronze medal in discus throw by veteran Seema Punia was reduced to a footnote. But the podium finish was a timely reminder from the 35-year-old that she still has plenty in her tank to last till the Tokyo Olympics. Back in her home in Sonepat where the bronze medal from Jakarta will find a place in the mantelpiece alongside the silver won in the Commonwealth Games earlier this year, Seema is busy brushing her Russian language skills. "For the next two years till the Tokyo Olympics, I will be training mostly in Russia. Therefore I am trying to learn the language so that I can communicate with my coaches more effectively,'' says Seema in a chat with Firstpost.
Seema will be undergoing treatment for a heel injury before plunging headlong into preparations for the Olympics. "My life revolves around discus. That's the only thing I know. The sport has given me so much allowing me to explore the world. If it was not for discus, I would have been confined to some remote village in Haryana attending to cows. My mission is to win an Olympic medal which is still unaccomplished and the next two years will be dedicated towards fulfilling this dream."
In an international career spanning over 18 years, Seema has bagged medals in four successive Commonwealth Games, a sequence which started in 2006 with a silver in Melbourne. In 2014, she bagged the gold in the Asian Games. She did not make the cut for the Olympics in Rio but was back in the mix for the Commonwealth Games at Gold Coast early this year. She is not part of the Sport Ministry's Target Olympics Podium Scheme (TOPS) which means she does not receive any funds for her training. "I do not want to beg to anyone. I lead a very Spartan lifestyle and whatever prize money I receive, takes care of my training,'' adds Seema.
In 2010 Commonwealth Games, India bagged all three medals in women's discus with Krishna Punia (gold), Harwant Kaur (silver) and Seema (bronze) ensuring a 1-2-3 finish for India. Even in 2018 CWG, India had two medallists in the event featuring Seema and Navjeet Dhillon. "It is a testament that we have very good talent in women discus but unfortunately we do not have specialist discus coaches who can help our athletes make the mark in international level,'' rues Seema.
A prodigious talent, Seema burst into the athletics scene with a roar upstaging the likes of then national champion Neelam Jaswant Singh. The 17-year-old would go on to create history becoming the first Indian to win a gold in the junior athletics world championship in Santiago. But the joy was short lived as she was stripped off her medal due to doping violations. Shrugging off the setback, Seema bounced back two years later bagging a bronze in the world championship in Kingston, Jamaica.
Seema who has a personal best of 64.84 metres hurled the discus to 60.41 metres in Gold Coast for her silver winning effort in Commonwealth Games while her heave of 62.26 metres in Jakarta fetched her a bronze. Four years ago, her throw of 61.03 metres was good enough for a gold in Incheon Asian Games, a proof of the vast improvement in women's discus throw event in the last few years. "I am working with my coaches on the angle of release of the discus. I am still not happy with it. Once I am able to get it right, I am confident of bettering my throws,'' she says. Two time Olympic gold medalist Sandra Perkovic of Croatia heads the list of top discus performers this year with a best of over 71 metres. Going by the current trends, Seema will need to achieve a distance of around 67-68 metres to force herself into medal contention in the Olympics.
Seema is happy that the athletics squad had come back from Jakarta with a rich haul. "Among the youngsters, Hima Das has been a revelation. The improvement in her timings is staggering and I think the credit is due to her coach Galina Bukharina. For someone who had got into 400m races just a year back, creating a new national record with a timing of 50.59 seconds is a staggering achievement.''
"Though discus continues to be my prime focus, I am itching to try my hand at shot put. In India, we do not have quality women shot putters. I had won medals at the Asian level during my junior days and I do not mind having another attempt.'' The discipline in India has been blighted by doping scandals and India's top shot putter Manpreet Kaur is currently facing a ban for failing a drug test.
The road to glory in Tokyo will not be an easy one for Seema but the battle scarred veteran is not willing to give up. Her previous Olympic campaigns have been forgettable, failing to make it to the finals. And this is reason for the gutsy fighter to give her best shot at redemption.
Sports
New Zealand Olympic Committee chief Kereyn Smith said Hubbard, 43 - who was born male but transitioned to female in her 30s - met all the qualification criteria for transgender athletes.
Sports
Manyonga, world champion in 2017, finished second at the Rio Olympics in 2016, but will now likely miss the rescheduled Tokyo Games later this year.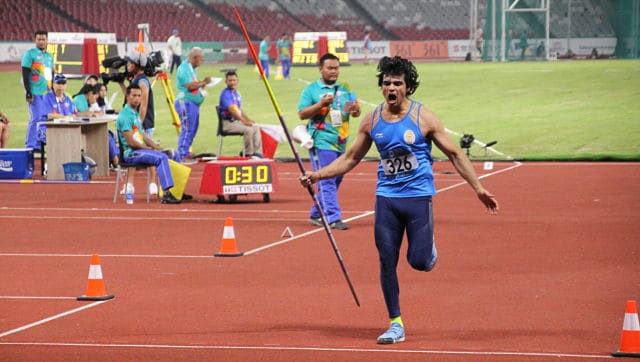 Sports
Neeraj Chopra had qualified for the Olympics with a throw of 87.86m, which bettered the qualifying mark of 85m, at an event at Potchefstroom, South Africa, in January last year.