Sardar Singh rape case: Sexual harassment accusations changed Indian hockey star as a person
A year into the case and Sardar Singh's personality has transformed. He lost the captaincy for the Rio Olympics and that broke him. Being accused of rape and sexual harassment had changed him as a person.
Just after the Punjab Warriors had crashed out of the 2017 Hockey India League, Sardar Singh called up and said he had some spare time to sit down to talk about his autobiography that we are working on. I had waited for almost a week but his busy schedule, his training and the stress of keeping his place in the national team had made him anxious. He was still playing good hockey. In fact, at the 2016 Asian Champions Trophy, he was voted the player of the final.
He spoke about the Warriors form and how, despite everybody's best efforts, things were just not happening for the team on the pitch. Any player who wants to be noticed and play in front of the fans would want to be part of the HIL finals. Sardar is no different. It bothered him no end. For the first half an hour of our meeting, he only spoke about where he had failed the team and how things could have been different. It was obvious the HIL was very important to him. And not playing the final a big loss.
At the moment in London, a news break says Sardar, who is playing the Hockey World League Semi-Final at the Olympic Park has been picked up by the Yorkshire Police for questioning pertaining to a case filed last year. It's a stunning bit of news. In fact, one of the reasons that Sardar didn't play the 2016 Champions Trophy in London where India reached the final was that Hockey India didn't want any controversy. It was last year that Sardar was accused by a British-Indian hockey player of rape and assault. The player also says that she was engaged to Sardar and that both sets of families were present at the event.
There is no denying that Sardar knew her. In fact, they were quite a pair during the 2012 London Olympics. Ashpal was seen at the Westfield Shopping Mall on the days when India wasn't playing. So when I asked Sardar about the case, he said, "I didn't do those things that I am being accused about. Yes, I did know her and have met her in London and during the 2014 World Cup in Holland. But I haven't been brought up to mistreat women."
I could sense he was disturbed. I also know the complainant, but only as Sardar's friend. It was in the Netherlands when she spoke about marrying Sardar and clearly to the neutral observer she was besotted with Sardar, the hockey star. For her to be in awe of him was natural.
A year into the case and I have seen Sardar's personality transform. He lost the captaincy for the Rio Olympics and that broke him. He was clearly looking forward to being the Olympic team's captain. Being accused of rape and sexual harassment had changed him as a person.
Sardar was never voluble. He would laugh at jokes and eagerly discuss new BMW and Mercedes models and how he always desired the Mercedes SUV. But that was the Sardar in him; Benz was always the first choice.
But the man sitting opposite me at the Hyatt in Chandigarh was different. There were long silences. And then he spoke about religion. Sardar is a Namdhari, an austere sect within Sikhism. "I think after I have stopped playing, I will go back to my Guru and seek his blessings. I will stop wearing a cap and wear the turban that is prevalent amongst us."
I was taken aback a bit. Admittedly, Sardar has never shown a side which starts the day on the hockey pitch and ends the evening in a night club. But for a man who liked wearing good and expensive clothes and driving a Range Rover, this side of his personality was surprising.
The Namdharis are distinguished by their white, "round" turbans. And to imagine Sardar in one was a little difficult. And then he spoke about disillusionment, disenchantment and a need to look within himself on what he wanted from the 'real' world. He still loves hockey and makes no bones about the fact that it's because of the game that he and his family could do something more with their life.
He was sad about what his family had to undergo as a result of the rape allegations. "But hockey gives them a lot of joy," he said. "They see me playing and they are proud. I am trying to remain as fit as possible and do yoga so that the body is healthy even when I don't train."
At the time of writing on Monday, Sardar is with the team manager Jugraj Singh at the Leeds Police Station in Yorkshire. He is being questioned by the police and phone calls from reporters have elucidated no response. Jugraj, the former Indian hockey star and now the team manager, has accompanied him and on the phone confirmed that he was at the Leeds Police Station. "We are here and Sardar is being asked a few questions," said Jugraj.
Upon being asked whether Sardar will be detained or not, Jugraj said he was confident about coming back with Sardar in the evening as they had a match against the Netherlands on Tuesday.
On Sunday, after the 7-1 victory over Pakistan, as the players jogged around the stadium, shaking hands and clicking selfies, an elderly Sikh gentleman with a young boy, presumably his grandson stopped Sardar and said in a clipped British accent, "We have come a long way to watch India and especially you." And then slipped into Punjabi and said, "Ik selfie la lo munde nal (Do take a selfie with the lad)."
It will be good if the case is decided one way or the other. The complainant has already said in her tweets that she doesn't have much faith in the Indian judicial system. She once tweeted that "India is the worst place and hardest to get justice even when you have substantial evidence." It's the United Kingdom where the story began and maybe where eventually it might run out as well.
Sundeep Misra is writing Sardar Singh's autobiography forthcoming from Penguin Random House in 2018
Sports
Lilima, a key player for India in the midfield, made her Olympic debut in 2016 Rio Games when the women's team qualified for the quadrennial event after 36 years.
Sports
Given the fact that the growth of eSports as well as tech advancements, one would never expect problems such as the server crashing during a game between professionals, especially not when money is on the line for them. However, in the last few months, there have been two big tournaments that faced problems.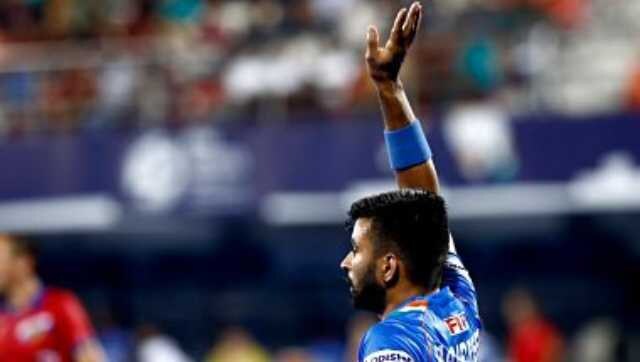 Sports
At the Olympics, it is all about winning those close games, said Raghunath, who is currently the vice-president of Karnataka Hockey Association.