Santi Cazorla, the spellbinding magician who reinvigorated Arsenal after years of anguish for a trophy
Arsenal fans will always remember Santi Cazorla as the spellbinding magician who choreographed a reinvigorated Arsenal's success after years of trophyless anguish.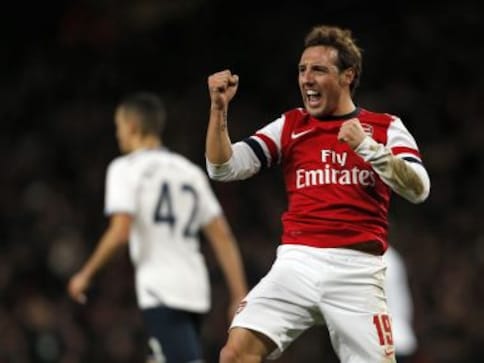 Cup final defeats are not a novelty for Arsenal fans, majority of match-going Gunners supporters accepting the reality that their beloved club has slumped down to play second fiddle to other English clubs. Naturally, Arsenal's humiliating defeat at the hands of Manchester City in the 2018 English League Cup final following an atrocious showing did not torture the Gunners fans as much as the heartbreaking image of Santi Cazorla, dressed in Arsenal training gear, walking alone on the Wembley pitch did.
After all, the Spaniard was instrumental in ending Arsenal's nine-year trophy drought with his phenomenal displays in the 2013/14 FA Cup season. Cazorla's impressive performances in his sophomore season at the club weren't by fluke, the attacking midfielder consistently showing up amongst Arsenal's better performers during his six years in London.
Cazorla arrived in London at a nominal fee of £10 million in the summer of 2012, the Spaniard's transfer fee a meagre measure of his talent, as financially-stricken Malaga were compelled to sell their star playmaker barely a year after signing him from Villarreal. A constant presence in La Liga Teams of the Year, Cazorla was a late bloomer in the sport, signing with the Yellow Submarines just a few months shy of turning 19.
During his two spells at Villarreal, Cazorla honed his skills as an ambidextrous attacking midfielder – traits which helped him adapt to the physically demanding nature of the Premier League in later years.
"Technically he was miles better than everyone else: he was prodigious. He was dynamic, different. His talent is innate," Luis Sanchez, Cazorla's manager at Real Oviedo was always aware of the midfielder's potential.
At Arsenal, Cazorla hit the ground running, adjudged the best player of his side on his debut against Sunderland. Two games later, Cazorla scored his first goal in a memorable victory over Liverpool at Anfield. Arsenal finished the season in fourth position, without any trophy whatsoever but Cazorla had already won the hearts of Arsenal supporters, ending the season with 12 goals in all competitions. Not an earth-shattering statistic by any means, Cazorla's influence on Arsenal's style of play was beyond his goalscoring or goal making contributions, as the fans would find out in the following season.
Intuitive and quick-witted, the petite midfielder doesn't adhere to anyone's definition of a strong footballer – a mistake Premier League defenders often made while blocking Cazorla's mazy runs through the centre of the park – but the Spaniard not only shrugged off physically aggressive tactics, he also added a steely grit to Arsenal's gameplay.
His ability to string pinpoint passes from either foot ensured Cazorla did not waste any extra seconds to find a teammate in a better position, nullifying opponents who closed down on him quickly. Combined with his perceptive and outstanding reading of match situations, Cazorla produced stunning displays on a consistent basis. Never flashy, ever productive Cazorla has demonstrated the rare ability to adjust to any condition, adapt to any formation even succeeding in short spells, achieving an individual acclaim of becoming the Spanish Player of the Year in 2006/07 during his solitary season at the newly promoted Recreativo de Huelva whom he guided to an eighth-place finish in the La Liga.
His temperament and inherent belief in his propensities underlined this capacity to adapt to a tactical system-induced role. In spite of playing as a winger and an attacking midfielder in his formative years, Cazorla embraced the role of a deep-lying playmaker like a 'fish to water'. Before Cazorla made the position his own, Wenger's sides struggled to command matches on and off the ball, but the Spaniard's prowess solved Arsenal's central midfield issues in a stupendous fashion.
Be it his left-footed screamer from thirty-yards against Aston Villa or the right-footed free-kick against Hull City in the 2014 FA Cup finals which initiated Arsenal's comeback from two-goals down, Cazorla's magic feet helped Arsenal fans realize their trophy-laden dreams even in periods of austerity.
"He's a model to watch because he's specifically a player for the Premier League. He's a good example of how to educate young players in midfield," Arsene Wenger has always showered effusive praises on the Spaniard.
Regular Premier League observers still reminisce about Cazorla's masterclass against Manchester City at the Etihad in January of 2015 when he scored one goal and created another, for it was an expert's display of seeking the ball and orchestrating magic with it – a performance which prompted The Guardian's Daniel Taylor to comment "Santi Cazorla's performance, combining high skill and indefatigable running, could have been set to music." Not only did Cazorla dent City's title hopes, but he also put Arsenal back in the map among England's elite clubs by ending the Manuel Pellegrini-managed side's twelve-game unbeaten run.
The horrific injury against Ludogorets Razgrad in the 2016/17 UEFA Champions League season and the painstaking months which followed as Cazorla battled an Achilles tendon rupture and a gangrenous condition in his right leg robbed the Arsenal playmaker of his prime years. Once medically deemed as 'lucky to be able to walk again', the healing process has been a harrowing one for Cazorla, helplessly watching from the sidelines as his Arsenal contract dwindles down while the club plummets to greater lows, permanently outclassed from 'top four' finishes.
Every generation of football fans has seen injuries cutting short the careers of exquisitely talented players – fifty years back it was Brian Clough, at the turn of the century it was Luc Nilis, this past decade it was Owen Hargreaves, today it is Santi Cazorla.
In an era when brilliance is superseded by flamboyance, Cazorla belongs to the rare breed of footballers with humility and graciousness incorporated in their game, their playing persona echoing their true self. Cazorla will find his feet again, not at Arsenal but in some other corner of Europe, making the ball dance to his tune, but Arsenal fans will always remember the Spaniard as the spellbinding magician who choreographed a reinvigorated Arsenal's success after years of trophyless anguish.
Football
Barcelona have now reached the semi-finals in five consecutive Champions League seasons and will face either defending champions Lyon or Chelsea in the last-four.
Football
The result puts Emma Hayes's Chelsea — runners-up two years ago — in the driving seat as they seek to become the first English winners of the competition since Arsenal in 2007.
Football
Barcelona, who lost to Lyon in last year's final, have won seven of their last eight European quarter-final matches.