Sania Mirza-Sanjay Manjrekar Twitter spat shamed India, and we're interested only in who won
Little did Sania and Manjrekar realise that they were letting down the millions of fans who look up to them as role models.
Ever rejoiced at getting 90 percent marks in a school examination, only to be told off by a grim-looking elder over the lost 10 percent? There would always be a few individuals who would criticise and censure you over the smallest of mistakes, claiming to provide a critique, but only ending up nitpicking. Sanjay Manjrekar is clearly one such "critic", his caustic comments doing more harm than good. But through his jibe at tennis star Sania Mirza on Twitter on Wednesday, the cricketer-turned-commentator has climbed down in public esteem significantly.
The spat, and all the back and forth tweets exchanged furiously by Mirza and Manjrekar, not only divided Twitterati, but has also tarnished the image of Indian sports and sportspersons. In their petty battle of egos, little did Manjrekar and Mirza realise the damage they were causing to the millions of fans who look up to them as role models.
Mirza's life has been an inspiration to us all; it tells us of the many challenges a woman faces in a conservative society, and also reminds us of the ways she trumps them all, breaks all shackles.
In her autobiography, aptly titled Ace Against Odds, Mirza recalls the "burden of living under the stigma of a misunderstood fatwa for a major part of my career". She was branded "daughter-in-law of Pakistan" for choosing to marry Pakistani cricketer Shoaib Malik, and even her attitude has been often called into question.
However, she hasn't let these incidents affect her performance on the court. Six Grand Slam titles, including three each in women's doubles and mixed doubles, and the World No 1 ranking all stand as glowing testimony to her fortitude. She has been the reason many girls in India have picked up the tennis racquet; she has been the foremost icon of women's empowerment in India.
Manjrekar, in his own right, was an extremely accomplished cricketer, India's foremost batting technician, before Rahul Dravid came along.
Therefore, to bicker the way they did in public was totally uncalled for. But sadly, this was not the first time that either Manjrekar or Mirza were involved in public spats with fellow sportspersons. Manjrekar had once spoken of batting maestro Sachin Tendulkar as being the "elephant in the room no one wants to talk about", while discussing the latter's lean patch.
Tendulkar, the thorough professional that he is, chose not to react, and let his bat do the talking. When Tendulkar piloted India to a ODI tri-series victory in Australia in 2008, the same Manjrekar was all praise for his former teammate. Had Tendulkar entered into a protracted verbal duel — which has never been part of his nature — he would certainly have not been able to concentrate on his primary job: Playing cricket. It was a lesson for everybody.
Leander Paes and Mahesh Bhupathi, however, weren't as judicious. A pair that was the toast of the nation after winning three Grand Slams in close succession, fell out bitterly in 2006. They grudgingly partnered at the 2008 Beijing Olympics, but by the time the London Olympics came about four years later, they were not ready to look eye to eye, or talk to each other, let alone play together. There was a growing discontent against Paes among the other Indian players, who felt the 1996 Olympic medal winning athlete was a difficult person to work with.
When the AITA picked Bhupathi and Paes as India's lone pair for the London Olympics, Bhupathi revolted. He accused Paes of "publicly and privately stabbing me in the back", and said, "We don't speak and have no camaraderie." Bhupathi was adamant on having Bopanna as his partner. Dismissing the prospect of partnering with Paes, he said, "For us going back to the Olympics (together) is the worst possible (outcome) in the interest of country."
It was sad to see what became of a pair which had it in them to establish a legacy rivalling those of the Woodies (Mark Woodforde and Todd Woodbridge) and the Bryans (Bob and Mike Bryan).
The AITA later relented and sent two doubles teams — Paes and Vishnu Vardhan; Bhupathi and Bopanna. Perhaps to appease Paes, Sania was paired with him in the mixed doubles. Sania, who also wanted Bhupathi as her partner, felt she was being made a "bait by the AITA to pacify the two players".
The fallout of this bitter quarrel was that India's preparation for the Olympics were thrown asunder and the campaign ended in a disaster, with neither doubles pair advancing beyond the second round, and Paes-Sania losing in the quarter-finals.
Four years later, at the Rio Olympics, Bopanna chose Saketh Myneni as his partner, but the AITA wanted him to partner Paes. But clearly the two were not on the same page. Paes joined the squad at Rio late, and there were already rumours that he didn't want to play with Bopanna. Taking a dig apparently at his senior partner, Bopanna tweeted: "At it again!! ...the usual ploy to stay in the news by slanging fellow players in media."
At it again!! ...the usual ploy to stay in the news by slanging fellow players in media. #Patriotism

— Rohan Bopanna (@rohanbopanna) September 18, 2016
It was not an ideal relationship between two players who were to take the court together for their country at the grandest stage of all — the Olympics. It showed the two athletes in poor light and dragged the country's name through the mire. What it effectively meant was that India's campaign was over even before it began. The pair expectedly crashed out in the first round itself.
Mirza and Bopanna, who played the mixed doubles together went till the semi-finals but could not win a medal.
Paes, who holds 10 Grand Slam mixed doubles titles, was nevertheless miffed at not having the opportunity to partner Mirza at Rio. "We didn't put the best teams forward. This Olympics, the mixed doubles was a huge opportunity," Paes said later.
Sania, who had no love lost for Paes, apparently saw these comments as an attempt to belittle her pairing with Bopanna. She retorted in a tweet apparently directed at Paes: "The ONLY way to win with a toxic person, is not to play!!!" Bopanna made clear which side he was on, by retweeting this tweet.
The ONLY way to win with a toxic person, is not to play!!! #karmaiswatching #zenmode 😇🙏

— Sania Mirza (@MirzaSania) September 18, 2016
These high-profile arguments have had a deleterious effect on Indian tennis. The sport has had a rich history in India, which has got the better of powerful opponents like France, Croatia, Netherlands and Switzerland in the Davis Cup. It is a tournament where they have been runners-up on three occasions. One fondly remembers India's march to the Davis Cup semi-final in 1993, and Paes' Olympic singles bronze in 1996. Today, however, Indian tennis is in a dilapidated state, and such high-profile quarrels are, to a large extent, responsible for this.
What the many episodes between Paes, Bhupathi, Bopanna and Mirza, and now this duel between Manjrekar and Mirza have done is they have threatened to make Indian sportspersons a laughing stock, much the same way former Pakistan cricket captains Mohammad Yousuf and Rameez Raja did, by launching personal attacks at one another. We would not want to follow the example of Pakistan, would we?
Manjrekar chose to "leave balls outside off stump" in the end, hardly realising that he had already nicked one to the slip cordon!
What is also disheartening is that the way in which fans enjoy a "good drama" every time celebrities have public spats, scarcely seeing the harm they cause. It is, therefore, not about Sania "shutting Manjrekar out", or "returning Manjrekar's volleys with a forehand smash". The bigger question is the embarrassment that it brings to the country. Hope better sense prevails next time around.
First Cricket News
Since Misbah-ul-Haq took over as head coach in September 2019, Pakistan have tried 17 different players in the middle order but none of them succeeded.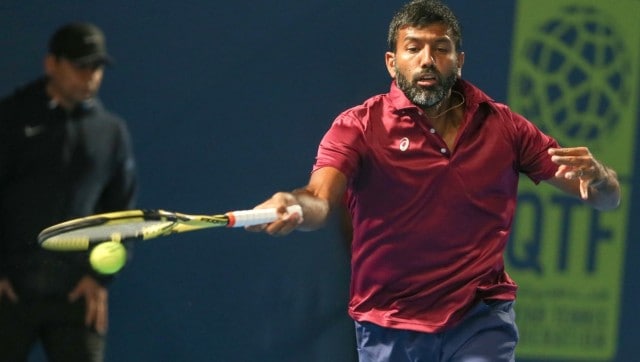 Sports
A last minute change in combination couldn't save India's hopes as Rohan Bopanna and Ramkumar Ramanathan lost the crucial match 6-7(2) 6-7(2) to Henri Kontinen and Harri Heliovaara in one hour and 38 minutes.
Sports
Here's how athletes joined in wishing their coaches a Happy Teachers' Day.