Sangwan wept bitterly after his loss
Ayaz Memon is in London sending us updates throughout the day. Keep checking here for more.
Telling an 19-year-old that he had actually won when the official result shows him defeated is hardly going to provide any solace; if anything, it is like pouring salt over his wounds.
Sumit Sangwan, boxing in the 81 kg category, appeared to have done everything right in the bout against Brazilian Yamaguchi Falcao Florentine, but was snubbed by the judges who handed over a narrow 15-14 victory to his opponent.
Commentators on one TV channel called it "daylight robbery", some other critics it the "biggest hash of the Games yet." None of this was of any consolation to Sangwan who, it is learnt, wept bitterly after receiving the adverse verdict.
Among those in the disbelieving spectators was sports minister Ajay Maken who asked the Chef de Mission, Brigadier Muralidhar Raja to lodge an official complaint. This was done soon after the bout.
However, unless there are seriously compelling circumstances— and these can only be defined by fine detailing which would escape all except the most informed and involved— it is unlikely that the verdict against Sangwan will be overturned. Revised results at the Olympics are rare.
Sangwan's sad exit, along with the narrow 3-2 defeat of the hockey team to Netherlands, made it a disappointing afternoon for India after Gagan Narang's fine win in the 10m air rifle event had given the contingent a much-needed fillip.
Maken, who was at the shooting range from early morning, went ecstatic at Narang's bronze."Even if this is not the colour we expected, it's a start," he said, announcing that all Olympic medalists would automatically get the grade of IAS officers, apart from the bounty from state and central governments.
"We are not doing winners a favour, they deserve every rupee for bringing glory to the country," said Maken excitably. How much of what promises here translate into reality back in India remains to be seen.
The more pertinent issue currently, however, is how many medals India can win at London. Apart from Narang's bronze, it's been a blank slate otherwise so far. The archers have disappointed, as did Abhinav Bindra.
The tennis pair of Mahesh-Bhupathi and Rohan Bopanna went through their first round, but only just, winning 8-6 in the third set to suggest that the road ahead of them would be torturous.
"Our best medal hopes are only just getting into action," said Maken, "And we are confident of winning more medals than in Beijing.''
Unless that process begins fast, this might soon become a pipedream.
****** ** ******
In an event where winners and losers are separated by fractions of decimals, concentration and nerves matter as much as ability. Abhinav Bindra, gold medalist in the Air Rifle 10 m shooting, looked good to qualify for the final of the event till he bungled badly in his last set of 10 shots, missing the bulls eye thrice to find himself among the also-rans in this Olympics.
The setback to India's medal aspirations would have been greater had Gagan Narang not qualified. In fact Gagan was third-placed in a strong finish, scoring a bulls eye in his entire last set after he had dropped two points in the preceding ones.
Bindra, undoubtedly under great pressure of expectation, began with a spate of perfect hits even as Gagan took his time to get started. This seemed to express the personalities of the two shooters too: Gagan measured and patient, Bindra a trifle more flamboyant.
In the event, Bindra took a roller-coaster ride into the final set of 10 shots, regaining his position in the top 8 after a lull period which saw him hover for a while in the late 20s, before finally fading away with some unexpected lapses.
Gagan meanwhile moved on serenely, beginning and finishing with immaculate scores that saw him almost nudge the existing Olympic record. He took a break after the third round of shots, when he had scored 9 twice, to regain his composure in concentration.
The final of the 10m rifle begins in the next half hour.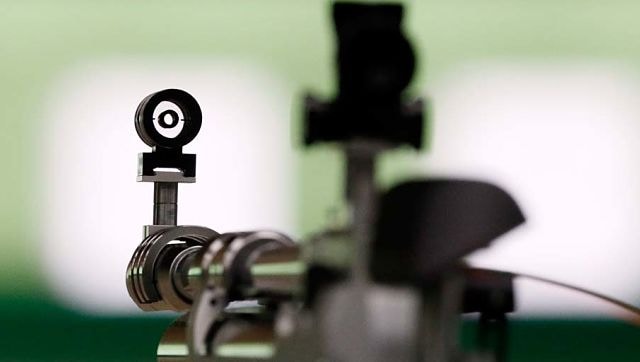 Sports
Singh, who was the competition manager in the recently-concluded World Cup held in Delhi, received the gold medal from the International Shooting Sports Federation (ISSF) for his services towards the sport.
World
Following an 'officer-involved shooting', the suspect was taken to hospital, said Lieutenant Jennifer Amat. It is as-yet-unclear who shot the suspect, who remains in critical condition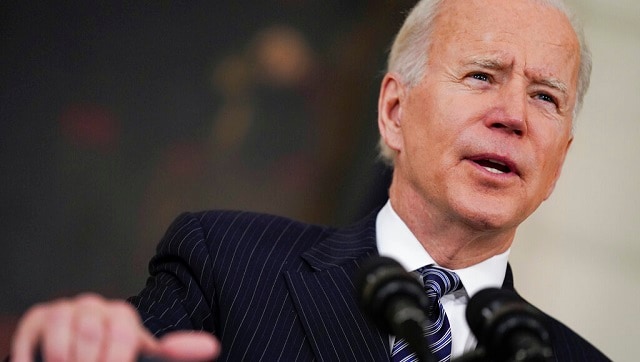 World
Biden's six measures to combat the epidemic included a proposed rule to 'stop proliferation of ghost guns', as firearms built from home kits are known