Salman at Rio: Milkha Singh asks IOA to reconsider, Hema Malini backs Bollywood star
Athlete Milkha Singh on Sunday said that the IOA should reconsider their decision of appointing Salman Khan as India's goodwill ambassador for Rio Olympics.
Expressing his disappointment over Bollywood actor Salman Khan being chosen as India's goodwill ambassador for the Rio Olympics, athlete Milkha Singh on Sunday said that the Indian Olympic Association (IOA) should give a second thought to their decision.
Salman Khan's appointment has triggered a furore, with star wrestler Yogeshwar Dutt also questioning the move, even as IOA and some other athletes backed the decision.
"India has produced so many sportspersons who have given their sweat and blood for the country, like PT Usha, Rajyavardhan Singh Rathore, Ajit Pal and so many others. One of these could have been made a goodwill ambassador. What was the need to import a person from Bollywood?" Milkha asked.
"I want to make it clear that I am not against Salman Khan, but the decision of the IOA is wrong and the government should intervene in the matter. This is for the first time I am seeing a Bollywood hero being made goodwill ambassador for Olympics. I want to ask, has Bollywood ever made any sportsperson an ambassador for any of their mega events?" he said, adding, "I want that the decision to name Salman Khan as ambassador be revised."
Meanwhile, Bollywood actor and BJP MP Hema Malini on Monday said there is no problem if Salman Khan has been selected as the brand ambassador of Indian contingent for Rio Olympics 2016. She added that he is popular among his fans and being a brand ambassador is not wrong.
"People love him so much. So if he is the brand ambassador, what is the problem," she said.
Salman Khan has clearly stated that his association with the Olympics will only be beneficial.
"Olympics doesn't get the viewership it deserves, which cricket gets, and that's because we watch it more and other sports don't get it because we don't watch them... we are to be blamed," the 50-year-old actor told reporters in New Delhi.
The IOA came out with an explanation for their appointment, with IOA Secretary-General Rajiv Mehta stating "We are very happy and thankful on Salman's offer to support Olympic Sports in this country. This association is only a gesture and does not include any monetary consideration,"
The IOA also said that they are in talks with two other big names in music and cricket as well.
(Videos courtesy ANI)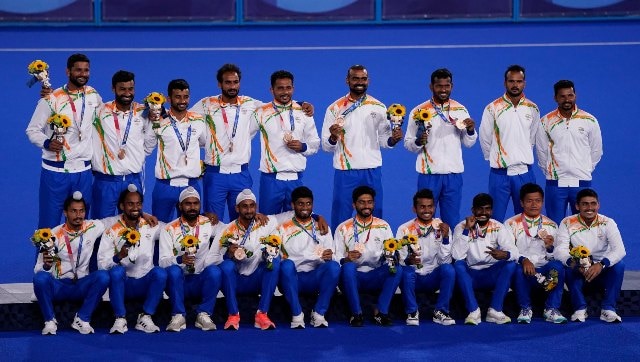 Sports
The Indian men's hockey team produced an inspiring performance at the Tokyo Games, where it edged out Germany 5-4 to claim a bronze medal, the country's first in the sport in 41 years.
Sports
Biles was expected to dominate at the Tokyo Games but instead caused a sensation by pulling out of the opening event of the women's gymnastics competition after being plagued by an attack of the "twisties".
Sports
The team missed out on its first-ever Olympic medal but produced its best-ever show in the history of the quadrennial with a fourth place finish.