Saint Louis Rapid & Blitz: Viswanathan Anand has disastrous Day 1; Garry Kasparov impresses on return
Anand flattered to deceive and scored just a solitary draw from three games on the first day of the Saint Louis Rapid and Blitz tournament of the Grand Chess Tour.
Viswanathan Anand flattered to deceive and scored just a solitary draw from three games on the first day of the Saint Louis Rapid and Blitz tournament of the Grand Chess Tour. Garry Kasparov showed surprising alacrity for a player who hasn't participated in competitive chess for 12 years and drew all the games of the day.
The rapid part of the event began on Monday. It is an event in which all competitiors play each other in a round robin format with 25 minutes on the clock for the entire game, and with a 10-second time delay from the first move, thus the entire game lasting about an hour. Three games are to be played everyday in the rapid format and they are to be completed in the first three days of the event.
On a day when the Chess Club and Scholastic Center of Saint Louis witnessed a surge in the number of spectators due to the interest that Kasparov's comeback had generated, the cramped playing hall was found to be inadequate to hold all the spectators and media correspondents and provide them vantage points to watch the games.
Anand lost to Hikaru Nakamura, drew with Leinier Dominguez Perez and lost again to Levon Aronian to end a disastrous day in office which could have been very satisfactory if he had grabbed his chances presented on the board.
Playing quicker time controls does not mean that a player has to develop different skill-sets to excel in the games. Rather, presented with lesser time as compared to classical chess for making decisions is simply a test of a player's intuition, tactical as well as positional. Though quick-thinking and reflexes do play a part, they are not the only technical necessities for a player to excel in quicker time controls. In case of Anand, it was probably form which played its part, as he floundered at crucial junctures when crucial tactical questions arose.
Playing Nakamura with white pieces in the first round, Anand opted for the Giuoco Piano opening and sacrificed a pawn on the 20th move. After an error by Nakamura, Anand was on the verge of taking over the initiative when he blundered on the 25th move and started a tactical sequence overlooking his opponent's chances, and tasted his first defeat.
Playing with black pieces in the second game against Cuban Grand Master Perez, Anand opted for the solid Berlin defence of the Ruy Lopez but Perez played a comparative sideline and preferred for an aggressive middlegame. With both the kings castled on the opposite sides of the board, hopes of a violent clash arose with mutual kingside attacks, where Perez's chances appeared better after he sacrificed a pawn near his own king and seemed to bring all his pieces to attack Anand's king. In a tense moment, a visibly nervous Anand panicked and exchanged all the minor pieces and his advantage petered out in the major pieces ending, with the game ending in a draw.
The third round of the day was the most disastrous for Anand, as he lost to Aronian in a topsy-turvy game which he deserved to win. Sticking to the Giuoco Piano, he enjoyed a healthy advantage from the opening phase itself, and shocked his opponent with a well-calculated tactic sacrificing an exchange on the 19th move. Probably an in-form Anand might have won the game effortlessly afterwards, but he blundered on the 23rd move and landed into tactical difficulties. Failing to put up the best defence, he was a piece down a few moves later and went down quite fast.
Kasparov was surprisingly agile in his board presence for a 54-year-old who has come out of retirement. In all the three games, he impressed tactically by not committing any serious calculation error, and was in trouble only in the second game against Nakamura when he stared at defeat in an ending with a bishop against a knight. But his ability to fight back and offer stubborn resistance also meant that he still retained his fighting qualities.
But something which cannot be measured clearly with observation and analysis is the amount of intimidation that he instils in his opponents. It was a sheer effort to withstand Kasparov at he height of his career for his opponents, probably with the exception of Anatoly Karpov and Vladimir Kramnik. However, it cannot be easily assessed how much of that fear-instilling ability he has retained in his second coming.
There was not a single player who dominated the event on the first day, and Vietnamese Grand Master Quang Liem Le, one of the dark horses of the event, jointly led the event on four points along with Aronian, Caruana and Nepomniachtchi. (The scoring is done differently for this event, with wins earning two points, one point for a draw and nil for a loss).
Results:
1st round
Garry Kasparov          drew with    Sergey Karjakin
Viswanathan Anand  lost to Hikaru Nakamura
Quang Liem Le           beat Fabiano Caruana
Levon Aronian            beat David Navara
Ian Nepomniachtchi  drew with Leinier Dominguez Perez
2nd round
Nakamura                drew with Kasparov
Aronian                     lost to Nepomniachtchi
Karjakin                    beat Le
Dominguez Perez   drew with Anand
Navara                      lost to Caruana
3rd round
Kasparov                drew with Dominguez Perez
Caruana                  beat Karjakin
Le                             beat Nakamura
Nepomniachtchi   drew with Navara
Anand                      lost to Aronian
Points position after three rounds:
1 to 4: Le, Aronian, Caruana and Nepomniachtchi - 4 points each
5 to 8: Nakamura, Karjakin, Kasparov and Dominguez Perez - 3 each
9 to 10: Anand and Navara - 1 each
Saravanan is an International Master and author for ChessBase India.
Sports
The fifth round match of the Chessable Masters online rapid chess tournament was headed towards a draw but a one-move blunder from the Carlsen resulted in his defeat.
Sports
It was a hat-trick of titles for Gukesh after he had previously won the La Roda tournament and the Menorca Open in recent weeks.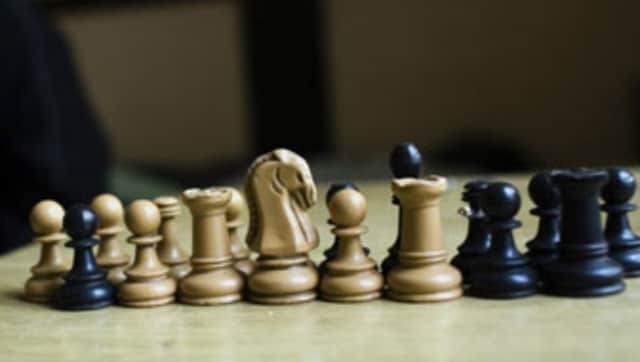 Sports
The initiative, a part of the Chess in Schools Project by AICF, will be conducted through the state associations and with the support of the government of Tamil Nadu