Saint Louis Rapid & Blitz: Viswanathan Anand at bottom of standings after two defeats on Day 2
Vishwanathan Anand steadily built up a winning advantage only to blunder it away against Levon Aronian in the 5th round. Anand was tied at the bottom of the table with four points after six rounds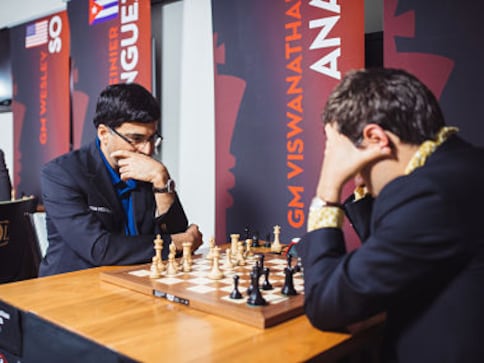 Viswanathan Anand had a forgettable day at the Saint Louis Rapid & Blitz tournament in Missouri, USA, losing two games and drawing one to score just one point from three rounds.
Anand was tied at the bottom of the table with four points after six rounds, with three rounds still remaining. World championship challenger Fabiano Caruana of USA lead the table with nine points, followed by Maxime Vachier-lagrave, Sergey Karjakin, Shakhriyar Mamedyarov and Shinsuke Nakamura, all on seven points.
Anand began the day quite solidly, defending with black pieces and holding Leinier Dominguez to a draw in a Catalan Opening game. In such high profile tournaments, a draw with black pieces is always considered a satisfactory result with the preparations of top players tend to be of the highest levels making it difficult for more than a draw with black.
In the fifth round, Anand operated with nuance from the white side of a Berlin Defence from Ruy Lopez's opening, and steadily built an advantage against Levon Aronian. Beginning from around 17th move, Anand's play was praiseworthy; creating and expanding a seemingly negligible advantage till it became a highly unpleasant position for black by the 33rd move.
Though an advantage may be built painstakingly, its conversion is not easy in faster time controls in chess, as thinking process becomes strained and mistakes crop up when short of time. It is at such points that stamina and balance of a player shows clearly, and this is the point where Anand stumbled. In the next six moves of the game, his play became increasingly erratic and finally fatal when he hung a rook to resign on the 39th move.
Such change in fortunes, especially when he enjoys a winning position at any point of a game, is a very difficult reversal in chess to come to terms with. His play in the game and the final result probably shook him so badly that he was mostly unrecognisable in the last game of the day, as he seemed to be playing listlessly gradually handing over the initiative and eventually losing to Wesley So in 45 moves.
Considering that Anand lost two games with white pieces on the day, his results are surprisingly disastrous for a player of his caliber, as both Aronian and So themselves are having a tough ride in the tournament. In the last three games of the day on Monday, he faces Alexander Grischuk and Mamedyarov with black pieces, both prefer tactical chess. In the most important encounter of this tournament, he is set to face Caruana in the penultimate round, where he will take on his toughest opponent against the tournament leader.
In general, it was a topsy turvy day at the Saint Louis Chess Club, with many games featuring surprisingly blunders and heartburns. Only Caruana, Nakamura and Mamedyarov played relatively steady Chess as the pressure of playing shorter time controls and three different games in a day gradually caught up with the players. The encounters Wesley So – Dominguez, Grischuk – Karjakin, Aronian – Nakamura and Vachier-lagrave – Mamedyarov all featured such dramatic turnarounds making it an eventful day.
Considering the overall standings of the Grand Chess Tour, Nakamura, Karjakin and Vachier-lagrave are seemingly gaining decently from the current tournament, with three crucial games left to play in this section. After 3 more rounds of rapid chess, blitz chess with about 10 minutes for the whole game will be the time control for the last two days, which will make the quality of games even more erratic.
Standings after 6 rounds of rapid chess:
 Caruana – 9
Vachier-lagrave, Karjakin, Nakamura & Mamedyarov – 7
Dominguez Perez – 6
Aronian – 5
Anand, Grischuk & So – 4
Sports
A total of 350 teams from 187 countries have participated at the 44th Chess Olympiad in Chennai.
World
Ministry of External Affairs Spokesperson Arindam Bagchi said it was surprising that Pakistan has suddenly taken the decision not to participate in the event
Photos
Tamil Nadu is abuzz with excitement over the 44th International Chess Olympiad, which begins today and goes on until 10 August, at Poonjeri Village in Mamallapuram. The state has gone all out for the event — from painting bridges to children dressing as chess pieces