Saint Louis Rapid & Blitz: All eyes on Garry Kasparov as former champion returns to chess after 12 years
There is no doubt that chess lovers will be eagerly watching Kasparov play and wishing him to do his best, even if their hero is a step slower than at his very best
The Saint Louis Rapid and Blitz event started off at the Chess Club and Scholastic Center of Saint Louis on Sunday evening as a relaxed and jovial affair, despite being next leg of the Grand Chess Tour with equal weightage of Grand Prix points. It will be a combination of two events in Rapid and Blitz formats – a 25 minutes per game, 10 seconds time delay, and five minutes per game with a three second time delay respectively. All the 10 invited players will play each other in both time controls.
However, it was easy to see that the competitiveness of the event in the context of the tour will be completely eclipsed with the return of Garry Kasparov to an official chess event after 12 years. The light-hearted quips by many of the other participants had one central theme, that of looking forward to playing against the legend, against whom none of the participants have played in an official competition except for Viswanathan Anand.
Apart from Anand and Kasparov, the participants list includes Fabiano Caruana, Levon Aronian, Sergey Karjakin, Hikaru Nakamura, Ian Nepomniachtchi, David Navara, Le Quang Liem and Lenier Dominguez.
"As like when Garry played as a professional player, he is not the favourite to win this tournament. All of us want to beat him quite badly!" was the comment from American Grandmaster Hikaru Nakamura to the audience, evincing a good deal of laughter.
In reply, once again stressing he is not planning a comeback to competitive chess, Kasparov confessed that after listening to other players talking he 'realise(d) that (this tournament will be) serious.' "I will be the most desired prey in the history of chess. Of course, I will be kicking and fighting. But 12 years is a long time," were Kasparov's words in return.
It is easy to understand the eagerness of most of the players towards playing Kasparov, as five of the 10 participants were not even born when he was crowned world champion for the first time in November 1985. At the age of 54, Kasparov's rustiness in competing against the best of the world in serious competition may not be easy to overcome, especially as he has stayed away from the game to pursue various other ambitions in this period. They include creating the United Civil Front and The Other Russia in his native country to fight against Putin's Government in politics and being Chairman of the Human Rights Foundation in 2011, apart from being a writer and a political commentator.
At the same time, he never completely stayed away from the game, being a trainer for the world Champion Magnus Carlsen in 2009, helping Anand in his World Championship match against Topalov in 2010, training Nakamura in 2011 etc. Starting from 2003, Kasparov has been writing the 'My Great Predecessors' and 'Kasparov on modern Chess' series of books totalling 11. The voluminous tomes acknowledged as all-time classics in chess literature.
But such fringe activities can hardly be called as serious training demanded of professional players to be at the best of playing strength. Though Kasparov was one of the first players to use computers for chess preparation and benefitted immensely by its database capabilities, opening preparation has changed a lot after he retired from the game in 2005. Especially with the advent of multi-core processors in using chess engines for analysing positions.
However, Kasparov's reign at the top of the game for a whopping 225 out of 228 weeks between 1986 to 2005 is easily the proof that he was one of the best players ever in the history of the game.
He created records for consecutive victories in top category tournaments which stands to this day, while his peak rating of 2851 ELO points was eclipsed by Carlsen only in 2013. His only competitive test was participating in the Saint Louis Ultimate Blitz Challenge in April 2016 at the same venue last year, when he finished third to Nakamura and Wesley So, ahead of Caruana.
Though it was a Blitz event with quickest time controls, the quality of games was of a decent level, with many memorable victories and absorbing fights.
Seen from all the contexts, it should be pragmatic to assess that though Kasparov's games will be very eagerly watched in the Saint Louis Rapid & Blitz and it will be a stretch to expect the former world champion to compete for a top spot. "There was One Garry Kasparov from 1991 - 2005, a very intense guy. Then I met him for many years, (and) something was missing – he seemed very relaxed, more at ease. Now, I have gotten used to the second guy, but have to remember the first one again!" were the words of Anand welcoming Kasparov back to competition.
But in spite of the realities, there is no doubt that chess lovers all over the world will be eagerly watching Kasparov play and wishing him to do his best in the tournament, even if their hero is a step slower than at his very best.
Sports
The fifth round match of the Chessable Masters online rapid chess tournament was headed towards a draw but a one-move blunder from the Carlsen resulted in his defeat.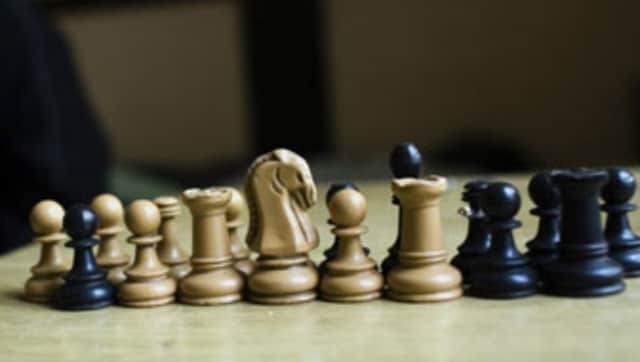 Sports
The initiative, a part of the Chess in Schools Project by AICF, will be conducted through the state associations and with the support of the government of Tamil Nadu