Ryan Giggs needs to show he is Wales' new manager not just because of his cult status
Giggs will have to show he is in the job not just because he was a great player; it is a task which has proved onerous for names with glitzier reputation.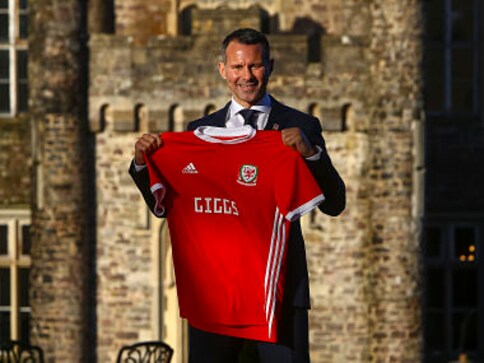 In the hours following Chris Coleman's departure as Wales manager in November last year, some fans of the national side took to Twitter with a hashtag which started to trend in little time - #AnyoneButGiggs. One would think that the prospect of a former player, with a decorated record in club football, managing the Welsh team would bring the supporters to their feet.
But long-serving fans have long-running memories. Giggs' Wales career was marked out by his non-appearance in friendly matches for about nine years. Questions over commitment never really deserted him. His 64 appearances from 1991 to 2007 seemed too little. While he razed the opposition down in the red jersey of Manchester United, the crimson hues of Wales hung heavily over him.
No wonder then that not everybody is pleased now. Giggs has been handed a contract till the 2022 World Cup, entrusted with the task of building on the gains which shone brightly in the final years of Coleman's tenure. If his playing pedigree was not enough, the former Manchester United's coaching CV will convince even fewer people.
Giggs was asked to look over the mess when David Moyes was sacked at Manchester United in 2014 and he did not really come out with distinction in his role as assistant to Louis van Gaal thereafter. So, why did the Football Association of Wales (FAW) appoint him? What did they see in his 12 goals for the national team and numerous medals for Manchester United that suspecting fans cannot?
The answer lies in the cult of the celebrity. It is a cult which flourishes with abandon in football, which privileges the ability to play over the skill to nurture. No matter that Giggs has achieved relatively nothing as coach; it is his standing as a player which will keep him in employment. As a manager or a pundit, probably. The dangers of irrelevance are not for him, even if he manages to make a hash of all that Coleman achieved.
Giggs of course believes he can win over the doubters. It would be worth recalling that his predecessor was welcomed with boos as well. Coleman had not walked into the job with a shiny reputation but he changed perceptions. Along the way, he elevated expectations too. The tussle with the new normal, witnessed during Wales' eventually failed World Cup qualifying campaign, is here to stay for a while.
"In the last campaign we drew at home to Bosnia and it was like we'd won. This campaign when we've drawn it's been like a defeat because of what's happened between the Bosnia game and drawing in Austria. What happened in between was unprecedented, nobody thought we were going to get to those dizzy heights. You go to Austria and come back with a point and it's a disappointing result because we've qualified and been to a semi-final of a tournament," noted Coleman, last year.
Wales' miraculous run to the 2016 Euros has made Giggs' job only tougher, leaving the questions of commitment aside. The former winger, for the record, has always maintained that his dedication towards the national team was beyond question; his absence from friendlies explained by the injury-prone days of his early playing career. Giggs might be able to move past those accusations but poor results will only harm his managerial reputation, of which there's not much to speak of anyway.
In the aftermath of the Euros, Coleman realised that Wales had earned the right to be taken seriously by opponents. It was a position that the national football team had sought for long and now it is coming to terms with its new pedigree. The failed qualification campaign for the World Cup will not mean an immediate return to the days of obscurity. Going forward, Wales will expect nothing less than a place in the 24-team Euros.
This is where Giggs will have to show that his tenure will be in sync with the current reality of Welsh football. In his first press conference as manager, he spoke about the hurt of not participating in a major tournament as a player. "It wasn't enjoyable going on holiday and watching my mates play in the European Championship or World Cup. All I could do was try to get to a major championship. I always believed we could do it. There were campaigns where after a few games we were out of it and it was frustrating. But it still burns, that desire to get there and I want to do it as a manager."
As it turns out, Wales have already been there without Giggs. The narrative will no longer be just about him. For a long time, it was considered that the national side was not worthy of its biggest star. Now, Giggs will have to show that he belongs to the level at which Wales resides.
The Manchester United legend had to see off challengers like Craig Bellamy, Mark Bowen and Coleman's assistant Osian Roberts for the job. The FAW is convinced that Giggs is the man they want to guide the side to its first World Cup appearance since 1958 but before that, the Euros qualifying campaign will tell whether he is worthy of a long challenge.
Gareth Bale's indifferent form in recent months will be a worry but it may not hurt Giggs to provide continuity from the Coleman years. The now Sunderland manager was lauded for promoting youngsters like Ben Woodburn and Ethan Ampadu during his time. Under Coleman, Wales' callow bunch was marked out by its show of unity and an insistence to punch above weight. Giggs will do well to embrace the underdog spirit, a feeling that might be alien to him from his Manchester United years.
Yet, he is very much the underdog now. With UEFA having revamped its qualification process in the striving for greater relevance, Wales will have more chances to test their mettle against sides of similar standing in the UEFA Nations League while also making a play for a Euro 2020 spot.
The changes to the qualifying process and the showpiece event, the Euros, will pose new questions and quandaries for everyone. Wales have chosen to navigate this brave new world with a manager who will battle more doubts once his tenure brings competitive football. Giggs will have to show he is in the job not just because he was a great player; it is a task which has proved onerous for names with glitzier reputation.
Football
Igor Benevenuto has become the first FIFA-ranked referee to come out as gay.
Football
The Centre moved Supreme Court after FIFA and Asian Football Confederation objected to AIFF's member structure.
Football
Haaland scored twice to lead Man City to a 2-0 win at West Ham, netting from the penalty spot in the first half then adding a clinical finish in the second.