Roger Federer's successful title-winning season catalysed by improved backhand and masterstroke 'SABR'
At 35, after six months out following knee surgery, Federer stunned the tennis world with his victory at Australian Open 2017 in Melbourne.
London: What started as a bit of fun may just have led to a masterstroke.
It was the summer of 2015 when, on the suggestion of his coach, Severin Luthi, Federer unleashed the SABR, the "Sneak Attack By Roger".
Charging forward as his opponent tossed the ball, Federer would return serve on the half-volley, rushing the server.
The tactic gave Federer an extra dimension and put doubt into the mind of his opponents, who were never sure if and when he would try it.
But it seems that the SABR may have also been the catalyst for the improvement in Federer's backhand that was so instrumental in helping him to Australian Open victory at the start of this year, and looks set to spearhead his assault on Wimbledon.
At 35, after six months out following knee surgery, Federer stunned the tennis world with his victory in Melbourne, but it was the way he attacked his backhand, especially in the final against Rafael Nadal, that was such a revelation.
"Roger did something unbelievable and I believe that it is true that his backhand is great now," Nadal told a small group of reporters last month in Monte Carlo.
"But in my opinion his return is one of the biggest improvements."
Craig O'Shannessy, the analyst for the ATP Tour, believes shortening his backswing to play the SABR helped take Federer's backhand – and his backhand return - to another level.
"With the SABR it was the half-volley and insanely short in the stroke whereas on (the regular) return, he's letting it come at him but it's essentially a similar, very short blocking rebounding stroke," O'Shannessy told Reuters.
"The size of the backswing gets Roger in trouble. Now he's removed that size, it hasn't taken anything away from the speed, he's still accelerating into contact really well and he's taking the ball a little earlier so he actually has more speed to work with, taking it early with that ball coming out of the court."
For so long, Federer's rivalry with Nadal was marked by the Spaniard's ability, especially on clay, to attack the Federer backhand, forcing him to slice returns and put him on the defensive.
In the Melbourne final, Federer barely sliced a return at all, driving backhand after backhand, 14 of them for winners, including eight in the deciding set as he won his record 18th grand slam title.
In the 2017 Australian Open, Federer hit 76 backhand winners in seven matches, compared to 37 in 2016.
He made 80 percent of returns on the backhand side, more consistent than the forehand (72 percent), which, together with his serve, has so long been a big weapon for Federer.
While the use of a racket with a slightly bigger head size has undoubtedly helped add consistency, Federer says practice and confidence have also been key.
"I think (it has helped) a lot because it's been solid, I can count on it," Federer told the ATP. "I think I've really gotten confident through a lot of practice at the end of last year and then in matches and I was able to drive the backhand more than I did before."
"I'm coming over the backhand return much more, which allows me to enter the point in a much more aggressive fashion, and it seems to be working so far."
In Melbourne, Federer consistently focused on going cross-court with his backhand, exploiting the space Nadal sometimes leaves on the forehand side.
O'Shannessy said the technique on the return has transferred perfectly to the backhand in rallies.
"When you commit to that strategy it becomes cleaner, it becomes simpler and because you're practising it all the time it's getting better," he said.
"He's seeing instant results from it, he's playing shorter points, so then what happens is he has that feel of that blocking, aggressive backhand from the return, and he simply copies and pastes it into a rally."
Sports
The British pair led Cilic and Dodig by a set and a break but suffered a late collapse as the Croatians prevailed in a deciding tie-break to win 4-6, 7-6 (7/2), 10-7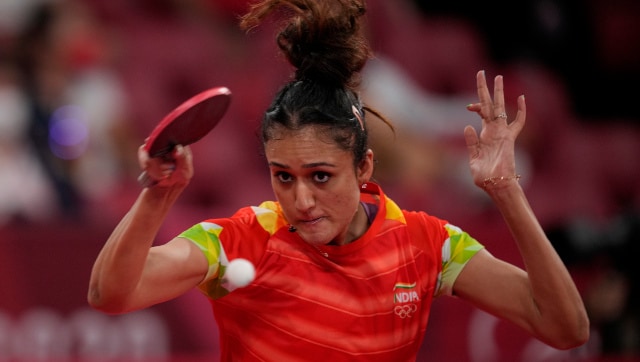 Sports
Manika, ranked 62, made a remarkable comeback after losing the first two games to prevail 4-11, 4-11, 11-7, 12-10, 8-11, 11-5, 11-7 in a second round match that lasted 57 minutes.
Sports
World number eight Berrettini picked up the injury in London where he became the first Italian to reach a Wimbledon singles final, losing in four sets to Novak Djokovic.