Roger Federer wins 20th Grand Slam: How the world of sports changed in between his first Major title and now
A look at what the sporting landscape looked like back in July 2003 when Roger Federer won his first Grand Slam and how it has changed since then:
Roger Federer won his first Grand Slam title in 2003 — on the hallowed courts of Wimbledon — when he was just a 21-year-old. Despite his evident talent, the 7-6(5), 6-2, 7-6(3) victory over Mark Philippoussis came as a surprise given that the Switzerland native had never gone past the quarter-final stage in any of the previous Grand Slams he had played in.
But this Wimbledon was different.
The 2003 All England title heralded a new era in men's tennis — the era of Roger Federer.
Since then, there have been 19 more titles, each won with near flawless tennis and despite the challenge that players like Rafael Nadal, Andy Murray and Novak Djokovic were to provide the Swiss ace.
He won his most recent title at Melbourne with a 6-2, 6-7 (5), 6-3, 3-6, 6-1 win over sixth-seeded Marin Cilic on Sunday night. At the age of 36 years, 173 days, Federer became the second-oldest man to win a Grand Slam singles title in the Open era after Ken Rosewall, who won the 1972 Australian Open at 37.
Federer has remained a constant for the last 15 years — winning six Australian Open titles, one French Open crown, eight Wimbledon championships and five US Open trophies. However, the world of sports — be it field hockey, cricket, or athletics — has seen tectonic shifts.
A look at what the sporting landscape looked like back in July 2003 and how it has changed since then:
Find latest and upcoming tech gadgets online on Tech2 Gadgets. Get technology news, gadgets reviews & ratings. Popular gadgets including laptop, tablet and mobile specifications, features, prices, comparison.
Sports
The chaos caused to tennis by the pandemic saw the governing bodies freeze world rankings from March, allowing points to extend beyond the traditional 52-week window.
Sports
With the 2021 tennis schedule facing inevitable issues with the Covid-19 pandemic, three-time Grand Slam winner Murray hopes the long-awaited vaccine will be available by the spring and that a compulsory programme is rolled out within tennis.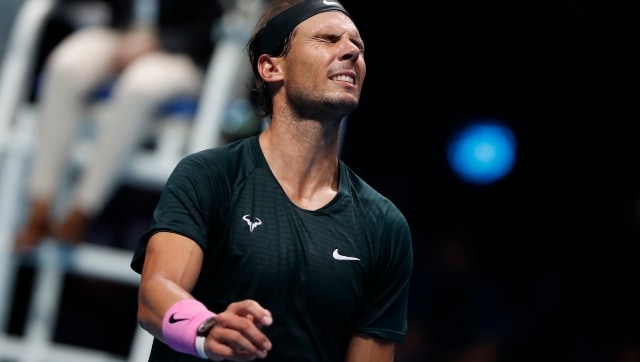 Sports
The Spaniard, who has never won the elite eight-man event, was beaten 3-6, 7-6 (7/4), 6-3 by in-form Russian Daniil Medvedev, who will play Dominic Thiem in Sunday's final.