Roger Federer returns to World No 1 to complete one of the most remarkable comebacks in sporting history
After his six-month break, Federer came back to tennis in search of that one more elusive Slam. He has, instead, once again established himself as the best player in the world.
Three Grand Slam titles, three Masters 1000 trophies and finally the World No 1 ranking — in the last 14 months, Roger Federer has pulled off one of the most astonishing comebacks in sporting history.
Federer defeated Robin Haase 4-6, 6-1, 6-1 in the quarter-finals of Rotterdam to ensure that he will overtake Rafael Nadal to be crowned World No 1.
On Monday, the Swiss ace will return to the top of the ATP rankings after a gap of five years and 106 days – the longest period between two stints at World No 1 for a male player. What's even more mind-boggling is the gap between when he first climbed to the summit and now – Federer first became World No 1 on 2 February, 2004, a record 14 years and 17 days ago.
Of course the milestone that stands out the loudest is that at 36 years, Federer is set to become the oldest player in tennis history to occupy the top spot. The previous record among the men was held by Andre Agassi at the age of 33.
Remarkable renaissance
When Federer returned from a six-month hiatus in January 2016, there were very few expectations of him. Some pundits had already written him off, after all what could a 35-year-old man with a rehabilitating knee do?
The most that was expected of Federer was that he'd continue to be a threat in the top-10 while making deep runs at Grand Slams. He hadn't won a Major title in four and a half years.
However, Federer was far from done. At Melbourne in 2016, he defeated four top-10 players – Tomas Berdych, Kei Nishikori, Stan Wawrinka and Rafael Nadal – to clinch Grand Slam No 18. His win over Nadal was especially extraordinary as Federer had never beaten the Spaniard at any Major except Wimbledon.
Federer showed his triumph Down Under was no fluke by following it up with the rare Sunshine Double – winning both Indian Wells and Miami back-to-back. After skipping the entire clay court season to protect his knees, the Swiss won Halle for a record ninth time without dropping a set. Federer then went to win Grand Slam No 19 at Wimbledon – this too without the loss of a single set.
He added the Shanghai Masters trophy to his cabinet in 2017 and ended the season at World No 2 after losing in the semi-finals of the season-ending ATP Finals.
Last month, he defended his Australian Open title for Grand Slam No 20 after winning Hopman Cup with Belinda Bencic. Nadal's exit in the quarter-finals at Melbourne reduced the gap between him and Federer to just 155 points and the Swiss made the most of the opportunity presented to him by entering Rotterdam.
Three straight wins in the Dutch port city and Federer has successfully reclaimed the throne that he relinquished in November 2012.
Turning the clock back
When you watch Federer play these days, you could be forgiven for thinking that he has transported you back to 2007-08. Sure he has a bigger racquet now, he hits his backhand early with a touch of top spin and his reactions on court are a tad slower than what they used to be, but Federer's aura of invincibility is back.
Federer is unbeaten in 2018 so far (15-0, if you include Hopman Cup) and the closest someone has come to beating him was Marin Cilic in the Australian Open final. It feels like we have travelled a decade back in Federer's time machine.
Over the last 14 months, Federer has lost only lost five matches – in two of those he had match points (Evgeny Donskoy at Dubai, Tommy Haas at Sttutgart); in the final loss to Alexander Zverev at Montreal, he had tweaked his back and he carried some of that physical vulnerability into the US Open, where he lost to Juan Martin del Potro. His fifth defeat came at the hands of David Goffin in London.
It's absurd to think that a 36-year-old player is dominating one of the most competitive eras in sport, but here we are. It's incredulous that the gap between Federer and the rest of the field seems so huge. It's almost as if Federer has erased all the doubts and defeats of his 2013 to 2016 years, and has turned the clock back on his career.
When he first climbed to the top of the rankings, the No 2 spot was occupied by Juan Carlos Ferrero. The Spaniard retired almost four years ago, and currently coaches one of Federer's rivals, 20-year-old Alexander Zverev. In fact, Federer himself is coached by his own peer, Ivan Ljubicic, who turned pro at the same time as Federer.
While his exquisite talent and superior athleticism established his case for one of the greatest players in the sport, it's his longevity that will perhaps settle the GOAT debate in his favour. In his two decades of professional career, he is still finding ways to reinvent himself and leave spectators in awe.
Passion and commitment
The elegance and artistry of Federer's style of play has always made tennis look very easy. But it overshadows the hardwork and commitment that goes into it off-court. Even at 36, Federer is one of the fittest players on the men's tour right now and that is a testament to the years of effort he has put into his body.
"I am very happy and proud of this accomplishment because it did not come overnight. I had to win three Slams to be honest, many Masters 1000s, other tournaments and basically stay injury-free as well.
"I had to take some tough decisions along the way. So this one feels very different than my first one, naturally. I think I can appreciate it way more than the first time I got to No 1," Federer said in his post-match press conference.
Federer's enduring love for the sport is what still keeps him ticking. His passion for excellence still burns strong, his hunger for victory apparent for all to see. His decision to chase the World No 1 ranking at Rotterdam was indicative of both, and having accomplished that, he has now set his eyes on another goal – 100 titles. Should he lift the trophy at Rotterdam on Sunday, his tally will rise to 97.
After his six-month break, Federer came back to tennis in search of that one more elusive Slam title. He has, instead, once again established himself as the best player on the planet.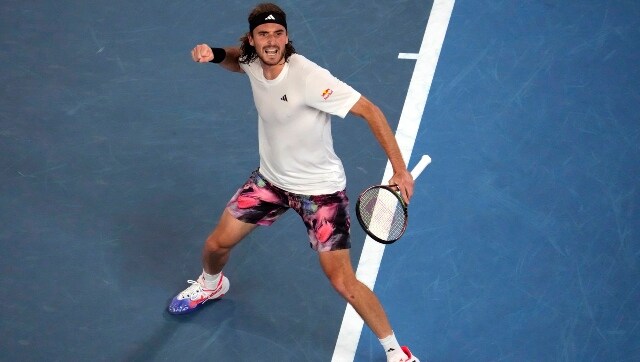 Tennis
Stefanos Tsitsipas, who will become world number one if he wins the title, has thrived on the energy from the crowd in Melbourne.
Tennis
Australia has a long history of strong doubles teams. This pair was the 16th all-Australian team to win a Grand Slam men's doubles title in the Open era.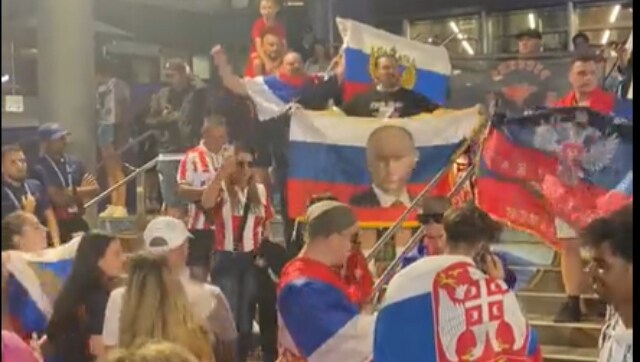 Tennis
Footage posted online showed at least one man on outside the Rod Laver arena holding a Russian flag with President Putin's face on it.