Roger Federer calls for consistent global dope testing, backs equal pay
Roger Federer believes tennis does not face a major doping problem but voiced concern on Thursday that drug testing protocols are not being taken seriously enough in certain parts of the world.
The record 17-time Grand Slam singles champion spoke out at the ATP and WTA Miami Open, where he ends an eight-week knee injury layoff Friday.
Third-ranked Federer believes there should be more consistency in the hunt for dope cheats, saying he gets tested more in his homeland than anywhere else.
"I've been in Dubai for 10 years now and been tested once. That's not OK for me," the 34-year-old Swiss said.
"I get tested more in Switzerland because the guy from Switzerland lives in my village. He comes to see me the day after my surgery.
"In certain countries, maybe the testing is not as serious as in Switzerland. I would like to see that across the board to be the same way and fair.
"But I think tennis is doing more and more. I really don't think there is a major problem.
"Tennis is doing a lot better than it has in the past. We're getting more professional. The program is getting bigger and stronger."
Stunned about Sharapova
Federer said he was shocked to learn that Russian star Maria Sharapova, a four-time Grand Slam singles champion, tested positive at the Australian Open for meldonium, which was added to the World Anti-Doping Agency's ban list on January 1.
"It was very disappointing news to say the least," Federer said.
"Clearly I was very surprised. I thought she was going to announce retirement or something. But it also shows the famous players can get caught in the system that seems to be working."
Sharapova said she did not check updated lists to see what changes were made to the banned list for 2016.
"I know what I take," Federer said. "You have got to be sure. That's why I quadruple check what I take. I don't want to take any chances whatsoever."
Federer said he tends to give fellow players the benefit of the doubt, but is skeptical when those who test positive plead ignorance or accident.
"I'm naive maybe in the fact that I believe athletes," Federer said. "Clearly when they get caught, you turn. You are like, 'I can't believe they tried to do that, forgot about it,' whatever."
Federer said he would like to see more to combat dope cheats, including keeping blood samples on players from every event for 10 years so updated testing methods can be used to detect violations many years later.
"You could be punished retroactively," said Federer. "I'm a big believer in that."
Federer backs equal pay
Controversial comments by top-ranked Novak Djokovic and now-resigned Indian Wells tournament director Raymond Moore regarding women's tennis and equal pay with the men were not echoed by Federer.
"I'm all for equal prize money. When I was fighting for prize money increases, especially at the Slam level, I was always very aware of the fact it would impact the women's game," he said. "I'm happy tennis has produced some of the greatest female athletes in the world."
Federer also recalled the terrorist attacks in Paris when speaking of the recent ones in Belgium and the extra stress they add for global-traveling athletes.
"When you travel you always have to be aware," he said. "This time I was on the other side of the world. For Paris, we were in London and we had just been in Paris. That was scary. Not that this wasn't. It sure makes you wonder when you travel."
One place Federer is excited to visit for the first time is Rio de Janeiro for the Olympics in August.
"Olympic Games is massively important for me," Federer said. "I think it's going to have a very special flair, a unique flair."
Federer collected a silver medal in singles at the 2012 London Olympics and gold in doubles in 2008 alongside Stan Wawrinka.
AFP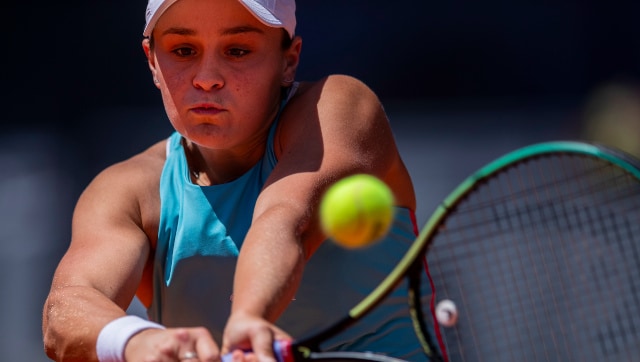 Sports
World number one Barty is chasing her fourth singles title of the year after her triumph in Stuttgart 10 days ago.
Sports
Djokovic, 33, playing his second tournament since winning his ninth Australian Open in February, will play Cameron Norrie or Alejandro Davidovich for a place in the quarter-finals.
Sports
The Serb, who won his 18th major at the Australian Open in February, insisted his focus now is on surpassing Federer's haul of 20 Grand Slams - a record he shares with Rafael Nadal.