Road to Rio: Weightlifter Sathish Sivalingam aims to achieve father's unfulfilled dream at Olympics
Sathish Sivalingam works as a Senior Clerk with the Southern Railways, Chennai. He also happens to be the sole male weightlifter to represent Indian in Rio.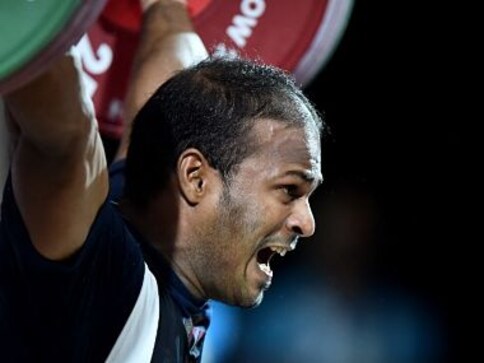 Name: Sathish Sivalingam
Age: 24
Discipline (sport): Weightlifting
Category: Men's 77 kg
Qualification: Sivalingam earned the right to compete at Rio after topping the selection trials across all weight divisions in Patiala. He lifted a total of 336kg in the 77kg weight division.
Strengths: If the Commonwealth Games are any indication, Sathish has a strong snatch that he can take advantage of.
Past Olympic performance: Debut.
Past record (best performances): - Sivalingam won a gold medal at the 2014 Glasgow Commonwealth Games in the 77 kg category.
Sathish Sivalingam works as a Senior Clerk with the Southern Railways in Chennai. He also happens to be the sole male weightlifter to represent Indian in the Rio Olympics. This is the second time Sivalingam will be making the nation proud on an international platform.
His gold medal victory at the 2014 Commonwealth Games brought Sathish's talent in the spotlight. In an impressive display, his 149kg Snatch lift broke the Commonwealth record which was earlier held by Yuko Peter of Nauru. This accomplishment got him a well-deserved Rs.50 Lakh reward by Tamil Nadu's CM J Jayalalithaa.
It is acknowledgments like these that keep pushing Sivalingam forward. Being the only athlete from Tamil Nadu in 2015 to receive an Arjuna Award that too at a time when weightlifting in India was marred by doping controversies, really helped Sathish gain perspective. "When I started my career, my primary aim was to get a job and settle down in life. But your priorities change after some time and I started to dream about the Arjuna award from 2011. I hope the award inspires youngsters to take up weightlifting," he told Deccan Chronicle.
The Vellore-born from Sathuvachari village made weightlifting his prime directive at a very young age, and he has been devoted to the sport ever since he began. "I started training him before he turned 13. He worked for not less than five hours a day. Sathish had won medals in junior and senior categories in the State, national and Asian-level games," Sathish's father told The New Indian Express. His father is a former army man as well as a former national-level weightlifter who has won two national-level competition medals. Even Sathish's brother lauds his dedication, "Except Sundays, he will not miss a day of training," said his brother Pradeep Kumar.
Sathish hopes to bring pride to his father in the Olympics, "I am from a poor family and my father was in the army in a small post. He played at the national championships but failed to win a medal at the international level. He wanted me to win a medal in a big international event," he said to The Times of India.
He believes that he and his peer Saikhom Mirabai Chanu has done well despite the dearth of facilities. "I do not think that Indian weightlifters are lagging behind the world's best. It is just that these top lifters have a proper structure in place in their respective nations. Look at China for instance; they have 'A', 'B' and 'C teams and their lifters have a personal physios and masseurs. In India, we do get these facilities for major events only and it will nice if we also get more personal attention at national camps. Having personal physios and masseurs will be big boost to Indian weightlifting," he told Sportskeeda.
The Indian contenders recently trained in Belarus right after the selection trials to prepare for Rio. Indian Weightlifting Federation secretary general D Chandrahas Rai said the training was planned in such a way that the weightlifters would directly head to Rio after the training and be in their best shape during the competition.
When asked about his expectations from the contingent, Rai was grounded but hopeful, "the competition is going to be really stiff in Rio. Anything can happen in sport but it is good to be realistic. Of course we all hope for the best, ideally, our lifters should be able to finish in the top eight to ten positions, though it does not mean they cannot go beyond that," Rai stated to Sportskeeda. But Sathish's father is confident. He told ESPN that, "Sathish will achieve what I never could. He'll return with a medal. It's more than mere hope. It's belief."
With inputs from agencies
India
The US Navy had awarded a contract to the L&T Shipyard for undertaking maintenance of the ship. The event signifies the capabilities of the country's shipyards in the global ship repairing market
India
A Hindu religious site in Tamil Nadu's Salem district, long considered to be a village deity, revealed to be idol of Buddha. HC issues order of no more religious practice on site after state Archaeological Survey submits report
India
The CBI had raided the premises of the Chidambaram family and arrested Bhaskararaman even as Karti Chidambaram was questioned by it