Road to Rio: Veteran light welterweight boxer Manoj Kumar packs quite the punch
Will Manoj overcome the dour memories of the London Olympics to get a podium finish in Rio? 11 years of experience say that there's a good chance for it!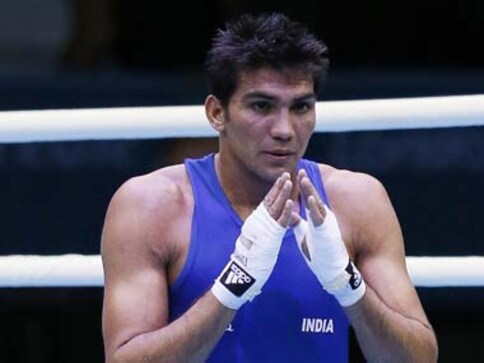 Name: Manoj Kumar
Age: 29
Discipline (sport):Boxing
Category: 64kg Light Welterweight
Qualification: Manoj secured a spot in the Olympics by winning the bronze medal in the International Boxing Association's (AIBA) World Qualifying Tournament.
Strengths: The seasoned pugilist can bank on 11 years of experience in international boxing to get a podium finish in Rio.
Past Olympic performance: Manoj lost the pre-quarterfinal bout in the 2012 London Olympics against Tom Stalker of Great Britain
Past record (best performances): - Manoj struck gold at the 2010 New Delhi Commonwealth Games
- He won a bronze medal in the 2012 and 2016 AIBA Asia Olympic Qualifiers
- He clinched the gold medal at the 2016 South Asian Games as well
- Manoj had a memorable performance at the Czech Grand Prix, for which he bagged the bronze medal
- He also bagged bronze medals at the 2007 and 2013 Asian Championships.
- Manoj also won the gold medal at AIBA's Doha International Tournament
After being crowned the champion at the 2010 Commonwealth games in Delhi, Manoj Kumar came into the global spotlight. Once at the big stage, there was no looking back.
With 11 years of experience to bank on, Manoj is a formidable athlete. From Puerto Rico to Ireland to Tajikistan, he has beaten a slew of world class boxers and has a copious amount of international victories to prove it. The boxer was also honored with the prestigious Arjuna Award in 2014.
Manoj's fortitude has humble origins. He was born in a small village in Haryana to a farmer's family. His tryst with boxing began in the village too, with his elder brother Rajesh Kumar giving him boxing lessons. His younger brother Mukesh Kumar is also an international boxer.
The pugilist, who missed the Beijing Olympics by a whisker, will be going to Rio with high hopes. But it was the London Olympics that was a real test of his mettle. He was defeated in the pre-quarterfinal bout against world number one Tom Stalker of Great Britain in a controversial manner. The Indian contingent felt cheated and alleged that the world boxing governing body AIBA's decisions were poor and biased. The questionable judging calls were criticized by many neutral observers around the world as well.
Manoj has often felt that luck, India's boxing infrastructure and the ruling committees, haven't really been in his favour. "Many would have given up boxing if they experienced the setbacks I have come up against. My steely resolve allowed me to surmount everything and focus on boxing," he said bluntly in an interview with Sportskeeda.
With the trials and tribulations that Manoj has faced over the years, Olympic glory is very important to the pugilist. Many speculate that following Vijender's Pro Boxing success, Manoj might be the next boxer to make it big in the rings. But Manoj's main focus as of now remains the Olympics. "As much as I would fancy the idea of turning pro sometime in the future, my wish is to first win a gold medal for India," he said about his future plans.
Being the most experienced Indian male boxer in the right now, everyone is convinced about the veteran's chances, but Manoj remains modest. To his supporters, he says that, "Experience do matter and I need to use it to my best advantage in Rio — all I want to say is I will give my best shot and if the Almighty showers his blessings who knows I might end up with a podium finish."
With inputs from agencies 
Entertainment
Kartik Aaryan's Bhool Bhulaiyaa 2 has crossed Rs 180 crore mark at the domestic box office.
Entertainment
Varun Dhawan, Kiara Advani, Anil Kapoor and Neetu Kapoor's Jug Jugg Jeeyo is expected to take a promising start at the box office.
Entertainment
Will Jug Jugg Jeeyo featuring an ensemble cast of Neetu Kapoor, Anil Kapoor, Varun Dhawan and Kiara Advani be as big as Bhool Bhulaiyaa 2? Trade experts kick in.