Road to Rio: Renjith Maheshwary, India's triple jumper, tries his luck for a third time at Olympics
Having failed to get past the qualification stage at the previous Olympic Games, Renjith Maheshwary will aim to reach the final at Rio Olympics 2016
Name: Renjith Maheshwary
Age: 30
Discipline: Athletics
Category: Men's Triple jump
Qualification: Maheshwary broke the national record with a leap of 17.30m at the Indian Grand Prix in Bengaluru in July 2016. He bettered the Olympic qualification mark of 16.85m to qualify for the Rio Olympics.
Strengths: Having represented India for close to a decade, Renjith has loads of experience under his belt. He would have learnt from his two previous Olympic failures and is likely to bring all his experience into play to finally make it big at the Rio Games.
Past Olympic performance: At Rio, Renjith Maheshwary will make his third Olympic appearance. Maheshwary had a disappointing campaign in 2012 when he made three consecutive fouls jumps at the qualifying stage. In Beijing he jumped 15.77m, but it wasn't enough for him to go through in the qualifying event.
Past record: Gold medal in Men's Triple jump in 2007 Asian Championship, Bronze medal in Men's Triple jump at 2010 Commonwealth Games
Rio Prospects: Having failed to get past the qualification stage at the previous Olympic Games, Maheshwary will aim to reach the final in Rio.
Renjith Maheshwary, the lone Indian triple jumper at the Rio Games, will head to the Brazilian city with an ambition of putting an inspiring performance — something the 30-year-old has failed to in two previous Olympic attempts. The top Indian triple jumper has impressed in the Asian events, winning medals at 2013 Asian Grand Prix, 2010 Commonwealth Games and 2007 Asian Championships, but in several global competitions like 2007, 2011 and 2013 editions of the World Championships, he failed to reach even the finals.
Maheshwary was born in Channanikadu in Kottayam, Kerala and gained interest in athletics right from his childhood. Backed by his father, Maheshwary was initially mentored by Evegeniy Shivilli and was a part of Kerala Sports Council's summer camp at the age of nine, where he was trained by Kerala-based coach VA George.
The Kerala triple jumper represented India for the first time at 2006 Asian Games where he finished fourth. Learning from the experience, he won a gold medal at the Asian championships a year later. Maheshwary's bronze medal at the 2010 Commonwealth Games was sandwiched by the two disappointing Olympic Games in 2008 and 2012.
The athlete also failed a dope test after the 2008 Beijing Olympic Games but was let off after a three-month suspension. However, he wasn't cleared of the charges and the pending allegations against him meant he had to be stripped of his Arjuna Award in 2013.
Maheshwary married pole-vaulter VS Surekha in 2009. The couple have a daughter named Khiya. The 30-year-old is employed in the Indian railways as chief ticket officer.
The Indian triple jumper's consistency is laudable in terms of qualification to the Olympic Games, but Maheshwary, one of India's greatest triple jumper would be desperate to make a mark at the biggest sporting extravaganza.
Find latest and upcoming tech gadgets online on Tech2 Gadgets. Get technology news, gadgets reviews & ratings. Popular gadgets including laptop, tablet and mobile specifications, features, prices, comparison.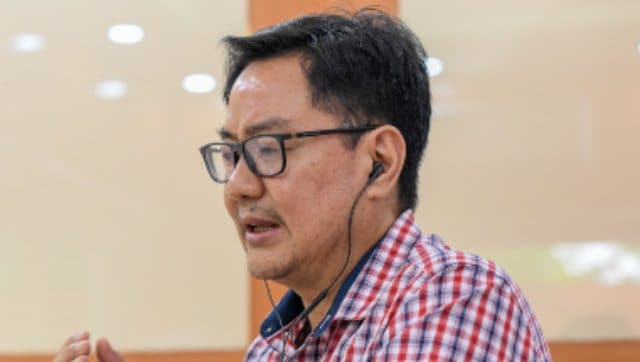 Sports
Rijiju said the government is working hand-in-gloves with the national federation of the game in creating a strong talent pool keeping in mind the 2024 and 2028 Olympics.
Sports
IOC is not expected to reveal concrete plans until later this year, or early in 2021
India
The state government had approached the court after an all-party-meeting in Kerala demanded withdrawal of the Union Cabinet's decision