Road to Rio: Lalita Babar smashes national record, Sudha Singh qualifies for Olympics in 3000m steeple
Olympics-bound Lalita Babar on Friday smashed her own national record to win the gold while Sudha Singh also qualified for the Rio Games while winning silver in women's 3000m steeplechase
New Delhi: Olympics-bound Lalita Babar on Friday smashed her own national record to win the gold while Sudha Singh also qualified for the Rio Games while winning silver in women's 3000m steeplechase on the second and penultimate day of the Federation Cup National Athletics Championships in Delhi.
Rajiv Arokiya set the second national record of the day while winning the gold in men's 400m race with a time of 45.47secs, missing the Rio Olympics qualification standard of 45.40secs by 0.7secs at the Jawaharlal Nehru Stadium.
Sudha's was the first Olympic qualifying effort in the Championships. Two national records were created on the first day on Thursady with Dutee Chand (women's 100m) and Amiya Kumar Mallick (men's 100m), both from Odisha, clocking 11.33secs and 10.26secs respectively, though both could not make the Rio cut.
Maharashtra's Babar, who has already qualified for the Olympics in both the 3000m steeplechase and marathon, clocked 9:27.09 to win the gold and set the national record in world leading time while Sudha, representing Uttar Pradesh, came up with a timing of 9:31.86 and bettered the Rio Games qualification standard of 9:45.00.
The performance of Asian champion Babar, who finished eighth in 3000m steeplechase in the World Championships last year, was also remarkable as she recorded the world leading time though it is very early in the season.
Sudha has also qualified for the Olympics in marathon but Athletics Federation of Indian officials said that both she and Babar will compete in 3000m steeplechase in Rio and not in marathon race. The officials said that 3000m steeplechase has better chance for the duo doing better in the Olympics than competing in marathon.
For Sudha, it was a make or break race to make it to the Rio Games in 3000m steeplechase, and emotion took over her as she expressed relief of booking a Rio berth under pressure.
"There was pressure on me as it was my make or break race. I want to compete in 3000m steeplechase in Olympics but since I was not competing in this event since 2014 Asian Games, I am not getting any events outside the country. So I have no chance to qualify for Rio in 3000m steeplechase except running in domestic meets," she told reporters after the race.
"I am relieved now that I have qualified and I hope to run in international events in the run-up to Rio Games," she added.
It is learnt that within minutes of Sudha qualifying for Rio Games, AFI Secretary C K Valson sent an e-mail to Shanghai Diamond League organisers to allow Sudha to compete in the prestigious event to be held there on May 14.
"When you send your entry for an international meet, the organisers would ask for timings of recent races but Sudha does not have any for the last one and half years as she was running only marathon. So she can't take part in international events. Now that she has qualified for Rio and she has got a good timing, I have sent a request to Shanghai Diamond League organisers for her entry," Valso told PTI.
Meanwhile, Arokiya of Tamil Nadu ran the best ever 400m race in India by an Indian by clocking 45.47secs to beat young Mohammad Anas Yahiya (45.74s) of Kerala. The earlier national record of 45.48secs was in the name of K M Binu of Kerala, set in 2004 Athens Olympics.
In women's 400m race, Anilda Thomas (52.40secs) of Kerala won the gold in an upset as she pipped pre-event favourite M R Poovamma (52.60 secs) of ONGC to the second spot. Anilda's time missed the Rio qualification by 0.2 secs. Another ONGC athlete Jauna Murmu (53.37s) bagged the bronze.
In women's discus throw, 2010 Commonwealth Games gold medallist Krishna Poonia, who was returning to top-flight competition after a long injury lay-off, won the gold with an effort of 55.09m. Poonia's Haryana state-mate Sandeep Kumari bagged the silver with a throw of 54.93m while Navjeet Kaur Dhillon (53.65m) of ONGC took the bronze.
South Asian Games gold medalist Ajay Kumar Saroj posted a personal best of 3:44.60 to win a hard fought men's 1500m race. Sandeep Singh (3:45.86) and Rahul Harveer Singh (3:46.07) took the silver and bronze respectively.
As expected, the women's 1500m race title went to O P Jaisha, Asian Games bronze medalist, in 4:18.69. Her Kerala state-mate P U Chitra collected the silver in a distant 4:29.17 and Haryana's Adesh Kumari got the bronze (4:30.58). It was Jaisha's third victory in this event in Federation Cup. Earlier she had won gold medals in 2006 and 2014.
In men's long jump, Kumaravel Premkumar (Railways) won the gold by clearing a distance of 7.88m while Ankit Sharma (Haryana) took the silver in 7.76m. Karnataka's Samsheer finished a close third with a 7.62m leap.
The was a small glitch also as light went off for a few 10 minutes, during the men's hammer throw competition held at the training area, outside the main stadium. The competition was stopped for a while and resumed after around five minutes with the restoration of the electricity.
Results: Men: Long Jump: 1. K PREM KUMAR (RSPB) 7.88m; 2. ANKIT SHARMA (HAR) 7.76m; 3. SAMSHEER (KAR) 7.62m.
400m Race: 1. RAJIV AROKIA (TN) 45.47; 2. MUHAMMED ANAS YAHIYA (KER) 45.75; 3. P KUNHUMUHAMMED (ARMY) 46.08.
1500m Race: 1. AJAY KUMAR SAROJ (ONGC) 3:44.60; 2. SANDEEP SINGH (HAR) 3:45.86; 3. RAHUL HARVEER SINGH (DEL) 3:46.07.
3000m Steeplechase: 1. NAVEEN KUMAR (HAR) 8:55.04; 2. DURGA BAHADUR BUDHA (MANI) 9:01.91; 3. SACHIN PATIL (MAH) 9:12.99.
Hammer Throw: 1. NIRAJ KUMAR (RAJ) 68.46m; 2. SUKHDEV SINGH (HAR) 65.61m; 3. GURJOHAR SINGH (BSF) 61.83m.
Women: 400m Race: 1. ANILDA THOMAS (KER) 52.40; 2. M R POOVAMMA (ONGC) 52.60; 3. JAUNA MURMU (ONGC) 53.37.
3000m Steeplechase: 1. LALITA SHIVAJI BABAR (MAH) 9:27.09; 2. SUDHA SINGH (UP) 9:31.86; 3. PARUL CHAUDHARY (UP) 10:47.49.
High Jump: 1. SAHANA KUMARI (KAR) 1.80m; 2. P ANGEL DEVASIA (KER) 1.73m; 3. KC CHANDANA (KAR) 1.73m.
Discus Throw: 1. KRISHNA POONIA (HAR) 55.09m; 2. SANDEEP KUMARI (HAR) 54.93m; 3 NAVJEET KAUR DHILLON (ONGC) 53.65m.
1500m Race: 1. O P JAISHA (KER) 4:18.69; 2. P U CHITRA (KER) 4:29.17; 3. ADESH KUMARI (HAR) 4:30.58.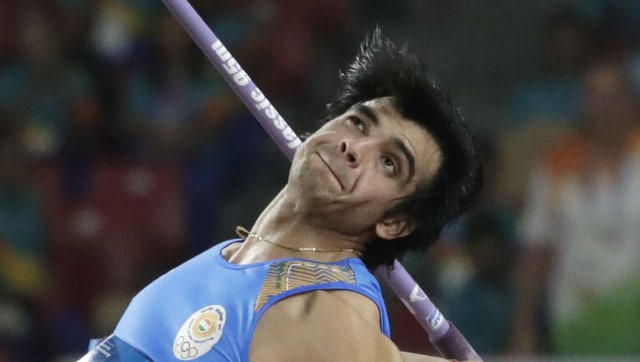 Sports
Apart from Chopra and fellow Olympic bound javelin thrower Shivpal Singh, country's relay racers (both 4x100m and 4x400m men and women) will be part of the 40-odd contingent that also includes coaches.
Sports
In remarks to reporters ahead of a US Olympic team media event, USOPC president Susanne Lyons said the organisation firmly believed that boycotts were ineffective.
Sports
All those who missed out have one last chance to make the cut for the Tokyo Games at the World Olympic Qualifiers, scheduled to be held in Sofia, Bulgaria from 6-9 May.