Road to Rio: Can wrestler Sakshi Malik pick up where Geeta Phogat left off at Olympics 2016?
Sakshi Malik has always played second fiddle to Geeta phogat in their wrestling category, but this Olympic event paints a different picture.
Name: Sakshi Malik
Age: 23
Discipline (sport): Wrestling
Category: Women's Freestyle 58 kg
Qualification: Sakshi earned her Olympic quota by winning a silver medal in the second World Olympic Games Qualifying Tournament in Istanbul, Turkey.
Strengths: Sakshi has an aggressive style of play and is doesn't wait for the opponent to attack to make her move. If she adds tact to this aggression, she can elevate her performance at Rio.
Past Olympic performance: Debut
Past record (best performances): - Sakshi won a silver medal in the 2014 Commonwealth Games in Glasgow.
- She followed up her Commonwealth Games victory with a bronze medal at the 2015 Senior Asian Wrestling Championships in Doha.
- She also won a gold medal at the Dave Schultz International Wrestling Tournament in 2014.
- She also grabbed a bronze medal at the Spanish Grand Prix in July this year.
Sakshi Malik was always a talented face in the wrestling circuit, but being in the same wrestling weight category as Geeta Phogat ended up leaving the grappler on the sidelines. Geeta is often considered the queen of women's wrestling in India, being the first to win a Commonwealth medal and also the first to qualify for the Olmypics. Hence, Sakshi's didn't get the due credit for her accolades.
But it all changed this year when Geeta was suspended, allegedly due to 'indiscipline'. It was Sakshi's chance to prove herself, and if recent tournaments are any indication, then she is hard at work to take full advantage of this opportunity.
Her bronze medal at the Spanish Grand Prix in July was certainly just the confidence boost she needed ahead of Rio. She has clinched medals at all the possible avenues, be it national or international, sub-junior, junior or senior levels. An olympic medal would be just the addition to get Sakshi out of Geeta's shadow.
But Sakshi is also looking beyond Rio, focusing on establishing herself and her peers in the wrestling world and the future Olympics. "Going to the Olympic is just the start. The real challenge is carving out a niche for yourself on that stage and the only thing I am working towards everyday now is to give myself the best possible chance of doing that," she said. "I want to bring joy and satisfaction to my family and my country at least till 2020," she added to Sportskeeda.
In terms of her style of play, Sakshi's coach Ishwar Dahiya is pleased with her aggressive initiative in the arena. "Sakshi aims for the legs from the beginning. That is the strong part of her game. She won't wait for the opponent to attack. If she stays focused and trains harder, she will win more medals for India," he said to The Indian Express.
The grappler from Rohtak, Haryana attributes her ability to go so far in wrestling to her adversities. "Maybe it was my tough upbringing that made me fight for my success. From an early age, I was taught that you have to fight, fight and fight to achieve something," she said. She wants to win the medal, not just for herself, but for the country. "Sportsman ke liye sabse best feeling hoti hai ki humein medal mil raha hai aur hum India ka jhanda upar kar rahe hai,"(The best feeling for a sportsman is to win a medal and see the Indian flage getting hoisted) she said with a hopeful smile on her face.
With inputs from agencies
Find latest and upcoming tech gadgets online on Tech2 Gadgets. Get technology news, gadgets reviews & ratings. Popular gadgets including laptop, tablet and mobile specifications, features, prices, comparison.
Sports
Rio Olympics bronze-medallist Sakshi Malik will be the star attraction and spearhead the Indian challenge at the Asian Wrestling Championship, starting on Wednesday.
Sports
Ace women wrestlers Sakshi Malik and Vinesh Phogat on Friday made the cut in the Indian squad for the World Wrestling Championship, to be held in Paris next month.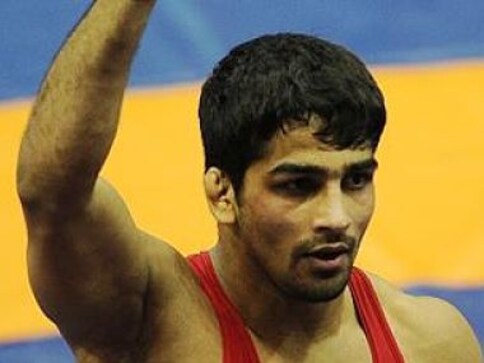 Sports
Grappler Sandeep Tomar is confident of the wrestling contingent's medal chances at Rio, will he be one of the medal prospects?