Rio shame: Vijay Goel seems to have not taken lessons from Shah Rukh Khan, Sharad Pawar
Goel was visiting Rio as lord and master of the Indian contingent and should have remained cautious of his dignity as he represented the country as well.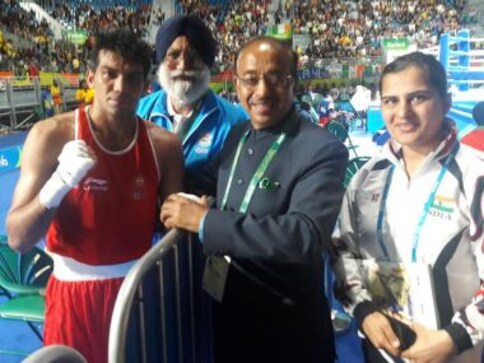 Way back in 1999 after Atal Bihari Vajpayee lost the Confidence Motion in Lok Sabha by one vote and resigned as prime minister, Vijay Goel had put out a poster with the catch line, Kya kasoor tha iss admi ka? (What was the fault of this man?). It was an instant hit and prepared the right emotional ground for the BJP to prepare for the consequent parliamentary polls.
Now 17 years later, Goel in his current avatar as Youth and Sports Minister of India, has been vilified, ridiculed and mocked for his over enthusiasm to have himself photographed with members of the Indian sporting continent at and around the games venue in Rio Olympics. Only on his part, the minister does not know what hit him and is asking the same question for himself as he had posed for Vajpayee -- Kya kasoor tha mera? (What is my fault?). He, however, can't count on any public sympathy.
Indian contingent is so far faring badly and the nation does not have anything to cheer for. Under the circumstances, Goel makes the news, perhaps compensating for lack of good news with some bad publicity for self and in a way the government he represents. He doesn't have anything to do with the poor performances. India never had the mettle, nor is it doing anything special in that direction but Goel, only about two months old in his current position finds himself at the receiving end. He has his defence but that's not helping him much.
Speaking to Firstpost from Rio, Goel said, "How does the country's image has taken a hit by a minister's presence at the venue? What has the minister done? You are asking same thing, you please explain this to me. I had valid pass issued by the competent authorities to enter the places I went to."
"What do you expect a minister to do? If he is going there, should he not go to the venue, cheer the players and if need be take up issues of their concern with whosoever concerned. Should I have skipped all of it and gone for some sightseeing? Rio is a beautiful place but I was not on a vacation. I had a duty to perform and how does taking a picture with players become a crime."
He is upset with the term "bagging selfie gold". He said, "Where is the selfie I have taken? Which selfie have I taken with a player? They are photographs clicked by someone else. Is it a crime to congratulate my players on their victory? I was encouraging them and cheering for them."
But why insist for a photo with an exhausted boxer, Vikas Krishna.
"I didn't insist on a photo. Someone took it. Is it wrong to congratulate an athlete, even after he or she is exhausted after a game? Photos can be deceptive, someone's eye can be seen to be closed at that precise moment. It happens in so many photos with so many people and on so many occasions. If I am smiling in that photo, it is wrong. The boxer had come to me, he wanted to talk to me. As a minister should I not have heard him, talked to him?"
Why did he enter the hockey play ground to have pictures with the Indian women's team after they drew with Japan 2-2? Didn't he know the rules?
"I didn't violate any rule. If you look closely, I have two passes hanging on my neck, one deep blue, another light blue. One was for access to that particular area. More so, there are so many people, volunteers and guards, armed and unarmed that no unauthorized person can think of getting anywhere close to the venues, leave aside entering inside the ground. You have to be here to understand the actual scenario. No one can enter an area by pushing a volunteer or two as is being alleged," Goel said.
Then why did the authorities wrote such a strong note, even threatening to cancel his accreditation?
Although not sounding too convincing, Goel said, "I can explain my side. Our officials have explained that too."
Goel left Rio for New Delhi on Friday. He says that he had not been recalled but is leaving as per the pre-fixed schedule. The sports secretary will be in Rio for remainder of the event. That has been a long established practice – in the first half, the minister is present and in the second half, the sports secretary takes over.
Goel was visiting Rio as lord and master of the Indian contingent and should have remained cautious of his dignity as he represented the country as well.
Now he may regret for not having learnt lessons from the experiences of Shah Rukh Khan or Sharad Pawar. He ought to have taken some lessons from when Shah Rukh Khan, owner of Kolkata Night Riders in May 2012 was stopped by a self-righteous guard Vikas Dalvi at Mumbai's Wankhede stadium when he tried to enter the ground after the match was over. Khan intended to have some pictures with his daughter and her friends to celebrate victory of Kolkata Night Riders over Mumbai Indians. It didn't matter that the match was over and the two teams had packed off from the ground. The Mumbai Cricket Association had then imposed a ban of five years (later lifted) on Shah Rukh from entering the stadium.
Pawar would never like to refer to the picture of the presentation ceremony of Champions Trophy final held in Mumbai in November 2006. He was the BCCI president then and a minister in the UPA government as wll. But as soon as he presented the trophy to Australian captain Ricky Ponting and waited for a moment for a picture, he was shoved away by the joyous and rude Australians.
A year later in 2007 Pawar faced another round of flak for being hyper enthusiastic and trying to share credit of India's victory when the team landed in Mumbai with World T20 Championship trophy.
On the way back to India, Goel can only hope that a medal from an Indian will bring some good news and replace him in the headlines.
Entertainment
So far, family members of the prisoners were not being allowed to visit the jail in view of the COVID-19 pandemic. The prison authorities started allowing the family members of prisoners to visit them from Thursday morning.
Entertainment
A video of Aryan Khan's mother Gauri Khan crying in her car, after the court rejected Aryan's bail, has gone viral on social media
Entertainment
Hrithik Roshan had posted an open letter in support of Aryan Khan in the Cruise Drugs Case, which was liked by several celebrities, including Suhana Khan