Surprised I'm projected as villain, was saving myself for last chance at Istanbul: Geeta Phogat on Olympics disqualification
Geeta and Babita Phogat, India's top woman wrestlers have been disqualified from the 2016 Rio Olympics to be held in Rio de Janerio after they forfeited their repechage bouts under 'injury default' during the recently-concluded Olympic Qualifying Tournament in Ulaanbator, Mongolia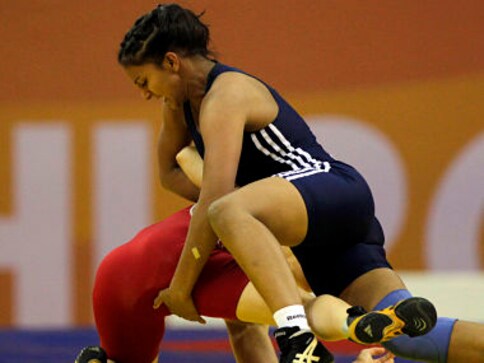 Geeta and Babita Phogat, India's top woman wrestlers have been disqualified from the 2016 Rio Olympics to be held in Rio de Janerio after they forfeited their repechage bouts under "injury default" during the recently-concluded Olympic Qualifying Tournament in Ulaanbator, Mongolia, according to a report in DNA.
Geeta forfeited her 53 kg bout against China's Zhou Zhangting, while Babita failed to appear against Mexico's Alma Jane Valencia. DNA reported that despite several announcements by the organisers, the duo failed to turn up for their bronze-medal bouts.
However, Geeta Phogat felt she was being projected as a 'villain' by the media for not taking part in her bout and revealed that her decision to opt out of the final game was to protect her from an injury which could have affected her preparations for the final Olympic qualifying round in Istanbul.
"I am surprised that media is projecting me as a villain for not taking part in the repechage bout," Geeta told Firstpost from Istanbul Airport on Friday. India's lone female Olympic wrestler Geeta was on the way back home after Wrestling Federation of India (WFI) issued a show cause notice to the ace wrestler for forfeiting her match.
Geeta's Rio dream has crashed, as WFI has sent her packing, not allowing her to take part in the last qualifying tournament in Istanbul from 6 to 8 May.
WFI, it is learnt, has decided to field Sakshi Malik in place of Geeta at the Istanbul competition in 58 kg category.
"Since I was already out of the qualification race I decided to opt out of the match to save myself for the last chance at Istanbul,'' said a disappointed Geeta. "I understand it is not right to quit the competition but an injury would have spoilt my last chance at Istanbul also. And it was in the full knowledge of my coach present in Mongolia, " she added.
"You may say I was careless or ignorant and didn't know the rules. What about the coaches?," a dejected Geeta asked.
Geeta, who will be reaching India on Saturday, said "I will explain everything in detail on my return." WFI has given her 10 days to respond to the show cause notice and may impose one-year ban on her if found guilty. It would not only end her Olympic dream but also her brilliant wrestling career. The Haryana girl from Balali Village has won a bronze medal in World Championship, gold medal in Commonwealth Games and has been Commonwealth Champion twice.
Surprisingly WFI has not reprimanded team coach Kuldip Malik for Geeta's absence in the competition. A wrestler can neither take to the mat without a coach nor can furnish a certificate to declare him or her medically unfit. Geeta's absence without any reason or notice to the organisers was taken as an act of indiscipline, especially when the President of United World Wrestling (sport's international body) Lalovic was present in the hall.
There is always a clamour that a coach and a manager should accompany the Indian team. But at the time of delivery they often fail. The Sports Ministry that bears the expenses of these officials also overlook their lapses.
It was not just Geeta. The Mangolia competition proved unlucky for the three famous Phogat sisters – Geeta, Babita and their cousin Vinesh.
Babita also gave up her match against Mexico's Alma Jane Valencia Escoto due to a similar reason. WFI, however, has not sent her home with Geeta. Plight of Vinesh was worse. On the day of the competition she was found overweight by 400 gms and disqualified. At least in her case WFI has defended her.
"Vinesh and her coaches have been hauled up for costing India a chance to qualify for the Rio Games. Since she is a first time offender, she has been given a warning," said V N Prasood, secretary general of WFI.
Prasood said that such things do take place and it was not Vinesh's fault. "We tried everything to make sure her weight was under the required standard. Dieting, and even sauna was tried. But she was not able to bring her weight below the prescribed limit. Things like this happen, and it's not the end of the world for the wrestler. It's just a case of the athlete being in the wrong place at the wrong time."
At least Vinesh still has a chance to qualify for Rio at the Istanbul competition.
Sports
Players employed with Indian Railways, including Vandana Katariya and former captain Sushila Chanu, were felicitated at an event organised by former player Happy Mann and others.
Sports
Amit Panghal (52kg), Manish Kaushik (63kg), Vikas Krishan (69kg), Ashish Chaudhary (75kg) and Satish Kumar (+91kg) had competed at the Tokyo Games.
Sports
The Hisar-born player is currently part of the 25-member senior women's core probable group for the national camp in SAI, Bengaluru.