Rio Olympics 2016: Yelena Isinbayeva's comments unfortunate, say pole vault athletes
Greece's Ekaterini Stefanidi hit back at banned Russian star Yelena Isinbayeva on Friday after striking Olympic pole vault gold.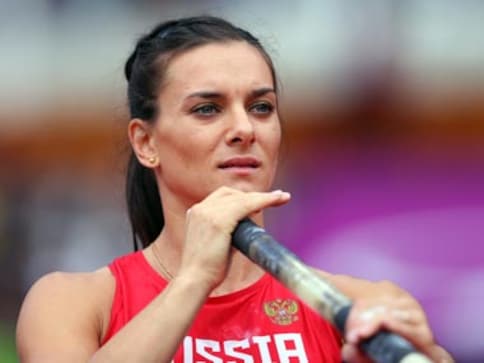 Greece's Ekaterini Stefanidi hit back at banned Russian star Yelena Isinbayeva on Friday after striking Olympic pole vault gold.
European champion Stefanidi won on countback after three failures at 4.90m, with Sandi Morris of the United States taking the silver.
New Zealand teenager Eliza McCartney claimed a superb bronze medal after a leap of 4.80m before bowing out.
The final was notable for the absence of Isinbayeva, the two-time Olympic champion who was barred from Rio because of Russia's blanket track and field ban over allegations of state-backed doping.
Isinbayeva, who announced her retirement earlier in the day, said the 2016 gold medallist would have an asterisk against her name.
"Whoever wins tonight will do so without Isinbayeva, it won't be a fully-fledged," she said.
"The champion will feel it's not entirely gold because she didn't beat Isinbayeva."
Her comments dismayed Stefanidi and her fellow medallists, Morris and McCartney.
"It would have been just as successful an Olympics for me if I had won silver behind Isinbayeva," Stefanidi said.
"I think everybody wanted her to have the chance to compete. But things are how they are. We had nothing to do with it."
The United States' Morris went further: "I definitely understand how she could be so frustrated. I can't imagine what it would be like to be in her shoes, to be banned from the Olympics because of things that went down in your country.
"But her comments can be disrepectful and hurtful to people who were out there tonight. It's kind of disappointing to hear things like that."
Kiwi teenager McCartney agreed.
"It down to who was there on the day. And we were there on the day and that's what's important," McCartney said.
"Maybe those comments aren't so necessary."
Friday's final saw defending champion Jenn Suhr, who has been battling illness since arriving in Brazil, crash out early.
Suhr looked well short of her best, unable to summon any of her customary explosiveness down the runway and failing three times to clear at 4.70.
"It's such a crappy feeling to work four years for this, it's embarrassing. It's some sort of respiratory infection," Suhr said after her elimination.
"This morning I was coughing up blood and I threw up twice out there. It's getting scary. I just want to get out of here," she added.
World
The group went to the spot where the bodies of Maks Levin and serviceman Oleksiy Chernyshov were found in woods of Kyiv. The group said it counted 14 bullet holes in the burned hulk of their car
Sports
The IOC would be tripling the fund established in support of Ukrainian athletes in the wake of the Russian invasion, Bach said.
World
The G7 countries said they will cut off Russia from participating in world markets, as well as limit its revenues, including from gold exports.