Rio Olympics 2016: Srikanth Kidambi's exit and the double-edged sword of having nothing to lose
It was apparent in the way Kidambi Srikanth started his quarterfinal against Chinese Lin Dan that he was not playing the shuttle, he was playing the man.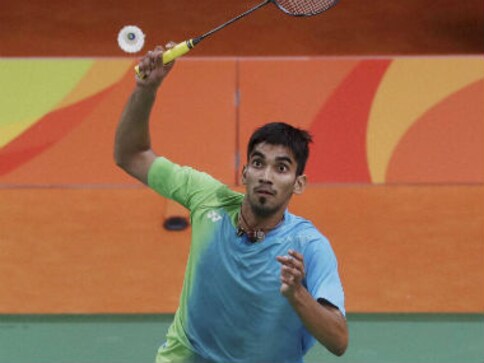 Coming up against a higher ranked opponent can be debilitating. You play not only their skills – and often experience – but also their aura and their history. It was apparent in the way Kidambi Srikanth started his quarter final against Chinese legend Lin 'Super' Dan. He was not playing the shuttle. He was playing the man.
"It is good to play Lin Dan in the quarterfinals of the Olympics", said an optimistic Srikanth before his tie. It did not seem any shade of good in the first game though. The world number 11, and India's lone hope in the men's badminton draw, seemed all at sea.
The nerves of playing his maiden Olympics seemed to be eating away at his abilities, and he went into the break trailing 1-11. Thereafter though, we saw a change in his approach, even though he lost the first game 6-21. If I were to guess what his coaches must have told him in the break, it would be this: You have nothing to lose now.
Consider this. He was ranked number 11, up against the number three. His opponent was Lin Dan, the two-time Olympic Champion, and five-time World Champion – a man who had a reputation of being unbeatable in the Olympics. He was the only man to successfully defend an Olympic gold medal, and is gunning for a Bolt-esque golden hat-trick. In the eyes of many, Srikanth stood little chance of making the semis, and the scoreline simply underlined just that.
It was here that Srikanth discovered the other side of playing against a higher ranked opponent: that it can also be liberating. So Srikanth liberated his intensity, his patience, his more aggressive strokes and they rushed out of him, slowly at first, trickling through a crack in the dam halfway through the first game. In the second game, the dam burst.
His jump smashes, which can make even the stone-hearted cynics fall in love with badminton, made more regular appearances. With his wrists, he displayed chicanery that would have made Houdini proud. He kept Lin at the net, gave him fewer opportunities to smash, and peppered his backhand with a pace that was missing until then.
Lin meanwhile, was a model of efficiency. Hugging the mid court, he seemed to be content to conserve his energy, almost like a master allowing an insolent challenger to have his run, waiting for him to run out of steam, all the while reading him and plotting his downfall. But as a few errors crept in to Lin's defence, Srikanth earned 10 game points. Lin seemed to want the second game over with, so he could get down to business.
Only Lin found that his waiting game wasn't working. Nine years his junior, Srikanth was showing no signs of slowing down in the decider. From 6-3, Srikanth clawed back to six all. From there, the two battled for every inch, invoking the spirit of Al Pacino's team talk in the movie 'Any Given Sunday'. When Srikanth pulled ahead and went into the break at 11-8, India began to dream.
Here Srikanth discovered the dangers of playing as if you have nothing to lose. More often than not, it gets you into a position where you have something to lose. And Srikanth had much to lose. After Saina Nehwal's shock exit, the focus on Srikant, and also Sindhu, expanded like Popeye's muscles after a can of spinach.
He was within sight of a medal match, one that might silence hashtags like #ZeroAtRio (this was before Sakshi Malik's heroics, remember). An expectant nation was counting down those 10 remaining points. He knew that. And it showed.
So also did the experience of Lin. He revealed the full panoply of his strokes, used the energy he had been conserving, and won five of the next seven points to pull level again. After 14 all, Lin pulled ahead and never looked back. Srikanth, for the first time in the match, rushed his strokes, and it was yet another case of so near yet so far for India.
Sports works in cycles. Playing with nothing to lose, paradoxical as it sounds, then creates something to lose. Playing without pressure raises the game to a stage where there is more pressure, which the athlete must again shed. It is the athlete who can quickly slip back in to the 'nothing to lose' mindset who remains a consistent champion. It is a skill that Srikanth will no doubt become more familiar with in the future.
Meanwhile, another cycle is turning inexorably. Lin Dan, aged 32, will face his 33 year-old long time rival, Lee Chong Wei, in his semi-final. As Lin and his contemporaries nudge closer to their swansongs, we will see players like Srikanth – who Lin described in 2014 as a 'complete player' – and Chen Long assert themselves even more. From starting primarily as a doubles player, the man from Guntur is now making waves on the singles stage. One hopes that by 2020, Srikanth will find himself on a winning cycle.
Sports
A University of Oxford study in 2020 said Tokyo was the most expensive Olympics on record.
Sports
The Games cost twice the 734 billion yen that the Tokyo Games organisers had predicted in their bid to the International Olympic Committee in 2013.
Sports
The National Olympic Committees all over the globe mark the day to encourage people to participate more in sports regardless of gender, age, and social background.