Rio Olympics 2016 schedule, day 10: Vikas Krishan's crucial bout; Sindhu, Srikanth in action
Day ten of the Rio Olympics 2016 will see Indians in action across four sports – athletics, boxing, badminton and wrestling.
Which sports will Team India compete in on day ten of the Rio Olympics?
Day ten of the Rio Olympics 2016 will see Indians in action across four sports – athletics, boxing, badminton and wrestling.
Who will be the Indian athletes in action?
Monday, which is also the Independence Day in India, will see eight Indians in action.
In badminton, PV Sindhu and Kidambi Srikanth will play their singles pre-quarterfinals, keeping India's hopes alive. Srikanth will play Denmark's Jan Ø. Jørgensen, while Sindhu will take on Tai Tzu-ying from Chinese Taipei, for a quarterfinals berth.
Vikas Krishan, India's last man standing in boxing, will have his quarterfinal bout on Monday. He faces Uzbekistan's Bektemir Melikuziev in a bout, which if he wins, assures India of at least one medal in an otherwise underwhelming Olympics campaign.
India will begin its wrestling campaign on Monday with Ravinder Khatri taking part in the men's Greco-Roman 85 kg qualification. His opponent is yet to be determined.
Lalita Babar in the women's 3000m Steeplechase finals will be the one big athletics event to watch out for.
Athletics will also see Renjith Maheshwary, in men's triple jump qualifications, Srabani Nanda in women's 200m heats and Seema Punia in women's discus throw qualifications.
Here are all the Indians in action on day ten
PV Sindhu - Badminton, women's singles preliminaries
Srikanth Kidambi - Badminton, men's singles preliminaries
Vikas Krishan - Boxing, men's quarterfinal
Ravinder Khatri - Wrestling, men's Greco-Roman 85 kg qualification
Lalitha Babar - Track and field, women's 3000m Steeplechase
Renjith Maheshwary - Athletics, men's triple jump qualification
Srabani Nanda - Athletics, women's 200m heats
Seema Punia - Athletics, women's discus throw
What time will these events happen? (all times in IST)
Kidambi Srikanth's match will start at 5.30 PM, while P V Sindhu will take the court at 2.00 AM.
Vikas Krishan's men's 75 kg quarterfinal bout against Bektemir Melikuziev will start at 3.30 AM.
Ravinder Khatri's men's Greco-Roman 85 kg qualification will start 8.30 PM.
The women's 3000m steeplechase final, featring India's Lalita Babar, will start at 7.45 PM. Renjith Maheshwary will be in action in the men's triple jump qualification from 6.00 PM onwards. The women's 200m heat which Srabani Nanda will be a part of is at 6.24 PM. Women's discus throw qualifications will begin at 6.20 AM, where veretran Seema Punia will be hoping for a finals berth.
What are India's medal prospects?
The only medal event for India on Monday is the women's 3000m steeplechase final featuring Lalita Babar. Lalita scripted a new chapter in India's athletics history by becoming the first woman in three decades to enter the final of a track event at the Olympics, she shattering the national mark to reach the 3000m steeplechase medal round. Lalita finished with the seventh-best time in the heats. However, if a medal is within her grasp, remains to be seen.
Find latest and upcoming tech gadgets online on Tech2 Gadgets. Get technology news, gadgets reviews & ratings. Popular gadgets including laptop, tablet and mobile specifications, features, prices, comparison.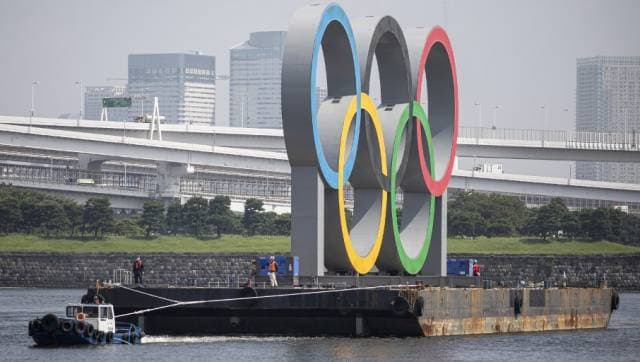 Sports
The 69-ton interlocking rings went up off the Odaiba bay area at the beginning of the year, as the city began the final countdown to the Summer Olympics.
Sports
Women's doubles specialist Sikki and Kiran, who have been attending the national camp at the academy, are both asymptomatic, according to a SAI statement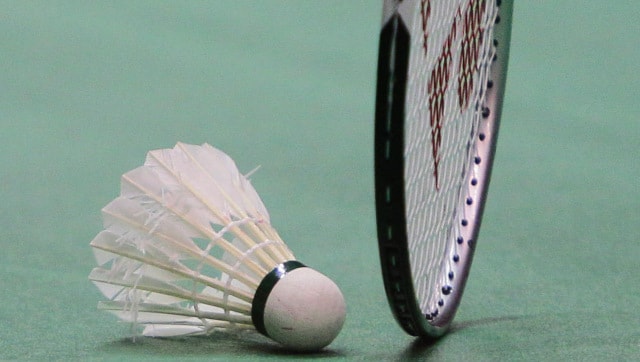 Sports
The decision came after a meeting between Telangana's top sports persons and the sports minister V Srinivas Goud, who has directed the officials at different centres to allow athletes to train on alternate dates at half the capacity of the facilities.